It's one of those sleepless nights.
You know the sort – you're so tired you can't sleep so you concentrate on finding some invisible center, you relent and stare instead at the shadowy ceiling, you switch on the light and try to read, you languish in the dark again as you listen to every noise – the occasional bark of the neighbor's beagle, the unexpected rustle of wind through the trees, the breathing of a child who is no longer there so it must be your own breathing, your anxiety, your awareness of so much nothing except your mental checklists, your endless questions, your film clips at 11 that continue to roll past one and two and three until you surrender to circling back to what plagues you at the moment.
Your history. Your choices. Your relationships.
The what ifs you'd like to dispense with once and for all. The what ifs you still need, from which to glean their lessons.
You wait for the sun to rise and contemplate fundamentals. It always returns to this – to respect in all its variations, and especially, in its absence.
Definitions of Respect
When it comes to relationships that are viable or not, enduring or not, fulfilling or not – like the word love, "respect" paints with a broad brush and yields an impressionistic canvas.
But what you seek is photographic. So you turn to definitions.
According to Merriam Webster, the definition of respect is:
an act of giving particular attention (consideration); high or special regard (esteem)
Not helpful, you tell yourself. Too general.
You read on, for the word's origin:
Middle English, from Latin respectus, literally, act of looking back, from respicere to look back, regard, from re- + specere to look.
Still not helpful.
Dictionary.com provides a definition of respect with sharper teeth:
esteem for or a sense of the worth or excellence of a person, a personal quality or ability, or something considered as a manifestation of a personal quality or ability: I have great respect for her judgment.
Now you're getting somewhere.
Worth, excellence, quality, ability. Admiring another for who they are, for what they think, for how they act.

Respecting Yourself
I am known to my friends as being hard on myself, overly critical of what I produce, subject to expectations that I set ambitiously. These aren't tendencies to do with ego; they are the habits of a specific work ethic reinforced by schooling and career. This is the legacy of independence as a value, and independence as a means to survive.
When I disappoint myself, when I don't measure up, when I don't learn from a mistake, my self-respect wanes. It's about what I honor: the character to persevere, the capacity to stay open to change. It's about values.
On the other hand, when it comes to decision-making, to judgment calls about the company I keep, to activating my principles – for example speaking my mind clearly even if it challenges a loved one's beliefs – as long as I am true to myself, my self-respect rarely deserts.
That's also about values.
Earning the Respect of Others
When it comes to those I may work with, those I call my friends, those I love including my children, I care about being accorded respect. I also must respect them.
As I've grown older, I have come to understand that without respect, for me, there is no intimacy, no trust, no strength to any sort of relationship.
I believe it's possible to love without respecting, but I consider this Love "Light" that may include shared times, shared activities, shared laughter, a shared bed. There may even be shared children, but without shared values I can respect, there is insufficient foundation for a truly satisfying relationship.
Earning someone's respect? Isn't it a matter of what you say, what you do, and your beliefs as exemplified by both? In a relationship, isn't it about keeping your word, owning up to your mistakes, opening your mouth to speak, shutting it to listen carefully? Isn't it a matter of accepting the other person, and changing yourself only if you see the need to change – because anything else is a temporary fix and a nod to acquiescing – rather than understanding?
Respect in Marriage
Something is off but you can't quite grasp it. Whatever it is, you're afraid to dig deeper.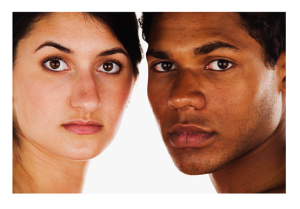 Since you cannot name it, you turn away from an uncertain connection and absence of heft, which you tell yourself is only fear. You're tired of slogging through life alone.
You say yes to this sort of love as your heart tells you that it is enough. You say yes to this sort of marriage, as your families nod in genuine approval.
You say no to second-guessing, and yes to everything else. You make your peace with what is lacking, and see clearly only as you mark the years: mutual respect, common values; puzzle pieces cut from the jigsaw but no longer on the table that you share.
Whom Do You Respect?
I admit to my bias.
It is easier for me to respect those who work hard, regardless of what it is they're working at. It is easier for me to respect those who don't live by greed or artifice, and I despair that this becomes more difficult to find in the Real World that is proximate to me. It is easier to respect those who have traveled a sufficiently bumpy road to know how little they know after all, to have learned compassion along the way, to have committed and accepted their own mistakes so that they've acquired a certain humility.
It is easier for me to respect those who give and take, astute enough to redress an imbalance as it occurs.
It is easier for me to respect those who have come to recognize their own value as part of according the same to others.
What does respect mean to you?
How important is self-respect to you?
How does a man or woman earn your respect?
What happens when you lose respect for your partner?
How do you model respect for your children?
You May Also Enjoy