Okay. If you watched the Oscars you may have done exactly what I did.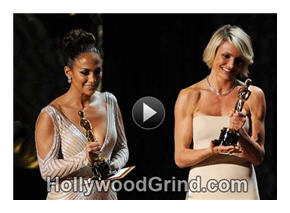 When Jennifer Lopez appeared on stage with Cameron Diaz, you got up off your chair, approached your (big or little) screen, and stared.
Is it? Isn't it?
This morning, her stylist is going for the, um, "cover up" if you will… but it's a little late for that, no? Twitter, last night, was going wild over the possible nip slip. And with that, may I say that I think we all caught a glimpse of exactly what we think we did?
Who doesn't love a great wardrobe malfunction – in sports or on the Red Carpet? Might I also say – I think she looks marvelous!
Wasn't it just last year that we were all reading about her divorce – and with such sadness?
Beautiful, Bountiful Women
Whatever she's doing, I say – more of the same! I couldn't help but be struck by how gorgeous the 42-year old celebrity looks. A shadow of aréole peeking out for the pleasure of our viewing audience? That daring dress by Zuhair Marad? Why not?
Lopez seemed relaxed, radiant, her skin glowing, her figure – womanly and luscious. The over-the-shoulder shot with both Lopez and Diaz? Gorgeous!
Frankly, I say give us more J-Lo… well, more of whatever she'd like to show off and I would imagine, knowingly… And let's celebrate a woman who is confident in her curvaceous body.
Thin, Too Thin!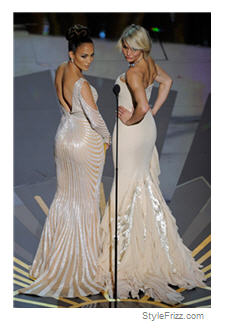 In contrast to the barely off-white gowns of Jennifer Lopez, Cameron Diaz, and many others at last night's Oscars – but more to the point, in contrast to their very female assets – I thought Angelina Jolie was magnificent in a black structured Versace with that woo hoo slit. However, despite that one spectacular leg for us to admire and of course, her beautiful face, her arms looked painfully thin.
What's up with that?
For that matter, Cameron's arms looked chiseled but also thin. When will women cease feeling compelled to offer up twigs in place of limbs?
Good Moments, Oscars 2012
While I don't watch the Oscars every year, I certainly enjoy them when I have the opportunity to do so. Last evening was no exception, in particular because I had a little smile on my face as Jean Dujardin finished his acceptance speech for Best Actor in a colorful flourish of French. (Eh oui – it was indeed colorful!)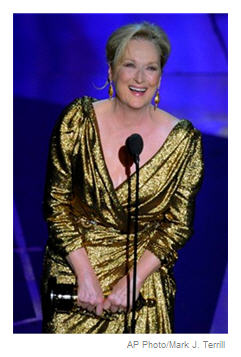 And Christopher Plummer at 82? Dashing! Energetic! How can you not swoon at the man – still?
As for a divine moment, let's talk Meryl. Although I found La Streep's gold dress to be less than flattering (and horrendously tailored!), who am I to judge? I adore Meryl Streep, she could be wearing a burlap sack for all I care, and I believe she wore gold the last time she picked up a win. This must be her lucky hue.
There were no wardrobe slips or dips as she took her third Oscar in hand, and I always love that she looks so incredibly approachable, and ever so human.
Add to that the fact that before anyone else, she thanked her long-time husband first. What an extraordinary example of class – and more than that – priorities, in a culture where we often focus on the glitz and glam, and lose sight of our personal relationships.
Women of Style, Women of Accomplishment
Women of style and accomplishment? I can't resist a gander, a musing, a mention. They entertain us and inspire us – hopefully encouraging us to seek something more of ourselves – ideally substance over style, even as we smile with a glimpse of this and that.
So here's to the Jennifer Lopez boobs as well as her bodacious booty – whatever we did or didn't see. Here's to all the women who can feel comfortable in their skin – bien dans leur peau, and to celebrating the beauty of our bodies as they are, full and functioning and treated with respect. And yes, even a bit of gawking pleasure at the occasional revelation of titillating treasure.


First image from HollywoodGrind.com. Second image from StyleFrizz.com. AP Photo of Meryl Streep, Mark J. Terrill. Click images to access on respective sites.

Big Little Wolf's Daily Plate of Crazy