Here is what offends me: this news item was classified – wrongly and callously – as "weird news." The journalistic summary in question pertains to the death of Christina Symanski, at age 31, a paraplegic who took her own life by starving herself.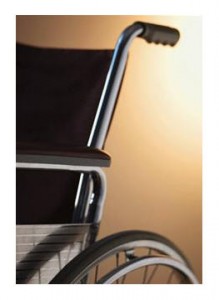 Incidentally, the starvation process required two months. She died December 1st, 2011, and a book is forthcoming.
Where is the article I reference? You will find it on the Huffington Post along with a poignant video clip that briefly recaps Ms. Symanski's life – or at least the last years of it: diving accident, broken neck, paralysis, advocacy for stem cell research, blog, boyfriend, death in her mother's arms.
That legacy of caring that I mentioned yesterday? The relative unimportance of being seen as distinguished, which is the message I was trying to impart?
What about a legacy of caring that encourages us to advocate for social change? A present in which we seek to transform our apathy into action?
Apathy Into Action
Moving from apathy into action doesn't necessarily mean protest. It does mean doing more than giving lip service to your beliefs; it means doing – in whatever way is possible for you, and in the service of something you care about.
So what about Christina Symanski? Or anyone who is distraught with life as the cards have cruelly dealt it, who nonetheless seeks to assist others through speaking, writing, sharing their experience, until their own suffering is too great to endure?
Weird news? Hardly. Tragic is more accurate.
Advocate for Social Change
In contrast to that unfortunate choice of classification for the Symanski piece, Huffington Post is publishing regular columns in their Impact section by Rhea Perlman. I applaud the existence of the Impact section, covering a variety of social issues. I only wish they got more of our attention.
As for Ms. Perlman, she writes on Foster Care, reminding us that a child cannot be raised by a system or a court. Relatively speaking, it appears that few people have read, forwarded, facebooked, tweeted, or commented on her most recent article.
I find that telling, reflective of other tragedies in this country: social systems that fail or are non-existent; a desire to do good, while feeling overwhelmed by everything that needs doing; our children who pay the price for our cycles of violence and abuse, poverty and ignorance, selfishness and fear.
Foster Care Stories
Reading Ms. Perlman's articles and about the Children's Action Network has affected me deeply; I was unaware of the scope of the problem. Read what she writes. Hear the stories.
I only wish I were in a position to help. To really help.
If I could do so – physically and financially – I would raise more children. Others' children who need love, who need a home.
Are you in a position to help someone besides yourself? In some tangible way? If not foster care or adoption, then volunteering at a school, in a hospital, in a senior community?
Shouldn't we all advocate for something we care about? For health issues that will impact us or those we love? For the children who will shape our future? Shouldn't we try to make a difference when we are young enough and able-bodied enough to do so?
Weird News?
I find nothing "weird" in reaching a point at which the pain of continuing is beyond expressing, and greater than the consequences of leaving this earth. What I do find is anguish imagining what Ms. Symanski's mother must have felt, watching her daughter slowly dying.
I am horrified that Christina Symanski felt she had to take her own life, still so young. Yet I am more aghast that she had to take her life by starvation. I am outraged knowing there is promising (stem cell) research to be done for victims of spinal cord injury and paralysis, while so many fought it for so long based on religious views. That more hasn't been done – and faster – is appalling.
Speak, Write, Act, Give

I will repeat something I have said in different ways at different times. We are each capable of choosing action over apathy, or "advocacy" over apathy, if you prefer that terminology.
Find something to fight for. Reach out beyond yourself. Act. Advocate.
Many of you do so already, or have. There is one family in particular I am thinking of a great deal lately. Their sacrifice is extraordinary though I imagine they would say otherwise. They give quietly, with grace. And with courage.
Of course we can't all help others at every point in our lives. But we can do so at some point in our lives.
Resources
Don't we owe it to our children and their children to offer an assist to others, any way we can?
Big Little Wolf's Daily Plate of Crazy