You're poking around on Facebook posting this or that and glancing in spite of yourself at the assortment of ads that compete for your attention.
And then you see it: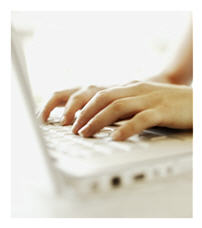 Find out if you qualify for the prestigious Who's Who 2012 Registry of Distinguished Female Executives and Professionals…
While the term "distinguished" conjures images of graying temples and crisp white shirts, your next thought is of honors and publishing credits, degrees and certifications, distinctions that reassure, that justify, that insist: Here I am, I leave my mark, I'm important.
You do your best to live beyond a perimeter of comparisons, particularly as you bear no distinction other than mother, friend, voice among millions, none of which are distinctions at all and certainly not distinguished.
* * *
May we all rise and turn together in our prayer books to the page where the word distinguished is written:
made conspicuous by excellence; noted; eminent; famous: a distinguished scholar; renowned, illustrious.
Conspicuous? Eminent? Illustrious? Shall we speak those lines together, aloud?
Turn now to the next page, and let us say together, legacy:
a gift, a bequest; something handed down from the past
But before we take our seats again, let us acknowledge the practice of caring:
feeling or showing care and compassion: a caring attitude
Could a legacy of caring be worthy of note? Is note necessary if we believe in excellence and strive for it, despite our Culture of Prominent Promotion?
You close the page, you shut down the computer, you cover your ears as if it will help to silence the taunting cries of "potential" that echo from your childhood and college years and possibly the decade in which you felt yourself something more; not more than others by way of comparison, but more than your beginnings and more than your constraints.
* * *
You warm your coffee in the microwave as you try to pinpoint any achievement in the morning shadows and the hollow in your gut where ambition once roamed, brightly.
You think of your children and know you were responsible. You look around and see the remaining fruits of years of labor. For one instant you are clear, and in the next you mourn your absence of accomplishment which is glaring really; even the definitions of success that formed your glue for two decades are crumbling under the strain of Practical Matters.
Again you contemplate the notions of quitting, stopping, ceasing, surrendering, relinquishing, releasing, floating. Perhaps this is the natural bump and stumble and drift through circumstances and stages. Perhaps you are wearier than you knew. Soon, if you're lucky, you may rest.
Still, you wonder if there isn't a market need for the Mad Hatter UnDirectory of UnDistinguished Women: we who gather and toil inside the Rabbit Hole.
We who cannot find our way out.
As legacy it may not qualify as illustrious, but you imagine this register as wildly illuminating, with more of course that no one addresses: the Depths of Free Fall, past the grin of the Cheshire Cat.
Big Little Wolf's Daily Plate of Crazy