Earlier this week, The New York Times Well Blog reported on a study confirming that a broken heart can indeed… break your heart.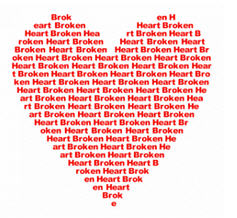 Literally.
In fact, the article gives credence to the notion of Broken Heart Syndrome, citing the Journal of the American Heart Association and its findings that
the risk of heart attack is 21 times higher than normal the day after a loved one dies.
If anything, for some of us this confirms what we may already believe. I remember how my grandmother withered following the death of her husband of five decades. I know how my father's sudden death in a car accident left me stunned and bereft for more than a year. Most of us who have reached a certain age have experienced the devastation of loss, if not through the death of a loved one, then through the death of love.
While the article at The Times sticks tightly to particular kinds of grief, might we not consider others, and more than the obvious outward period of turmoil?
What about discovering an affair – emotional or sexual? What about a disclosure by a family member that threatens to rip relationships apart? What about any number of traumatic events that undermine one's identity, one's beliefs, the stability that forms part of a personal support system?
What about the acrimonious divorce and its aftermath – so much like death? Just how many ways are there to break someone's heart?
The study in question points out the many impacts of grieving and stress on the heart itself, the sensation of being brokenhearted, and the increased risk of heart attack.
But we're all aware of the prolonged impacts of profound emotional pain – stress, disorientation, insomnia, depression – the impacts on our immune systems, and of course, on our other relationships and general "performance" in the world.
A broken heart?
I wonder why we don't study the health consequences following divorce or the termination of a long-term union – for both the adults involved as well as the children. Is this no less a devastation for many, if not quite so clearly so?
Have you ever been so devastated by a revelation that you felt as if your heart was breaking?
Is heartache the great leveler – over love and loss, whatever its cause?
Are we more compassionate toward those who lose a spouse or partner to death, than we are to those who lose their family and themselves to divorce?
You May Also Enjoy