With a busy weekend in process (and teens, teens, teens about the place), I thought I would share a few of my favorite things.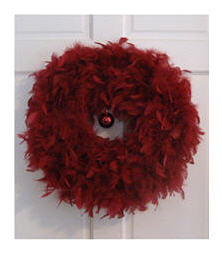 First and foremost?
My beautiful sons, both home from school, and sound asleep in their messy rooms, surrounded by their half-unpacked bags, after a night during which the household was up far too late with laughter a-plenty and all their friends in and out. It's glorious just to see their faces and hear their voices and know they're nearby and happy and safe.
Something more scintillating?
These, certainly, are a few of my favorite things:
My ridiculous fuchsia feather boa wreath.
A satiny, lacy black little something purchased in an unnamed department in an unspecified city where a certain Eiffel surely left a legacy of engineering that applies to lingerie.
A surprise trip to the Museum of Modern Art where I will gaze and wander blissfully for hours.
Old Gidget movies. Yes, I really did just say that. And James Darren as Moondoggy.
The aroma of orange and cloves (and good things baking in the oven).
Brazilian music and a cozy bistro. Steaming soup. Concupiscent company.
My lover's hand, holding mine. 'Nuff said.
Your favorite things?

Big Little Wolf's Daily Plate of Crazy