I am contemplating the need to sweep my small deck which is covered in a carpet of pine needles, and a few scattered golden leaves.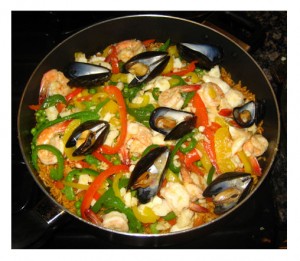 I am contemplating a walk in the sunshine though it is cold, and the necessity of sticking to a brisk pace.
I am contemplating a surprise dinner last evening – paella – mouthwatering and utterly unexpected – compliments of a Frenchman who stopped by with fresh seafood and produce, and then set to work in my kitchen.
Speaking of Frenchmen, I am contemplating the explanation of the US banking crisis, and apparently, we are to blame it on the French! Or so says Uwe Reinhardt in a delightful presentation referenced by the New York Times.
I am contemplating where I was at this time one year ago, just embarking on the stressful journey through the college application and scholarship process with my son. All those months. All those sleepless nights.
How far we've come.
How far he's gone.
I am contemplating a friend's new baby, and recalling that only last week I suffered an astonishing pang of baby lust – astonishing because I thought I was well past any such longing though it happens from time to time; surely it is a yearning for that very particular sort of belonging that comes with a home and children, with extended family, with the possibility of creating family from the sweetness of our bodies and the expansion of our hearts.
Briefly, I revisit the sensation of life in my belly and set it aside, knowing my good fortune to have lived it, savored it, and managed to raise two fine young men.
I mist up a little and turn with determination to the stack of bills, glancing again at the meaning of recapitalizing banks and shaking my head – après le déluge indeed.
The little deck beckons with sunlight and its domestic task; there is the possibility of that brisk walk, the realization of the complexity of the road ahead for all our children, and I contemplate whether or not my sons would occupy Wall Street, Main Street, the Champs-Elysées or any other boulevard with the vigor and idealism of youth, in keeping with the cycles of the body, the body politic, and peaceful political action – as I let amusement, sentimentality, and concern mingle in my morning musing.
I brew another pot of coffee.
French roast, naturellement.

Big Little Wolf's Daily Plate of Crazy