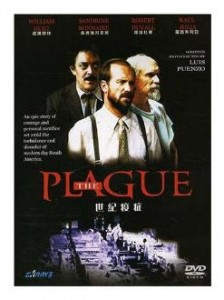 From The Plague, by Albert Camus:
I see no need to dwell on the manner of loving in our town. The men and women consume each other rapidly in what is called 'the act of love', or else settle down to a mild habit of conjugality… for lack of time and thinking, people have to love each other without knowing much about it.
Published in 1947, The Plague is the story of an unexceptional city that experiences an outbreak of Bubonic Plague. We follow the doctors who deal with the quarantined, who attempt to care for the dying and eventually, to save them. We see the developing personal relationships, in the context of a tenuous balance between the individual and the "collective" – the interests of the one versus the group.
And this novel's applicability to contemporary times?
What about indifference in the face of growing despair? What about consuming each other, or settling into habits disguised as love?
The Plague, 1992 Film Version
As for the 1992 film version which I saw last evening, it may not be an entirely faithful retelling of Camus' extraordinary novel, but it is riveting in and of itself, boasting a strong cast in William Hurt, Sandrine Bonnaire, Jean-Marc Barr, and Robert Duvall. Its scenes depict the dismal acceptance of despair as the norm.
Doctor Rieux, played by William Hurt, wishes to chronicle the details of the plague without ascribing any meaning to its appearance or eventual decline. He records the numbers of dead and dying at an emotional remove, which in itself is disturbing; perhaps this is the only way he can manage to survive his overwhelming sense of hopelessness.
We observe the relationships between Rieux and others, love of various ambiguous sorts. We watch those who profit from the chaos and those who seek to help. There are those who are struck down and those whom the plague bypasses.
Faith provides little comfort where we might expect to find answers; here, the best chance for all remains in the hands of the physicians, and those individuals who assist in a show of solidarity.
Metaphors, Morals
No doubt, Camus wrote his novel with more than a single reference in mind – Nazi-occupied France, for example – but it's hard not to find applicability in contemporary times.
The plague surely serves as a metaphor for war, for social injustice, for economic disarray, political ineptitude, the follower mentality; for greed, for narcissism.
Hasn't humanity always known its plagues of all sorts – worsened by our tendency toward complacency if we personally are untouched, or when events take a turn for the better and we quickly forget the past?
As for indifference and despair, I know few adults who haven't encountered their share of each, and lately, increasingly so. Perhaps they face joblessness or health issues. Perhaps they are dealing with the ending of marriages, battling the deadening impacts of despondency, trying all the same to cling to a viable view of the future – with or without hope in that future.
Love, Habit, Consumption
I return to the novel's early words which speak of men and women loving by consumption, loving without awareness, conducting their acts of love without knowing much about it.
I wonder about those of us who live for passion as well as fulfillment of responsibility, who wish to balance the needs of the self with the needs of others, who walk the fine line between the two.
I consider the value of habit – which I prefer to think of as stability and routine – and its potentially detrimental impacts when it comes to relationship.
Nevertheless, shouldn't we strive for sharing rather than consuming, giving rather than hoarding, and awareness rather than denying what plagues us – in whatever form it may take?
I contemplate the desire for each of us to thrive if we can, to think for ourselves, to choose action over indifference, to make a difference.
I am left with few conclusions, and yet – the certainty of my conviction that a human view may nonetheless honor community, and does not negate the needs of the individual or his right to exercise them.
Big Little Wolf's Daily Plate of Crazy