In his comment to my recent post on sharing our parenting struggles online, Wolf Pascoe poses himself the question (paraphrased): Have I learned anything about parenting from what I read on the Internet?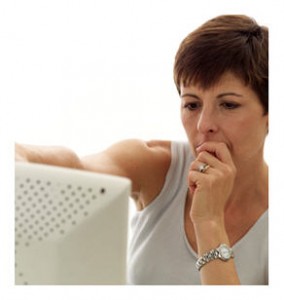 His question, which specifically addresses how he raises his son and his relationship with him, derives from my musing on the way we write about our doubts, concerns, and overall experience as parents.
Wolf concludes that he has learned nothing in his reading.
My perspective is the opposite. I've learned a great deal.
Now keep in mind that Wolf is addressing a fairly restrictive premise. Yet not only would I say that I've gained parenting skills from my online activities, I would answer an immediate yes if asked about the Internet in general, including the many sites I visit regularly. 
The fact is – I am more aware as a result of reading and writing on the web.
I am also less alone.
Internet Communities
I wrote this letter "to the strangers who read me" nearly two years ago – and its sentiments remain as heartfelt today as when I penned them. As a single mother, largely a solo mother, not only does my reading on the web assist me, but the process of expressing my thoughts is critical to my own discoveries. Given that I am in a solitary profession (writing), the exchange of ideas is even more important.
I examine my motives and behaviors as I type them out.
I stumble over additional options that I wouldn't have considered otherwise.
I listen to your stories and suggestions, which may alter my position.
And just as vital – arguably more – I feel connected to a larger community of women, of parents, of workers in a troubled economy, of the "midlife" crowd, and of post-divorce men and women seeking relationships in a harried, gender-confused world – generously sharing information.
The bonus? I'm connected to a fluid and expanding community of outstanding writers, as well as readers whose feedback and caring are both reassuring and instructive.
But that's my experience.
Life Skills Through Virtual Means?
I'd be interested to know your take on this topic. Pose yourself the same questions that Wolf has. Have you learned anything about parenting your children from the web? Has it affected your relationship with them?
Now expand your context to include the workplace, your extended family, your spouse or partner, your ex-spouse or partner, your approach to dating and relationships, your aging parents, your own aging.
Have you given or taken marital advice? Parenting advice? Have you gained life skills or shifted your viewpoint?
What do you think?
Can the Internet make you a better parent?
Is it the reading, the writing, or the comments that help?
Is it the ongoing relationships that develop?
Can the Internet make you a better spouse?
Do you take online advice or offer it?
How important are your Internet communities to you?
You May Also Enjoy