Your children trust you with their confidences, their difficult disclosures, their bad behaviors because they know you will love them through thick and thin. As a parent, are you free to discuss what they consider private matters?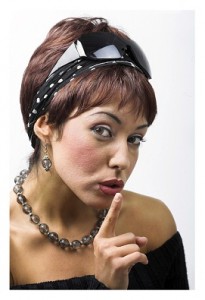 Your spouse or loved one trusts you with his body, his sorrows, his shortcomings, his latest manipulations at the office. As a partner, are you likely to share his words or actions with your best friend? What about on the web?
Where do we draw the line when it comes to privacy? Not only when it comes to writing on the Internet or updating Facebook, but in our real lives?
Do we reveal too much or just enough? And when it comes to writing or comments, do we change a name, revert to a pronoun, tweak a detail, or gloss over particularly ugly remarks? Do we describe our happy, intimate discoveries – without considering the reaction of others involved? Do we tell about those which are not ours to reveal?
I learned long ago that specifics make for better writing and more satisfying reading. But as a woman and a mother writing from my life – not "telling all" mind you – I purposely choose to avoid the very delicate details that may, at times, result in a superior story. I err on the side of discretion.
That is my choice, a compromise I make willingly, and I understand that others choose differently.
Privacy, Secrecy, "Tell All" With Good Intentions
In a recent Motherlode article, an essay on teen sexuality was shared, and many took exception not only to the content, but to the use of names and details to do with those involved.
What do you think of a mother who discloses intimate information about her daughter?
If the intent is educational rather than sensational, isn't this more than appealing to audience appetites?
If the teen gives permission, do you believe that makes it acceptable?
If the subject were anything other than sex – including the pleasures of oral sex – would anyone take offense?
I have revealed myself in bits and pieces through my writing; without knowing me – at least to some extent – how would you trust my authenticity? What would be the source of my credibility?
Yes, you "sense" me as time goes on, and you perceive the consistency of perspective – albeit on a variety of topics. Yet I frequently trade specificity for generalization, knowing the writing is weaker, but those I love – more ably protected.
Disclosures, Parents, Trust
I wrote about teenage sex not long ago, referencing conversations with my sons and attitudes in this household. I have also shared anecdotes to do with my children, including an amusing incident over condom confusion in which the joke was on me, and my own ignorance.
But do you know any details about my kids or their personal lives? Have I overstepped a boundary – with or without realizing it?
I hope the answer is no. Because I would hate myself if I felt I violated my sons' privacy.
I recall putting up walls around my mother so she wouldn't butt in, so she wouldn't eavesdrop, so she wouldn't strip my adolescent experiences from our conversations, mining them for her own purposes. She was a woman with no awareness of where she left off and I began. She considered any aspect of my life available fodder – for gossip on the phone with friends, or to reshape into an entertaining story that might be dropped into dinner table conversation. My embarrassment aside, I felt that I couldn't trust her. Over time, I ceased to ask or tell of anything significant in my life.
She didn't respect my need for privacy about matters that concerned me. I imagine that is one of the reasons that I believe my sons are entitled to "own" themselves and their feelings. I observe, I ask, I try to draw them out when I sense a problem. But otherwise – they're both older teens – I believe they have a right to privacy.
Privacy On The Internet
How does that translate here?
It's a matter of altering certain details, knowing when to change pronouns, recognizing what to gloss over – and also, what to leave out.
With or without permission, I hope I exercise good judgment – as it feels appropriate to this family, in our situation.
As for the mother and daughter I referenced initially, it's worth noting that the woman is a fine writer, used her full name in the originating contribution on teaching teens the joy of sex, and used her daughter's name as well. Frankly, it is a poignant essay and a beautiful one. I find their relationship admirable, the content reassuring in many respects, the dialog that follows fascinating, and yet – I would've taken a different route.
Changed names. Used third person.
A 17-year old (or 20-year old for that matter) may feel one way about private matters today, and quite differently tomorrow. Especially with everything permanently etched on the Internet.
What do you think?