It's a subject I've had to think about, make decisions about, and deal with – the realities of teenage sex, whether or not to make sure condoms were available and, what would – or wouldn't – be "allowed" at home.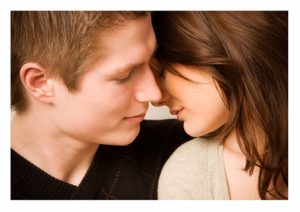 This topic is addressed on the New York Times Parenting blog, Motherlode, and I recommend that you read the ongoing discussion, including the comments. And rather than falling back on a simplistic and leading question like "Are your for or against?" – which suggest that one is advocating teenage sex or resisting against it – I'd like to take a more nuanced approach to the issue.
By that I mean – what you believe is manageable versus desirable, what factors come into your assessment, and what real dangers you see should you "accept" the fact that your adolescents will be sexually active.
First – may we agree that education is a must?
Long gone are the days when a curable STD or teenage pregnancy were the "only" worries a parent had, and I don't mean to minimize those concerns; they remain to this day, despite the prevalence of the Pill since the 1960s, and the fact that condoms have been around for generations.
Sexual Freedom, Sexual Health

In the early 1980s, the spread of Herpes hastened awareness that the Pill was insufficient to protect one's health. The days of "free love" were here and gone, seemingly in the blink of an eye.
But by the mid-80s, AIDS fear eclipsed every other conversation on sexual health, and most reasonable adults at the time took appropriate steps to limit risk. 
But let's talk teens, shall we? And the reference that Motherlode cited, which is Sociology Professor Dr. Amy Schalet's criticism of:
the belief of most American parents that their teenage children should not be allowed to have sleepover dates in their home.
In a previous article on Dr. Schalet's work and upcoming book, a further distinction is made between Dutch and American teenagers, including the need for an adolescent to "split" certain aspects of their life, in order to present the expected (and acceptable) familial face:
Unlike the American teenagers I interviewed, who said they felt they had to split their burgeoning sexual selves from their family roles, the Dutch teens had a chance to integrate different parts of themselves into their family life.
Teenage Sex, Ready Or Not Here They Come
Personally, I don't believe that 13, 14, and 15-year olds are ready for sex, but I nonetheless put condoms in the bathroom – just in case. When my boys were 15.
Who doesn't think that adolescents engage in a variety of sexual activities?
As the mother of two teenagers (and a house usually swarming with them), I have observed dramatically divergent "readiness" for all sorts of things in life. Some 15-year-olds are more mature than 18-year-olds, and the differences don't slot simplistically by age or gender or socioeconomic background.
When it comes to older teenagers, do you really believe they aren't exploring their sexuality? Aren't you worried about things getting "carried away" – and wouldn't you prefer them to be protected?
Right, right.
That's education and birth control, not the even trickier topic of allowing sex under your own roof – or heaven forbid – acknowledging that teenagers are sexual, and even fall in love.
But are education and sexual activity related? Is there causation?
Maybe you believe that allowing them to express their sexuality in their own rooms is condoning it. Maybe you believe it's a matter of who they're doing it with, or the nature of the relationship, or even if there is a relationship.
Morality – A Personal Matter, A Family Matter

Every family has their own sense of what they consider right or wrong, acceptable or not. And it isn't just about sex.
In my household, honesty, respect, and tolerance have been non-negotiable. I won't say there haven't been slip-ups from my kids, but they've been few and dealt with swiftly.
We all know that once trust is lost, it's damn difficult to re-establish it. That goes for trusting the word of your child just as it does your friend, your lover, your spouse, or your business partner.
Around here, the subject of sexual activity was introduced early – in age-appropriate ways and in response to questions, and incorporating my beliefs which run more in keeping with family behaviors I've observed in Western Europe, or for that matter – the sort of approach described by Dr. Schalet in her article comparing Dutch and American attitudes.
I made it clear to my sons that I thought 15 was still too young for most, that physical readiness didn't equate to emotional readiness, but that I would respect their right to privacy in their own rooms, and I wanted to be sure they would protect themselves and the girls they knew – physically and emotionally.
Affection, Parental Models
My sons have seen me exceptionally selective in my post-divorce relationships. I don't believe in the hypocrisy of  "do as I say, not do as I do."
Would I feel differently if I had daughters?
I like to think I wouldn't; in fact, the teenage girls I know were sexually active sooner than the boys. All the more reason to make sure they are safe while doing so – and that includes a safe location.
In my experience, turning a blind eye to teenage sexuality is foolish, and recognizing the reality of that sexuality is not the same as encouraging it.
Meanwhile, I am genuinely interested in what you think and why:
What do you consider a "manageable" approach to teenage sexuality?
What factors do you consider?
Is denying sexual awakening a matter of "self control" (a comment on the Motherlode article)?
Have you or will you speak of the emotional side of sexuality, as well as the physical?
Would you accept sexuality if it takes place elsewhere, but prohibit it under your own roof?
Are you more inclined to "normalize" teenage sex, or stick to "don't ask don't tell" policies?
You May Also Enjoy