He is certainly an example of an adult who does not need to be liked. Ah… my heart throb, Hugh Laurie, as the brilliant but irascible Dr. House.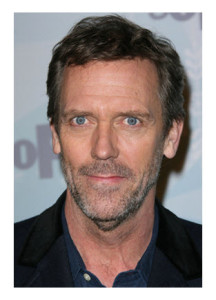 What a delicious Saturday night I had. The doctor was in! I got a fabulous fix of one of my favorite fictional characters in all his cutting, quirky, House-like magnificence.
Busy with a tiring task that lasted days and nights, the mini-marathon was exactly the prescription for relaxation that I needed. I hadn't watched in some time, and in the clarity of seeing new episodes (new to me), I had an epiphany.
House is not likable, and yet he is, in his own acerbic, at times antagonistic way.
We Like Odd Characters; Even They Need to Be Liked
Sometimes we like the most seemingly unlikeable people, generally as we get to know them – or perhaps as we come to know their stories, and put their more challenging behaviors into context as a result.
But what is fascinating to watch on the big or little screen is the portrayal of a character who doesn't care what others think.
Is House narcissistic? In many ways, yes. Anti-social? That, too. But it remains true that for Dr. House, likability isn't an issue. How freeing must that be?
As for the rest of us – who doesn't want to be liked?
I'm not sure when the need starts.
I know it's heightened in adolescence.
Likability is useful in the workplace.
It's faked, when we want something.
The Child Who Needs to Be Liked
For some, the desire to be liked is more than run-of-the-mill anticipation of being accepted or feeling comfortable around others. It's a matter of need. We need to be liked. We crave it. We feel inferior without it.
I imagine this starts for many in early childhood – through a combination of training (conditioning), the natural need for a parent's love and attention, and the treatment (positive or not) by others.
Yet it seems to be women who suffer from this need to be liked far more often than men.
Is this another facet of the need to please? Is the conditioning that women receive so culturally pervasive that it's nearly impossible to shed? Is the fact that this becomes easier as we grow older because we aren't viewed through the same (sexual, sex object) lens? Isn't it also a matter of upbringing, of personality, or confidence?
At what point do we cordon off those whose opinions truly matter to us, and those who will never like us – and we get over it and feel good about ourselves?
Cultural Contradictions: Mean vs. Likeable
It's an odd contradiction – our growing "mean girl" culture, juxtaposed with our continued desire to like and be liked. Hey – we even "like" everything on Facebook, don't we?
But let's think about it. How many of us rarely say no – to friends or potential dates? To partners and even children? To neighbors, relatives, to another volunteer drive? Isn't this due to a need to be liked?
Naturally, it feels good to be liked – to bask in the reflective warmth of what we hope is our personality and self-worth, fully appreciated by those to whom we are important and who are important to us. But that is a key element in the equation – the notion of importance – not only to us, but to others.
I want to be likeable to my children and to their friends because it is important to them – for their feelings, their development, their social lives. That doesn't mean I would compromise necessary discipline for likeability; as a parent, the former is more critical than the latter. This is just one example of considering likeability – from the point of view of others.
Why Likeability Matters
I want my children and their friends to like me; my children, because I love them; their friends, because relationships run more smoothly when there are no barriers like a disagreeable personality or even subtle intimidation.
I also want to untoward impediments to their experience of feeling likeable. And an unapproachable or unpredictable parent around their friends would be precisely that.
In the workplace, likeability is critical in certain roles – sales, for example. Likeability may be a significant factor if the corporate culture reinforces its importance. Likeability in a manager is a nice-to-have; I would certainly hope for it (and strive for it), but respect, excellence and fairness would rank higher on my personal list.
Please Yourself, But Play Nice
I'm all for playing nice – you already know that. But it's a little different than actually liking everyone, or expecting to. It's certainly different from needing others to like you – and not just a special few – but everyone you meet.
I am not writing a script for a daily dose of House-like snappish, arrogant, or dismissive behavior. I have had a few close friends with some of these personality traits; admittedly, the complexity may even hold some appeal. But the most mundane exchanges can become exhausting.
That said, I believe we should reconsider the circumstances of our wishing to be liked, not to mention the time and effort we expend trying to please too many people in too many ways, and far too much of the time.
Do you need to be liked? Does it feel excessive at times? Is it rooted in some soft spot of insecurity? What if you focused on liking yourself – first and foremost?

Image of Hugh Laurie at the 2011 FOX Winter All-Star Party, Villa Sorriso, Pasadena, CA. 01-11-11; Bigstockphoto.
You May Also Enjoy