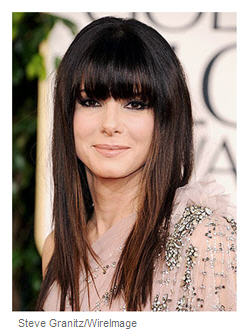 Yesterday I considered red paint for my walls, red paint for my hair, and settled for a new shade of vermilion on my toe nails.
Last night, I also cut myself bangs. Very Sandra Bullock.
And don't we all know that she appeared at the Golden Globes with a new do?
Blunt bangs, and commentary a-plenty.
So?
Other than the fact that I now resemble Sandra's coyly coiffed shorter sister, might I say that I am delighted there is no one offering opinions on my spontaneous stylings? Seriously – would you want to live your life in the proverbial fishbowl?
It used to be that we judged men on their words and actions. We judged women on their looks. Yes, that's a simplification.
Admittedly, we now also judge women on words and actions, but we still associate womanly worth with appearance. What woman would deny that self-esteem is tied to what she sees in the mirror, the number on the scale, or a friend's most recent remarks on a fashion faux-pas?
Raising daughters, raising sons

Growing up, what little girl doesn't play dress-up, doesn't piddle around in her mother's make-up drawer, doesn't try on her grandmother's pearls when no one's the wiser?
Even if our daughters are also playing at being doctors and running companies, aren't we smiling and nodding as they parade around in our adult shoes, trying on the trappings of their gender?
As for our sons, they're fashioning weaponry out of sticks and brooms, taking apart whatever they can lay their little fingers on, and yes – running around and satisfying their insatiable curiosity – as are our girls. Happily, times have changed, and more options are available to both sexes (especially as children).
Yet don't we still encourage our little girls to care about their appearance more than boys?
Beauty, power, profession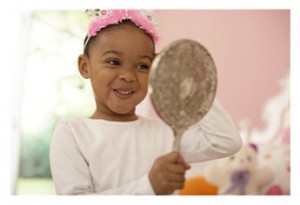 We continue to judge women more harshly than men when it comes to the physical, and both genders are guilty of this behavior. We are especially critical of our celebrities.
Sandra's bangs? Jennifer's booty? Weight gain or loss on just about any public figure?
And yours truly, along with many others, voicing disapproval of the plastic-fantastic that we see on Real Housewives of Beverly Hills – and other faces splashed across the media.
No one is denying that beauty is power. We're all susceptible to the pleasure of gazing at gorgeous bods and fabulous faces. But must we criticize every little change-up on our women, especially in professions where physical assets are irrelevant? Theoretically you could say that in the performing arts, appearance is relevant. Fine. But are Sandra Bullock's bangs really news?
Beauty, aging, dating
Beauty myths aside, there are a few advantages to growing older, including settling into that little bit of extra around the hips, or the silver wisps that float through your curls. There is the sense of knowing who you are which, on a good day, lightens and brightens the mood wherever you may be.
But it remains true that for a woman, youth (or its outward simulation) is an asset in this culture. Likewise, beauty – both professionally and in the dating world, especially in the post-40 dating trenches.
Personally, I'm content that I earn my keep behind a screen, where my ideas and words serve up solutions regardless of how I look. Except – if I step in front of a class to give a seminar, or a client to give a presentation, then, as a woman, I'm back in the fishbowl, where I will be judged on my appearance as well as my content and delivery.
Judging by appearance
Anyone who thinks that first impressions don't matter is wrong.
Anyone who thinks that personal hygiene, clothing, carriage, manner of speech and vitality aren't part of the equation is wrong.
We judge by appearance all the time, including judging men. But to a lesser degree, a more realistic standard, and without the cattiness and cruelty we reserve for assessing the worth of our women.
As for my blunt bangs, I have no need to fret about commentary. (I do love that my sons rarely notice this sort of thing.) I am content to live my life away from the public eye, from superficial pronouncements by style ghoul-rus, and as for my "big sister" Sandy, whatever she does with her hair is fine with me.
Do you define yourself by your appearance?
Are you affected by commentary from others about how you look?
Do you feel free to offer commentary on how others look?
Do you encourage your daughters to care more about appearance than your sons – or to care differently?

Big Little Wolf's Daily Plate of Crazy