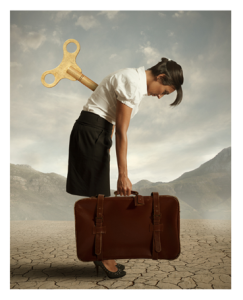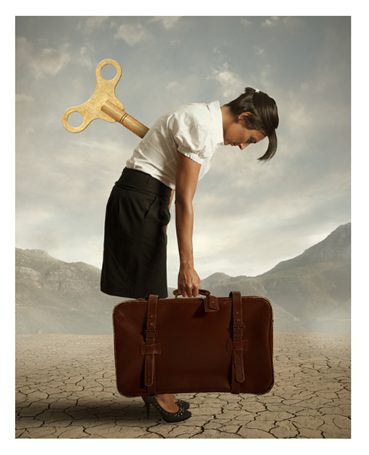 Sometimes we surprise ourselves. Who would have thought that physical fatigue and mental acuity could coexist – comfortably? Or do we simply adjust to being tired as a way of life, and enjoy those times when our minds (or emotions) are humming along just fine no matter what?
Like most parents, I'm tired. And for a variety of reasons, I may be a little more tired than some. I also live with a teenager who is tired, and I note (with envy) how easily he bounces back.
But if we aren't adolescents, how do we keep from wearing out? How do we manage to keep bouncing back?
Health
The body, viewed as a machine, can break down, need fuel, require fuel of a different sort or, like any other machine, need regular maintenance. Without proper care, things go awry – and they may go awry anyway.
Assuming we all tend to the basics (nutrition, sleep, exercise), when it comes to running down, isn't it often a case of too much and not enough – too much to do, and not enough resources – time, money, necessary hands?
We sit with our calendars and checklists, review the tasks, and when A + B + C + D (and then some) = more hours in a week than we can possibly accommodate – well, we know the drill. We burn ourselves out trying to do it all (irritated at the world), we keep running on empty (and setting the bar too high), and eventually, we aren't running at all.
Positive attitude? Of course it helps. But resilience may have little to do with mind over matter, and everything to do with impossible expectations, or physical limitations.
Life, Midlife, Relationships
We've all had a day at the office that makes us want to pack it up and never go back. What about the feeling of everything closing in, stagnating, drowning you – when you've been at it 10 years or 20 or 30 and you just want out?
We may call it burnout or a midlife crisis, but the fact is we feel worn out. Likewise, in our marriages, in our parenting, in our other daily responsibilities.
Some people walk away. Others stay, pick and choose the elements they know they need to fight for, and refashion the rest.
As for relationships, sometimes love seems to run out. It drains away, and what remains isn't enough.
Heart
Who doesn't want a healthy heart? The capacity to love, at any age? Sure, it's an idealistic concept and maybe I've been watching too many chick flicks in the middle of the night or reading too much in the online world. But I've noticed how many singles (or should I say post-maritals) disappear into anger, frustration, or stoically give up on romantic relationships. I admit that dating is a low priority for me at the moment, but I genuinely believe that relationships make life richer.
I wonder about the factors that make some resistant, and others close up shop altogether. There's age – which limits women (let's be realistic). There's health, which can limit anyone. And then there are family obligations, professional responsibilities, and the intensity of previous hurt or loss.
There's fatigue, of a very particular sort. You know – I tried, I tried again, I tried again. I'm done trying.
Figuratively speaking, the heart wears out. We lose receptivity – or choose to lose it. But why do some run out of willingness (or ability) to "put themselves out there" and others don't?
Retiring from the game
On a different sort of "heart note," my grandfather lived a long and full life into his nineties – with his mind and spirit intact. But he outlived his eldest son (my father), and his wife of more than sixty years. The toll those losses took was enormous. When he passed away, I had the impression that he'd simply had enough. He retired from the game of life.
While I'm not yet ready to throw in the towel (on anything), I recognize that we each carry a varying tolerance for hurt, for disappointment, and for recovering from setbacks. We grieve differently, we rebuild differently, and we heal on our own schedules. Some of us never heal. So we hedge our bets, or retire from the game – the game of love, for example. Or wherever else we deem that we've failed or that the result simply wasn't what we wanted.
We wind down. We wear out. But if the former is the case (that's true for me; is it true for you?), who's to say someone or something won't come along and wind us up again – so we may proceed with renewed enthusiasm at least awhile longer?