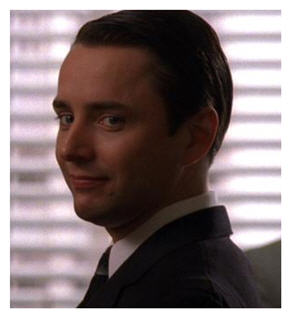 Mad Men continues to do what it does best, revealing characters in all their complexity.
"The Rejection" is filled with nifty elements which seed future story lines as bad news transforms into opportunities for some, and drives others into deeper despair. Of course, we don't yet know which paths our favorite characters will take as Peggy and Pete move forward, and Don seems hell bent on self-destruction.
And is that any wonder, really? After all, the rejection he suffered is as profound as it can get – his wife tossed him out not for the years of infidelities, but for who he is – for the strange mix of Dick Whitman and Don Draper that he has yet to come to grips with.
Pete and Peggy

Pete's week starts out badly, as he's told to reject his father-in-law's Clearasil business which he worked so hard to court, retain, and grow. He feels unappreciated and resentful, wondering how he'll break this to the man he's butted heads with more than once.
Instead, he receives unexpected news when he meets his father-in-law, who lets it slip that Trudi is pregnant. Pete and Trudi had given up on the possibility of a baby, having tried for some time, and Trudi is the one Mad Men woman who genuinely wishes to be a mother. As word gets around the office, Peggy responds with mixed emotions. We see her wistfulness, knowing she bore his child out of wedlock and gave it up for adoption.
Peggy wants it all – a professional life, a sex life, a little fun – but she also wants marriage and children, eventually. Women doubt it's possible to have it all today; imagine how daunting it seemed 45 years ago.
A lovely symmetry occurs in this episode when Pete bangs his head into a column in his office, worrying over business, and Peggy bangs her head onto her desk, knowing she must face Pete's baby news. In another lovely scene, Peggy and Pete exchange glances, as she heads off with young friends for lunch, and he stands with the other suits. A glass wall divides them, their lives growing apart.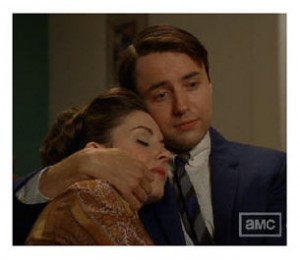 Pete ultimately turns around the Clearasil loss, convincing his father-in-law to give him all the business he can. Billings total some $6 million – a coup for Pete, and a sign that he is moving into a successful professional track.
Peggy and Joyce

Peggy encounters a young woman named Joyce, in the elevator. She's carrying an envelope of photos with a large "rejection" slip on them. It turns out they're nude images, which Peggy peers at, noting that they're beautiful.
The two strike up a conversation, and the beginnings of a friendship. Peggy later finds herself invited to a party – a wild one at that – first hit on by Joyce, whom she jauntily rejects, and then stuck in a closet with a sexy guy she ends up kissing.
Rejection and opportunity, hand in hand.
It's also worth noting the stark differences in Peggy and Pete's lives. She is taking more risks, enjoying her freedoms, and opening herself up to whatever may come. Pete's life is increasingly channeled into a traditional and more "responsible" vein, as he settles into the news of his future fatherhood, and steps up to the plate as a partner at Sterling Cooper Draper Pryce.
Don and Alison
Don is another story altogether. His nonstop drinking is impossible to ignore, and his depressing home life is clear contrast to the public face he puts forth in the office. Even there, it's obvious he's in bad shape. And more so, when his secretary, Alison, states outright "he's a drunk."
As for her, we see how she reacts to Don's awkward attempts to pretend that nothing happened though they slept together, and he callously dismissed the incident. She rejects his demeaning "write yourself a recommendation and I'll sign it," picks up the nearest object in the office, hurls it at him, and storms off.
Don tries to write her an apology, and fails. Though he feels remorse, he doesn't know what to do with it. He doesn't know who he is anymore. He seems older, less effective, and also less glib. We know he's grieving; he received a snapshot in the mail of himself standing with Anna, and a reference to how young they look. She's dying, and he'll lose his last touchstone to a Dick and Don who is loved.
Our hero looks particularly small as night wears on, a drink in his hand, dwarfed by Manhattan in the background.
And don't we love the symbolism of this visual, and the others in this episode?
Despite Don's depression, one light remains lit (hope?); the grid behind him suggests a system (and an old IBM punch card); the vertical bands of the blinds appear like prison bars. Don is in a cell of his own making, but we can look out – for all the good that does. When we do, we're aware of our fragility, our ordinariness. More so, as we catch a glimpse of private worlds through the glass.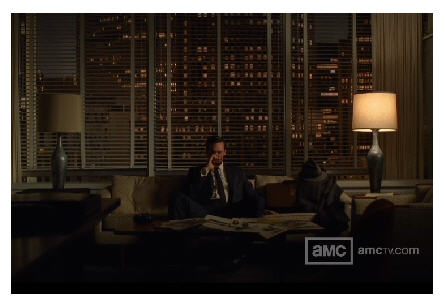 Images courtesy AMCTV.com. Read more Mad Men musings and recaps.



© D A Wolf

Big Little Wolf's Daily Plate of Crazy