Wimbledon 2010 Week 2 Upsets
It's week 2 of Wimbledon 2010, and I'm enjoying coverage of Venus Williams (of course), and Kim Clijsters, as they each play matches on this day of quarter finals.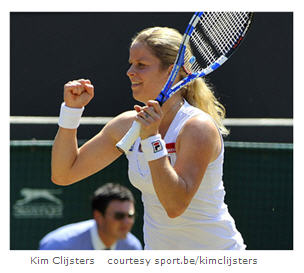 I'm still getting over the shock of watching Roddick lose to Lu in a four and a half hour five set match yesterday.
And now another shocker! What an upset! As I watch Tsvetana Pironkova defeat five-time Wimbledon champion Venus Williams 6-2, 6-3, a Clijsters win becomes more likely.
And it's the Belgian, Kim Clijsters, I'm thinking of. In particular, it's a remark during yesterday's color commentary that has me pondering; an understated reminder that athletic careers are short-lived at best, and for women, even more so, if they want a family life.
The gist of the comment: Kim Clijsters wants this badly; after all, mother of one, she wants more children and doesn't have much time left to play.
Athletic Achievements, Difficult Choices

I can't help but think of the conscious choice that female athletes face – between matches and motherhood. And the fact that 30-year old Venus was just ousted by the 22-year old Bulgarian, Pironkova? Is Venus nearing retirement after all?
While women continue to make strides in many fields, when it comes to athletics, both men and women face short careers under the best of circumstances. Female athletes? If they want families, even more so.
This isn't the usual issue of barriers to entry or the upper echelons due to innate bias, cultural issues, or even lack of infrastructure like day care options. This is an issue of physical, biological constraints. For women to train and compete, remaining at the top of their game, they will be "on" year round. How is 9 months of maternity to fit into that picture, much less the recovery following childbirth, and those critical early months of maternal bonding?
Matches or Motherhood?
For all women, the likelihood of meeting someone with whom to marry and have children narrows as we age, thus deferring the motherhood decision intentionally or otherwise. What if you are a professional athlete?
As a woman, would you defer your options to have a family into your mid or late thirties?
As a man, would you stand by a woman athlete and wait – through the travel, the injuries, the training, the question mark of whether or not children will be possible at a later age?
Sure, it's easy to say "go for the career" if we're talking about top-ranked players in a lucrative field, as in women's tennis. What about those who aren't at such lofty levels, and never will be?
A reminder of just how extraordinary it is that Clijsters returned to the game last year at 26, and competes now in the quarters (hopefully to move on), from the Daily Mail, September 15, 2009:
Miss Clijsters became only the third mother in history to win a Grand Slam title, after Margaret Court, who took the U.S. Open in 1973, and Evonne Goolagong, who won Wimbledon in 1980.
Think about this achievement – how difficult motherhood is to begin with, and what the body and mind goes through to prepare for the sort of performance required by professional athletes.
Personally, I'd love to see Clijsters take it all the way at Wimbledon 2010. Or are we looking at another upset in the making, in the quarter finals?
More Stunners!
It is another upset! Vera Zvonareva takes down Clijsters – 3-6, 6-4, 6-2! Stay tuned for more exciting play from the women, and certainly a Wimbledon Final none of us expected.

For more articles on Grand Slam tennis:
French Open Wardrobe Mishaps – Already?
Unforeseen Conditions, Wimbledon Wardrobes – Wimbledon 2009