The net was abuzz yesterday with Venus Williams' wardrobe mishaps during French Open early round play.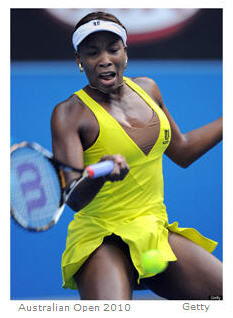 Tennis views or tennis news?
Now come on. It's hard not to notice a great player, an unusual outfit, and a little slip here or there. But the fact is, Venus Williams and the women at the French Open are phenomenal athletes. If a bit of cloth shifts, they aren't about to worry over that, as play continues. Human nature being what it is, we all love that titillating little glimpse – even if it's illusion, as is the case here, for the most part.
Venus and sister Serena have always made fashion statements on the court – as they brought excitement back to the women's game more than a decade ago as power teens, hair and jewelry flying as they dominated their opponents.
Remember the Australian Open? It was only a few months ago. Venus wore a neon-colored tennis dress (I loved it) that was also about illusion and style; an inset at the chest as well as her panties matched her skin color. From a distance, our worldwide voyeuristic view perceived a flash here, a flash there. But take a closer look. Not so.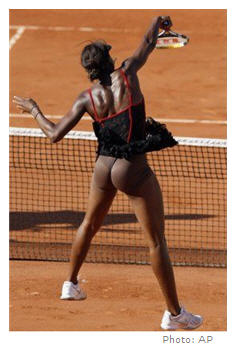 Yesterday, when I saw the "news" item about Venus without undies (again), and certainly not the case (again), I decided not to mention it. Last night, I pondered that decision, given that I wrote about Wimbledon wardrobe mishaps previously. Of course, that was in the context of a dream in which the tennis wardrobe mishaps were my own, during the course of an odd job interview. Somehow, my Wimbledon viewing had intertwined with my subconscious, and the lesson – a professional carries on no matter what – wasn't lost in the dream, either.
This time? Do I really want to call attention to cheeky moves on the part of a tennis icon? To our trying tendencies to play and replay the female form when seemingly exposed? What message does that send?

Give me Andy Roddick. Please.
This morning, I'm dealing with reality. Several realities. Why are we bothered by beautiful bodies? If men were capable of entertaining us with their fashion slip ups, I'd happily look. And look again. In fact, I adore that flash of flesh when the men change their shirts. What's not to admire about a beautiful body on a fine athlete – male or female?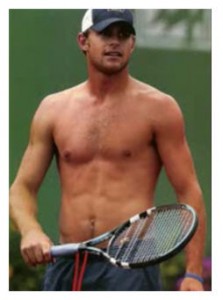 For those of you who are fans of the male torso, might I recommend an entire YouTube video on Andy Roddick Shirtless?
Have a problem with that? I don't.
More Venus Williams
This Venus incident is doubly interesting because the cheeky view was delightful illusion. It garners press (not that she needs it, though it doesn't hurt, does it?) and it says much about our humanness. This is a beautiful woman, and a superb athlete. We like watching her, seeing her individuality and her style. But do notice: the outfit is a cute, flirtatious number. A corset dress. What better for Paris? I love it, and I say more power to you for daring to wear it, as long as you're comfortable in it – and who the hell cares what you flash.
Her panties were on, people.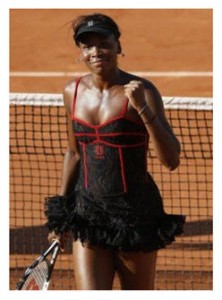 They match her skin color. And she beat her opponent. What more is there to say? Except, perhaps, that the AP photographers might grace us with equal time for the men as they peel off a wet shirt, mop a little perspiration, and pause for us to savor…
…
…
…

© D A Wolf

Big Little Wolf's Daily Plate of Crazy