I had finally nailed a job interview – to test my writing and editing skills, my sense of effective visual design for commercial web sites, and presentation composure in the face of unforeseen conditions. It was the dream job – or was it the dream interview? Or just a dream?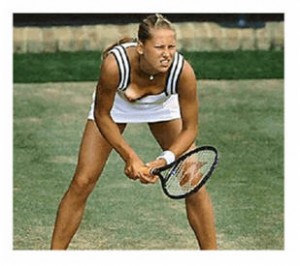 Did I say "dream?" Nightmare is more accurate. Murphy's Law gone the way of Magritte. And what are Serena and Anna doing here?

FLASH: I am sitting across a table from a tall, pale man and his blond assistant. She resembles Pamela Anderson. "I'd like your business card please," says the interviewer. That should be easy, I think.
I am wrong.
In the dream, I rifle through my purse. Business cards. But they're damaged. Hole punched. Crumpled. Sabotage, I mutter to myself. I search the pockets of my jacket and skirt. More cards, but their edges are badly bent.
DECISION: Is it better to provide something rather than nothing? Does it depend on the circumstance? Or do I stay true to myself – and never provide a deliverable or a result that isn't up to my standards? And why do I think I see Anna Kournikova out of the corner of my eye?
"I'm terribly sorry," I say. "My cards are being redesigned. But I'd be happy to pop one in the mail to you, and meantime, my information is on the resume in front of you."
FLASH: I'm no longer seated across the interviewer. I'm peering around heads in the crowd, about 12 rows back, at Wimbledon. The grass is worn; we are well into the Wimbledon fortnight. Anna Kournikova is on the court. Her blond mane is pulled back into a tight pony tail. She is intent, ready for the next serve and volley. One breast is exposed.
Now I am Anna, exposed. The wardrobe malfunction is my own. Do I continue play? Or risk the point by taking a second or two to tuck myself in?
I am distracted by the sound of the tennis ball as it hits the sweet spot, soaring at 120mph over the net. Anna is gone. Now Venus and Serena Williams are battling it out. Beads and jewelry. Power. It's thrilling to be here, to watch this. How many years has it been?
I'm warm. Very warm. I'm wearing a raincoat, sitting in the heat and sun. I blink, trying to focus, trying to see if what I think I see is really there: Serena Williams is following the Wimbledon wardrobe rules – all white – but she's playing (ferociously) in a raincoat.
Granted, it's a short raincoat. And it looks great on her! She's following the rules, I think, but she's true to herself.
I rummage again in my pockets for business cards. They are there, in the raincoat. Still hole punched. Still bent.
FLASH: I am in the interview room. "Sit at that computer," says the gentleman. "Follow the instructions on the test. You have 90 seconds to show us what you can do, as a copy editor, a designer, and how accurately and fast you type." I am nervous.
The computer screen is placed above eye level. An unexpected circumstance, to say the least. The keyboard is covered with a green felt cloth. Another unforeseen condition.
I think of Wimbledon again, the differences in surface – could I type through clay if this were the French Open? Am I expected to type through sod because it's England in June?
I tell myself to stay focused. The interviewer has left the little room. Ungrammatical phrases are streaming across the screen. I try to type – and I type 90 words per minute – but I cannot feel the keys. "This is pointless," I think. "Are they watching through a camera? Is this really a test of composure, and not a test of typing, editing, and visual acumen?"
DREAM REALITY: I fumble through felt. My fingertips accomplish nothing. No words appear in the typing area on the screen, as I try to correct what are obvious errors.
90 seconds are over, quickly. The assistant enters. "Next task?" she asks sweetly. She's in a Baywatch one-piece. Only it's not red, it's green. Like grass.  I think of Weeds, the television show. I wonder if Mary Louise Parker wears a one-piece or a two-piece. I wonder if she's in the stands, or a viewing room behind the wall.
I get up from the chair to follow the Pamela look-alike. She gasps, and points to my crotch. I look down. I'm now wearing a white skirt, and I'm not in a room at all. I'm standing on the worn, green grass of Centre Court. I hear hissing and cheers, boos and shouts. I hear laughter.
"Violation!" the referee calls. He's lost his usual British reserve. "Red panties! Violation!" I flush in embarrassment. Now apparently I'm Tatiana Golovin. Red-cheeked, indeed.
REALIZATION: I don't know how this is happening, but the jolt of color gives me confidence and energy. I glance again at my skirt – a short, thigh-baring one at that – and there's little doubt that I'm wearing silky scarlet underwear.
"But you must allow me to continue play," I plead. I listen to the jeers and applause, both. This Wimbledon wardrobe malfunction – as unforeseen as the breast, not quite as embarrassing.
"Quiet please," says the announcer. "Play will continue."
FLASH: I'm on the court. I'm hitting well. The red panties that defy the Wimbledon rules are inspiring me to play better, to hit harder. I haven't given up, despite this latest mishap.
Next test: The assistant seats me at another computer. A commercial web page. Clothing – sports clothes to be exact – t-shirts and shorts, tank tops and tennis skirts, too many colors, flash animations, a rapid rolling list of shopping categories and item numbers in a chaotic jumble, zipping across the page.
"I know how to fix this," I say to myself. "I can do this job."
But there are unforeseen conditions again – no pen to write with, no paper, no place on the screen to "capture" or annotate or drag-and-drop errors and corrections. No way to actually execute on the fixes that I know how to accomplish.
FLASH: I'm on a London street. Two lanky teens approach me. "Hey you, lady!" one says, poking a finger into my shoulder. "Why you so short?"
The other joins in. "Why you wearing that? Why you in blue, not white like you supposed to be?" I smile at the boys. I wonder why they cannot speak properly. Is there a camera observing somewhere? Am I a tennis player, a spectator, a copywriter, a failed typist relegated to a wacked-out reality show?
I am calm. Perhaps this is the composure-under-fire test.
"Gentlemen," I begin, "I am vertically challenged because my parents were vertically challenged. But I have heels and aspirations. I can hit a tennis ball hard, type like the wind, design a masterful interface, and do so while wearing whatever I want. I'll follow rules as best I can, and otherwise, I'll improvise."
"What you mean – improvise?" says one of the boys, belligerence still lingering in his tone.
"I'll ask what you enjoy about Wimbledon, for example. Who do you think is favored to win this year – Federer or Nadal? Do you think Rafa will be in his pink shirt again? Or would he prefer blue, like I'm wearing now?"
His manner has changed. He's thinking about Federer, about Nadal, about pink shirts. Oh no… will he realize that Nadal just pulled out of this year's competition? Was he really wearing PURPLE when he announced it?

I continue, as if none of my facts are off. "Andre Agassi refused to wear white once, you know. He wanted to make his own rules, to change the established power structure in a way."
"Did he do it?" asks the other boy.
"He won Wimbledon – but several years later, when he conformed to the white wardrobe requirements. Sometimes you need to play by others' rules if you want something badly enough. And sometimes, no matter what you do – you're on your own.  The trick is knowing when to play, when to withdraw, when to try to change the game."
FLASH: The interviewer and his assistant are on the other side of the court, ready to receive my serve. They're both naked. The ref doesn't call a violation.

I'm in a white tuxedo-like getup, à la Maria Sharapova. It's not terribly flattering, but it's all a matter of the rules. I can move easily, I'm relaxed, and I think I'll be just fine.
"You failed the test," the interviewer says.
I stand. I reach forward to shake his hand. I thank him for his time. I smile and add, "I appreciate the opportunity to come by. I am well qualified for the job, can roll with the punches when the unexpected happens, and change up the game when I need to. Please check my site and portfolio, and I hope to hear from you soon."
The man nods. He is still naked. His assistant is leaning against the wall wearing a hot pink bathing suit and a yellow headband. She seems unfazed by the gentleman's lack of attire, or anything else.
I exit the court. I was never in the game. But I'm still ready – blinking myself awake – ready to move on to another match.
Big Little Wolf's Daily Plate of Crazy