100k. What do you think of when you hear it?
Money
Money. That's the usual answer. A goal for many of us, once upon a time. Still for some, I'm sure.  A measure of worth, based upon pay.
So often it is the professional's measure of having arrived. Financially at least. These days, it may be relatively early in one's career. And for women? Once upon a time, it meant the world to some of us to pierce the six-figure barrier.
I did that once, as did my friends, somewhere around the age of forty. And yes, after many years of study, educational debt, 70-hour work weeks. It was sweet. Very sweet. But it seems like another life.
Of course, the money would be fabulous, but as a measure of worth? No. That was a different me. That is not this me.
Milestones

Those days of that particular earning power seem distant. Dusty.
There's 100k of another sort that's been on my mind lately. Yes, a goal. A marker.
Do you have milestones that you'd like to achieve?
100k of one sort or another?
Your first $100,000 in revenues for your start-up?
100,000 Twitter followers?
Perhaps your 100k is part of an explicit plan, or maybe you don't speak of plans, of your most special agendas. They may live in your childhood dreams, or new dreams. They may be grand or small, seemingly ordinary, but very important to you. Achieving a milestone feels like a deep breath. Celebrated publicly or privately; reached, and then set aside. To pursue another dream, another goal.
More. The best possible "more."
100k
For me, 100k is something else.  A measure of a very different sort.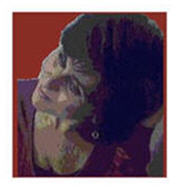 100,000 hits. Page loads. Part of an experiment begun not quite one year ago. It is a small victory. A moment of !!! Never part of a plan. Never expected. And part of a writer's private smile. Satisfaction. Yes, a moment of happiness, knowing that it's just arrived. This milestone. And this thank you.
100,000 hits on Daily Plate of Crazy. Not a finish line. A beginning.

Big Little Wolf's Daily Plate of Crazy