"Men in Speedos need release," he said.
Now, I will not specify where this remark was made, nor the precise context. Suffice it to say that this friend is a man of impressive athleticism; he swims, he runs, he works out with focus and dedication. There was discussion of the urgent desire for enthusiastic engagement (opportunities are narrowed by biting cold and mountains of snow), and equally, mention of a long expanse of time since he had released his powerful pent-up energies in engaging exercise.
Speedos, trunks, boxers, briefs
My thoughts wandered to Aegean beaches, to tennis courts, to men in Speedos (indeed) and skin-tight shorts. I might add I can imagine this friend poised on the edge of his personal plunge into new waters, but I also paused to ponder the cultural elements of the swimwear issue, not to mention boxers, briefs (caleçons et slips) and related matters of male lifestyle and fashion choices.
I come to this meaty discourse with the experience of both European and American fashion exposure. Speedos (like skimpy briefs) are entirely fitting for men in other countries. Yes, my relative expertise is France, Switzerland, Belgium, and the Netherlands (not an exhaustive list), yet in the US, we continue to look askance at those who choose Speedos at the beach, or for that matter, the finest of briefs beneath the jeans.
We adore the scanty underthings and tight-fitting athletic garb on our women, do we not? Our celebs, our models, our tennis stars? Why not our men?
And ladies – don't tell me you haven't wondered about that first slow reveal, and whether you'll discover boxers, boxer briefs, or possibly an ample jock in a classic Jockey.
What's up with cultural stereotypes in underwear?
Do Speedos automatically imply sexual readiness on the part of a man? Sexual preference? Or sexual confidence? A sign of greater comfort with a more European fashion style? The mark of a serious competitor in the water, or a need for speed?
As a woman, I prefer a man in a sleek Speedo (many styles to choose from), much as I enjoy the view of my favorite tennis stars in their appropriate athletic shorts, moving on the court with power and finesse. We know that Speedos are the swimwear of champions, but did you know that the origin of this brand is Australian? How à propos, as it is time for the Australian Open – the first tennis Grand Slam of the new decade!
Please release me – to watch the Australian Open
As for the need to release, I suggest (to my friend) that he go for some vigorous exercise at the local Y – or chill with a Red Ant Lager and the pleasure of great tennis, beginning Sunday.
After all, it may be cold outside in the Northern hemisphere, but it's summer Down Under, and I'm anticipating hours of terrific moves (and ever-entertaining wardrobe choices, including hot men in cool shorts) – as we are about to be treated to the upcoming Australian Open.
Keep your eye on the (tennis) ball!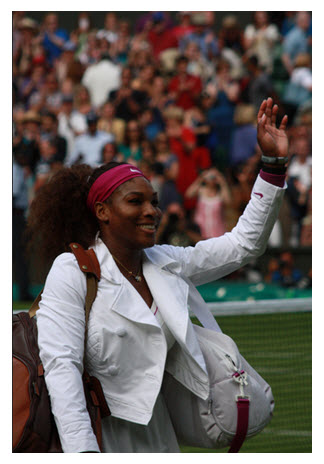 I'll be intent on watching all my favorite tennis players – defending men's champion Rafael Nadal and defending women's champion Serena Williams, along with Roger Federer, Andy Roddick, US Open champion Kim Clijsters, and hoping for another Melanie Oudin run! Naturally, I'll be watching Maria Sharapova and Elena Dementieva (talented and – let's face it – gorgeous). I'll pay particular attention to Andy Murray as well. By the way, did you know that John McEnroe has backed Andy Murray to win?
(I admit, I've got my TV viewing schedule handy, and during commercial breaks I may let my mind wander. Surely my European tennis heart throbs, Roger Federer and Rafael Nadal, aren't the "boxer" types; more the briefest briefs – or must we discuss World Cups?)
Whatever the costume, I'll keep my eye on superb play and on the balls (lest there be another scuffle and incident with a lines person). And I assure you, fashion choices and potential tennis wardrobe mishaps aren't the motivation; it's about a phenomenal sport, and the many joys of watching it.
Australian Open local time, tennis update

Care to check out local time and weather conditions in Melbourne?
…
Late note: According to swissinfo.ch, Roger Federer is organizing an exhibition tournament of the world's top players, proceeds to benefit Haiti relief efforts, players to participate on the eve of the Australian Open.

Serena Williams, author Katherine Shann, shared under CC 2.0, image via Flickr http://www.flickr.com/photos/41335565@N00/7515304768/