Last night I had to face it. The truth. My addiction.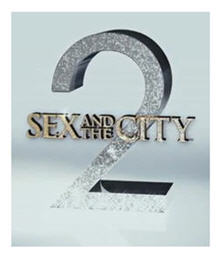 I guess as confessions go, it could be worse. So here it is. I'll just spit it out. I am an addict. Yes – I am addicted to Sex and the City. To the series. The movies. And it's been going on for some time now. Years. Behind closed doors.
When I'm down, I pop a DVD into my laptop and lose myself in a classic episode. When I'm up? I celebrate, by giving myself a little time, just before bed, with the fabulous four – Carrie, Samantha, Miranda and Charlotte.
When my heart aches, I dig out an episode of Carrie and Big, or Carrie and Aiden. When I miss my Parisian adventures? What could be better than Season 6, with Carrie and Petrovsky on the Right Bank? Or our heroine, when she first arrived in the City of Lights, beaming at the view of the Eiffel Tower?
Yes. It's my pop culture Bible. My guilty pleasure. My dirty little secret. And now I'm letting it all hang out, because I know I cannot be alone, and there is no 12-step program. And if there were? You couldn't drag me to a meeting. (Unless there were viewings of Season 1, Season 2, Season 3…)
Women and friendships
I popped by Nicki's Nook last evening, and she was discussing her plans to see the newest Sex and the City movie, opening in May. She offered the official Sex and the City Movie trailer on her post, and of course, I dug in. Hungrily. I watched. Watched again. Then went to the web, and looked for more.
So what is the enduring appeal of Sex and the City?
Several men I know shake their heads, insisting that the raw talk among the four women in the original series is unrealistic (not so), that no women would speak to each other the way they do. Those women, of course – Sarah Jessica Parker (Carrie), Kim Cattrall (Samantha), Cynthia Nixon (Miranda), and Kristen Davis (Charlotte). The conclusion of these gentlemen? Men and women both enjoy the show for the sex, or sexy scenes. Because these women exhibit a freedom that doesn't exist in real life.
While I might agree there is validity to both reasons (and disagree about the openness among some women), for me, it's all about friendship. The kind of very special friendship that women build, as portrayed in the series. The sort of friendship that outlasts almost everything else – family, of one's own choosing.
The characters in Sex and the City represent the best characteristics in loving, trusting, female friendships. Laughter, honesty, nurturing, support. No tearing each other down. No competitiveness or cattiness, as so many believe to be the norm among women. (Can anyone spell "Real Housewives?")
As for the frank conversations, particularly in the series, not only do I applaud the original writers and producers, but I suspect SATC provided an education for some of us (I admit I learned a few things). Perhaps we also gave ourselves permission to own both sexual candor, and vulnerability.
Women's fashion (and shoes, shoes, shoes)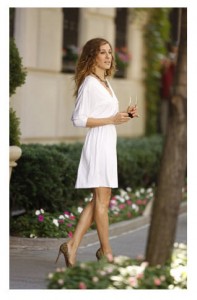 The other reason we watch Sex and the City? Fashion!
What's not to love about the amazing clothes these women wear? Extraordinary designer duds that dazzle and delight. And the shoes! Be still my heart, or I may swoon as I type this, just thinking of the Manolos in the original series, and the Louboutins that bewitched me in the first Sex and the City Movie. Who will it be this time? The footwear designer bound to seduce us with fanciful and flamboyant heels?
What's not to love about the wardrobe choices that most of us would never dare to assemble, or simply couldn't afford to?
Family
I fully expect that we will also get doses of the ups and downs of family life in our upcoming two-hour extravaganza. The honeymoon may be over for Big and Carrie, Charlotte's realizing that two young children can be a handful, and we can anticipate a few bumps in the road, as evidenced by the trailer.
What else, for those counting down the days, like myself?
A wild ride – frivolous, fun, no doubt more far-fetched than the first film (Abu Dhabi??) – but like all good fans and those seeking a dose of upbeat entertainment, I'll be thrilled to see the movie.  These women are wonderful to watch, as are the men who enrich their fictional lives. Seeing these characters continue to play and grow together with their children, just like the rest of us – all glitz and glam aside – is like visiting dear friends. A little glimpse into a self, or a satisfying imagined self.
My "secret single behavior?" This! And as addictions go – mighty fine.

Big Little Wolf's Daily Plate of Crazy