I wandered into this, compliments of Google. Perhaps you've seen it elsewhere, but I loved it. (But then, what's not to love? It's delicious and romantic in an endearing, geeky sort of way.)  A Parisian love story. Even though it's an ad for Google, it's quite charming, meandering from a few key phrases to translate (French), to cultural exploration, to progression through the delights of infatuation… and who doesn't love love? Especially with Valentine's Day around the corner?
Not Paris? Try the Riviera or the countryside
Isn't this a nice time of year to imagine a get-away to somewhere romantic? Is Paris too chilly and gray? There's always the South of France. I imagine that "tu es très mignon" (you are very cute) works quite nicely there, too. Somehow, I think I'd put my restless legs to better use in an adventure on foreign soil, rather than pounding on my keyboard every day in my current all too familiar locale.
Dream trips?
Ah yes, I do still have those metro tickets in my pocket. And the emergency Euros in my wallet.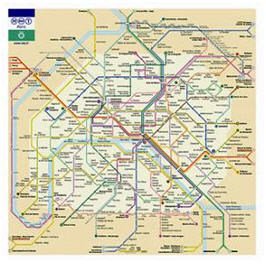 I know exactly where I would go and put my mastery of the French tongue to use. But first, vitamins, bills, parenting, real life. Fortunately, I have a cache of foreign films of my own. In memory.
Where would you go, if you could pick up on a whim and just do it?
Would you go alone, or with someone? Who?
Up for foreign intrigue at this time of year?
Or time of life?
Yes, I admit. The lure of France has caught hold again. How long until another 7′ tall French man swings by with a job offer? Ah oui. Still parenting. Oops. 2012 – Parisian adventure? For the museums, the galleries, the bustling quartiers and cultural opportunities, of course. Yes, I said culture. How could you doubt me?

Big Little Wolf's Daily Plate of Crazy