Dear ELLE Magazine Editor-in-Chief,
Thank you so much for offering me the position of Executive Extraordinaire of Chic Geeks and Sweet Cheeks with French Speak.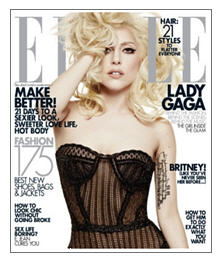 I am delighted to accept, and appreciative of the fact that you will allow me to work remotely from my cozy, charming, very French styled and eclectic East Coast American cottage, while paying me a handsome salary avec benefits, most importantly, access to your Elle photo shoot shoe closets.
Of course, you have taken into account my many years experience in international marketing, the fact that I have written for print and web, my dainty little feet that look irrésistible in Jimmy Choos, Roger Viviers, the latest Sergio Rossi or any other daft and decadent footwear you might require of your stylish executives, writers and marketers. Oh – yes – there is my commitment to Fashion Flair the French way, and certainement my fluency in French and comfort in Paris are of assistance, je le sais très bien. Especially since you have indicated I will need to attend Paris Fashion week, London Fashion Week, New York Fashion Week, and the occasional meeting in the City of Lights, naturellement.
And lovely of you to agree to my idea of photo shoots at all the finest modern and contemporary art museums that Paris has to offer, posing fashion works of art in front of the greatest masterpieces of the 20th century. Génial!
As for the wine
May I also take this opportunity to thank you for the French wine and champagne you had delivered so I may celebrate this new position with simultaneous gravitas and lightness of being. (This will certainly encourage my seasonal return to rosy cheeks and feeling in the pink! Eh oui – we all know what the French have so expressively illustrated – that wine is the secret to a flourishing love life.)
In particular, merci for the Paul Garaudet Bourgone Pinot Noir 2006 – very nice.  Then, there is the Saint-Emilion Grand Cru Château Canon-La-Gaffelière 1997 – merveilleux. And who wouldn't be tickled over a rare bottle of Dom Ruinart 1998 – and all the heady effects of a classic champagne with elegant notes of peach and pear?  What a pleasure to be welcomed into your organization with such finesse.
And best of all, of course, is my mission: to encourage all women to feel glorious about themselves and their lives (even around a little bitching), and to do so, at least in part, through fashion and style.
All women may be chic
Let me say that in my ancillary capacity as Ambassador for Women Feeling Smart, Sassy, and Stylish, I'm thrilled you've bought into my "All women may be chic" campaign as we bring French style to every age, stage and size. Might this become a global movement, spreading saucy smiles and precocious pouts throughout our communities of magnificent mothers, sisters, and daughters?
Please know that I was captivated by your recent issue spotlighting the beauty of Rubenesque women (les rondes et les pulpeuses) – and while the subject has stirred a bit of controversy of late, why not? Shouldn't we all look and feel sublime? I do wonder though… le fait que ce soit une Américaine, cette jolie Tara ?
I will add that I couldn't be happier that you will encourage me to address design, art, bringing style into the home as well as into our closets and onto our streets, along with a variety of concerns (stylishly expressed) pertaining to contemporary lifestyle. As much as I adore all things "form," there is more to life than the curvaceous cut of our fringues, the pleasure of the pearl, or the flash of our pearly whites.
Yet I do long to be your guest contributor on the fabulosity of the French foulard in all its mystical and mythical magnificence! Might I delve into that topic soon?
Real beauty, practical fashion
I shall continue to celebrate real world examples of real women and their particular beauty – so we may all find the bright colors in ourselves and our lives, do so while flaunting fashion fantasy all sans too much time over-the-top, and understanding that we come in marvelous variations – sensational at all ages, in all sizes, and in our capacities for love, friendship, humor, and contribution.
(And by the way – love love love the neutrals and grays we're seeing this Spring, as in these luscious looks from Elie Tahari. And oh, the sultry and electric blues – and the hedonistic, heated pinks!)
As your very own ambassador for petite chaussure-obsessed French styled women (yes, moi), je vous dis merci.
Poisson d'Avril as style statement
One tiny little interjection, Chère Elle Magazine Editor, but must I really wear this little paper fish you have affixed to my lovely silvery jacket as I sit and write today? You know – poisson d'Avril? The way that the first of April is fêted in France? Oui?

Well then, I shall carry my poisson d'Avril (April Fish) with pride, and a lovely foulard if you don't mind. A signature scarf or other accessory is de rigueur, even on this auspicious day as I hunt down my latest pink pink pink heels. (Now which shall it be? Rossi or Vivier? And perhaps with that electric raw silk scarf I bought in the Marais?)
Do give me a shout or un coup de fil as quickly as possible. Delighted to accept this job offer and to begin writing about my passion for fashion as an American française – and tout de suite!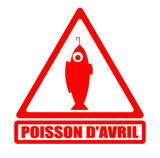 And to my American colleagues, despite the early hour, I shall choose between my champagne and Pinot Noir, and toast to a very lovely and stylish April Fool's!
Cheers,
Big Little Wolf
…