When you converse face-to-face, do you touch the person with whom you're speaking? Perhaps you graze the forearm, or rest your hand for a moment on the shoulder.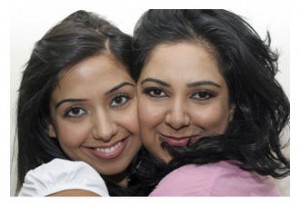 Some of us are more naturally warm, with voices and gestures that radiate energy, compassion, empathy. We lean forward, we make eye contact, and we touch – in appropriate ways.
We hug our children.
We hug our friends.
We kiss on the cheeks.
We engage actively, while talking and listening. We travel the physical and emotional space between ourselves and others. And we touch.
Are you a toucher? Do you know where your touching tendencies come from?
Positive energy and touch
What sort of energy do you give off?
Oh, I don't mean on the really terrible days when you have a splitting headache and no Tylenol in the cabinet, when your boss has been grumbling over your performance and your sciatica is flaring up.
What about more usual circumstances? You know – even if you did burn dinner, or the cell phone bill is twice what you expected. And then your kid holds up a drawing, gleefully, or the dog looks at you with big eyes and the leash in her mouth. You can't help yourself. You grin. You kiss your little one. You bundle him up, and yourself, and take the dog out together, even if it's cold and blustery. Your energy – positive energy – is part of the way you relate to the world. It shines through your body language, your decision-making, and your actions.
There's a fair amount written on the psychology and science of positive energy – and what comprises positive energy: enthusiasm, optimism, empathy. And I believe that touch and body language are inherently linked to our expression of positive energy – or its opposite.
Body language, non verbal communication
As Psychology Today tells us, and we generally agree, positivity is good and so, we strive for it. Much has been written on the subject, including from the Mayo Clinic, which summarizes the effects of positive attitude on health.
But we all have bad days when we pull inward. And so, non verbal communication expresses positive (or negative) attitude, and may involve touching or lack of it.
Some of us, even on our worst days, are natural touchers. And perhaps, even on those days, we project positivity.
I am fully aware of my body language most of the time, and my propensity for touch. I am especially aware of non verbal cues when I am in the company of someone whose body language differs from my own. Even on a bad day (yesterday, certainly), I am a toucher. I hope I exude warmth through voice, eye contact, gestures, and my preference for small amounts of physical connection.
When I am in the company of a man, I recognize how my body language changes. If there is sexual energy between us, my non verbal communication shifts, reflected in proximity and voice. I am responsive. Subtle messaging is exchanged through expressions and movement. Eye contact is steady.
And I touch.
When I am in the company of a man who initiates no physical contact, and who doesn't respond to mine, it is telling.
Parenting and touch
Bruce at Privilege of Parenting elaborated on the importance of touching very recently. He explains that babies respond to and need physical contact; it is a critical part of development. Touch brings comfort, love, safety, and enhances healing. Appropriate touch is a matter of personal boundaries, and as we grow, understanding the boundaries is as important as knowing when to reach out, and how to interpret the context of physical contact.
Yesterday, I was anxious. I was also in pain. It was a bad day; I had no desire to go out, to push my physical limits by driving, or to put on a necessary mask of positive energy and engage in social pleasantries. But I had committed to a dinner date – a blind date at that, and I felt that I couldn't cancel.
An hour before I needed to get in my car, I was popping Motrin, in bed, propped on a heating pad for my throbbing back. I was in tears. My teenage son poked his head into my room to let me know about his evening plans, and of course asked what was wrong. "I'm in pain," I said, "And I wish I didn't have to go out. I don't know what to do."
I eased out of bed stiffly, and paced a little.
My younger son is more sensitive and less verbal than his older brother. I maintain more "mask" with him, and for him. Yesterday, I couldn't manage it. His response to my raw, unguarded moment? He hugged me. And I cried.
That simple gesture of caring was an extraordinary act for him. And it helped.
The power of physical connection
From that embrace I took enormous solace. I wiped my face. I slowed my breathing. I came up with an idea, and sent my son out on an errand. He cycled to a nearby Radio Shack where he purchased a gadget to fit into the cigarette lighter in my car. It would allow me to plug in a heating pad, and deal with the drive to and from the restaurant with less pain.
From my son's hug came my ability to release emotion, then calm myself, then find a solution. As for the dinner? It was pleasant enough. The food was good and the conversation flowed. At one point, as we were laughing over something, I leaned forward and put my hand on the gentleman's arm – a gesture that is utterly natural – for me.
Nothing. No response of any sort.
Body language speaks louder than words
Relative to my evening overall, it was interesting that with Motrin, heat for the drive, and yes – Cherry Crush nail enamel and French lingerie – I was able to generate enough positive energy to put my best face forward and enjoy. I must have done so successfully, because my date remarked that I was as lovely as in my picture.
A compliment. And yet…
There was no sexual chemistry. But that's not what this is about. There was no connection. I sensed reserve and distance – despite flowing conversation, despite laughter, despite the gracious comment about my appearance.
At the end of the meal, we said our goodbyes as the valet brought his car and mine. There was no move to take my hand, touch my shoulder, or offer a kiss on the cheek. It struck me as odd.
There will be no second date. I doubt he wants one, and I know I do not.
Reading relationships, acknowledging touch
I wouldn't normally talk about someone I just met, much less an event that just occurred. But this feels like an exception, in part because I wrote from a "present" place in preparation for going out. But more than that, my awareness of what is important to me is heightened as a result of last evening's venture into the larger world.
I am reminded that while personal space and touch are cultural, they are also highly personal.
I am a toucher. Not excessively, in my opinion. I know my physical and emotional rhythms. I believe in giving off warmth (and positive energy), and I prefer people with similar tendencies. I also know how isolating lack of touch can be, and I recognize that there is little touch in my life these days. I miss it. Touch is humanizing – it is healing, energizing, exciting, comforting. And clearly, more natural for some of us than others.
You May Also Enjoy