Money makes the world go round?
Yesterday I enjoyed my Bravo TV fix while puttering around, as Millionaire Matchmaker reruns played in the background.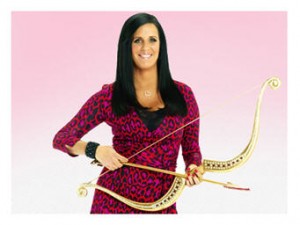 I won't say I wasn't amused by some of the shenanigans (and experienced a gag reflex at others), but judging by the way this show nudges an odd assortment of characters into asset-based relationships, I have to ask: Single men – what do you really think of the women you're meeting these days?
I'm fully aware that reality shows are not the stuff of reality. Aren't we all… They're semi-scripted entertainment, pushing the envelope of anything that would be remotely recognizable in the "real" world. You know. That real world where most of us lead our lives.
The 50-somethings who want 25-year olds?
The restaurateur who can't stay off the phone while on a first date?
The hot shots who talk about themselves in the third person?
The guy who took a lovely woman on a junk haul?
As for the women, don't get me started on the excesses of make-up and cosmetic surgery procedures…
For that matter – I'm not wild about the Queen of Matchmaking teaching a man that he must order for the woman in a restaurant.
Pull out my chair? Sure, I like that. Pick up the check for dinner? That, too. (And by the way, I won't be ordering lobster and Dom Perignon, either.) I'm big on chivalry, but when a man insists on ordering for me (key word here – "insists"), I worry about issues of control.
Recessionary economy, post-divorce assets

What about those who have lost their jobs in this grueling economy? Or good men on modest incomes because post-divorce means a strain on at least one household, if not two? What about men in jobs that don't offer steroidal bank accounts?
And haven't our social lives been impacted dramatically by our lack of disposable income, following layoff or divorce?
So tell me, ladies – as women, do you only date men with money because your financial situation is so tough? And gentlemen – do you feel that you're out of the running because you don't have a sufficiently fat wallet? Do you believe that all women want is a man to pick up the check and cover the bills, for everything from beauty treatments and baubles to clothes and real estate?
Men – how much are you part of the problem – expecting a perfect "10" and a woman 10 to 20 years younger?
Fat head for a fat wallet?
Do I think there's anything wrong with hoping for a man to be a decent "provider,"  to carry his own weight? Given that women generally end up with the lion's share of domestic duties, I don't. Within reason. I believe it's a matter of degree, and most of the people I know need at least one and a half incomes to keep a family going, if not two. It's about partnership and compromise, however that falls out.
But will many women accept a fat head if it comes with a fat wallet?
Do you believe women respond based on your financial assets?
Do you feel that as long as you do have money, you're entitled to a woman who has the proverbial "everything" including hots, smarts, and youth, whatever your age?
Do you believe women judge based on your clothing, your car, your square footage – and I mean real estate?
Is this a matter of the recessionary economy, or something else?
Men: What do you really think of the women you are meeting, and their priorities as they tiptoe into love?
Women: Your view on the capacity to provide financially as the measure of a man?
My recipe for Valentine's: Steak au poivre and caesar salad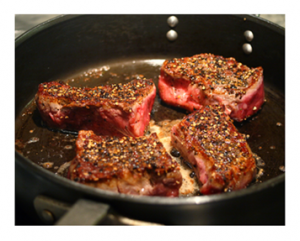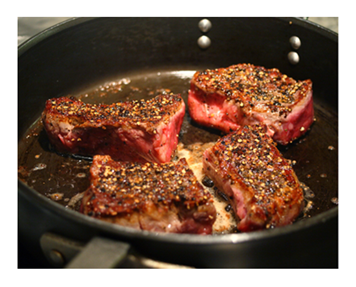 As for my Valentine (my teenage son), we enjoyed a lovely meal last evening. Filet, fries, and Caesar Salad – 20 minutes to prepare, for $14.
two 6 oz. filets, lean*
Sear on both sides in a pan, high heat (margarine or butter)
Add fresh ground pepper, a pinch of salt, a dollop of Dijon mustard
Add red wine!
Lower heat, cover for a minute or two (make sure it stays pink inside)
I buy excellent Caesar Salad makings packaged at the supermarket, and add fresh spinach leaves and more fresh ground pepper. And yes, sometimes I make "real" home fries, but last night it was 20 minutes of start-to-finish cooking time, so I went for frozen waffle fries, baked at 400 degrees, adding salt, rosemary, and garlic pepper to taste.
And for dessert: a kiss on the cheek for my sweet (and hungry) Valentine.  Your recipes for success? Culinary, monetary, romantic or otherwise?
*Filet mignon is delicious, but very expensive. We find a tenderloin that is very nearly as good, for a third the price, at our local supermarket.
Image of Patti Stanger, BravoTV.com.
You May Also Enjoy