A child takes her parent's hand at the age of two or three, with confidence. She looks up and smiles. She doesn't doubt; the world assures her that her parent will hold on tightly, and keep her safe.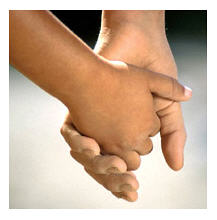 But no one stays a child forever.
The world is complicated. We learn to move beyond ourselves – to question, to observe; we learn doubt. What we once relied on is crowded out by all the variations in circumstances and human behaviors that are the inevitable consequence of maturing.
Objects break. Accidents happen. Adults are fallible. Motives are often hidden. We find ourselves  on the receiving end of a constant flow of impressions and incidents that form us and condition us. And we realize how much is out of our control.
Doubt is a special word. We use it in the context of everyday life, in counterbalance to notions of faith, and we recognize it as a potent term when it comes to the American judicial system. "Beyond reasonable doubt" is a phrase of considerable significance.
Doubt, in its variations
So what is reasonable doubt – particularly in our daily experience? Uncertainty is something we expect, we guard against, and we plan for. Certainties are few, though we cannot "doubt it all" any more than we can dispense with doubt altogether.
The free dictionary offers several definitions of doubt:
To be undecided or skeptical about; to tend to disbelieve or distrust; to regard as unlikely; to suspect or fear.
And from these definitions we see doubt's utility: appropriate distrust in situations where we are wise to be cautious, and even a healthy fear of belief when the outcome we desire is unlikely.
But children and adults both are easily conditioned. When we lose faith in our parents, our siblings, our spouses, our "systems" – doubt becomes a constant companion, and an insidious one. Trust erodes, and our lives narrow.
Doubt on our shoulders
When the years are tough ones, it becomes hard to believe that good things are possible. At least, that good things are possible for you. It is simpler to doubt their appearance in your daily life, or if they do occur, to doubt their longevity. It's a matter of self-protection. Conditioning. And emotional survival. It's about trust – in others, in your judgment, or in that "grand scheme" we may think of as the universe, a confluence of inexplicable forces, or even karma.
Perhaps we fear we've angered the gods. Perhaps we fear that releasing doubt will anger the gods.
Yet who doesn't have doubts – about something?
Doubt, self-esteem, belief in the future

Doubt may circle around a core of insecurity; we lack confidence in a specific ability, or worse – we may doubt our worth, or our future. These sorts of doubts are common, in men and women both, though we rarely admit to them. Showing our vulnerabilities is saved for the therapist's office, or pillow talk, or a few drinks with an old friend.
Success in relationships may restore self-esteem. Success at a job may reinforce belief in abilities.  Things going well for a period of time may offset a long spell of bad luck.
I am confident in my abilities. I am confident in my value as a person. I am confident in my capacity to love and be loved. But the future?
Is skepticism a matter of conditioning?
Life has taught me otherwise. Life after divorce and layoff, in particular. Life has conditioned me to believe otherwise. Despite all the areas in which I am confident, I am afraid to look too far into the future, afraid to believe that "life" might go well, afraid to believe that Murphy and his damnable law aren't lurking behind the next door.
And things are beginning to improve at the moment. I might venture to say they are going reasonably well, but I don't dare. Those words seem frightening. Like I'm teasing the gods. So I'll stick to "things are improving at the moment."
I know this is tied to my last decade of endings, and more endings. To starting over, over and over again.
I would like to believe I have turned a corner. I would like to cast doubt in the gutter, while retaining the good sense to keep perspective and humility. And yes, to protect myself, to moderate my optimism. If I do not and things change, I doubt my strength to pick up the pieces.
Doubt as a life skill?

Doubt is a comforting and helpful jacket. But is it reasonable as a way of life?
Do you doubt your abilities? Your value?
Do you have doubts in one context and not in others?
How do you guard against being overly skeptical? Overly optimistic?
Can doubt and optimism coexist?
Do you use your awareness of uncertainty to your advantage?
Is doubt a healthy distrust unless it becomes excessive?
Big Little Wolf's Daily Plate of Crazy