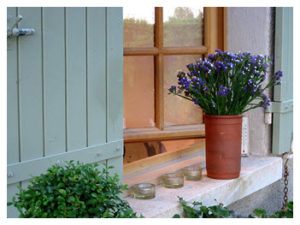 There are events in life that encourage us to pause, to take stock, and to consider the gifts we've received.
To regain perspective if it seems to have drifted away.
To appreciate where we are, where we have been, how far we have come — even if we are experiencing setbacks.
Often, the people who enrich our lives in simple ways become our greatest teachers and our most cherished gifts.
Earlier this week, someone I love passed away. She was 89. She lived a long life, at times a challenging one, yet to me, all she ever displayed was a persistently positive nature and a mischievous smile.
I am certain her children and grandchildren will miss her.
Goodbyes can be difficult, complicated, messy. Maybe you are sending a teenager off to college or out into the world as you transition to Empty Nest. Maybe you are forced to say goodbye to a parent or grandparent suddenly, life extinguished with no warning. Maybe you are experiencing the grueling goodbye of a long illness, as the parent you know is slipping away. This is too often the case with our elders suffering Alzheimer's.
You try to hang on to the person you once knew as long as possible — and help them hang on.
The woman who passed was not a blood relation, but I treasured our time together. This was especially true as she was my mother's age, my mother has been gone for many years, and that relationship was a troubled one.
To find a mother figure in your fifties is unusual, to say the least. While I knew she wasn't "mine," I was thrilled that her family was willing to share her with me, and also with my boys.
The past months have been hard on her in her profoundly and rapidly narrowing world, and of course, painful for her family. She was, into her eighties, an active and independent woman. When her son called me to tell me she was gone, he said: "She's at peace now."
I have spent the past two evenings smiling and remembering. I have been pouring over photographs and video clips from Thanksgivings and Christmases past, and silly moments on impromptu outings, over shared meals, on walks through her neighborhood as she recounted stories of her husband and her own mother, or of life in Normandy during and after the second world war.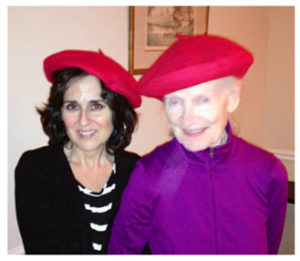 I am recalling the way she laughed heartily at her son's jokes, the way she drank my sons under the table one holiday (to their disbelief and delight), the way she patiently pronounced her Norman patois for me so I could add it to my vocabulary, the way we paged through French fashion magazines together, clucking and chattering, or giggling like girls.
I don't have words enough to capture the warmth, humor, energy, playfulness, resilience and elegance of this wonderful woman who graced my life for some five years, who welcomed me like her own, who gave of herself so generously and asked nothing in return.
All I can do is hold tightly to the lessons of her life experience, to the gifts of her humor and gentleness, and to offer a thank you, not only to her but in particular, to her son and her granddaughter, with my love.
You May Also Enjoy