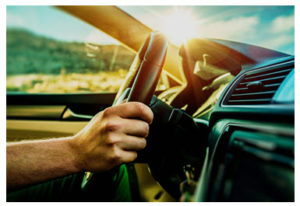 Movement
Here and now I am… bouncing in the passenger seat on a three lane highway, hard and bright on a summery southern afternoon, passed on the right by a black pickup and on the left by a blue van hauling an orange and white trailer.
I am missing my hands on the wheel.
Cell towers and greenery, overhead wires and greenery, a milk truck, a gas truck, a moving truck; signs reading "church of" on buildings of every type; signs promising fireworks ahead, discount rugs, fresh peaches, adult toys, a mobile park, a raceway, Jesus Saves.
I pay attention to signs for food and gas, for upcoming exchanges.
An overpass and crossing its shadow. An open field with abandoned engines and tractors. Jesus Saves is behind us.
Here and now… I shade my eyes from the light, weary of this landscape, dense and desolate and unremarkable, uncertain if a trail to anywhere in the sun trumps a trail to nowhere in the dark, impatient for the city, for an alternative to the stitchery of yellow lines, white lines, mile markers, water towers; restless to say goodbye to flat stretches of green beyond a berm or a low metal rail, and one more towering billboard selling its precarious promise.

Stasis
Here and now I am… wrapping one plaid heating pad around my lower back and over to my right hip, pressing a small pillow to my side to hold the warmth in place, a second heating pad perched on my left shoulder, leaning back, hesitant to move lest something shift and wanting nothing more than to move and move and move, and move beyond whatever this is, this series of hurdles, this tedium of falls, this bitter stasis.
Here and now, I am sipping black coffee in a tall clear glass, a mix of French roast from a silver bag of beans and French roast from a brown bag of beans with a surprisingly smooth result, relief with each swallow after sit-sliding my way down 15 stairs, and hobbling to the kitchen counter to fix my morning brew, then reversing this ridiculous process.
One foot wrapped in an ace bandage. One elbow still complaining. One knee singing the blues but no longer bleeding beneath a square band-aid. Shoulders and back, thankfully, no worse for wear.
Red pillows, red sheets, red bed covers, Raven Red toenails, polish now chipped; old Asus and its charger at my side, iPad and its charger at my side, iPhone in my hand and its charger at my side. Front and center: the beige bathroom, the beige tile, the tub obscured by boxes still unpacked. To the left: three stacks of books on the floor, the Sunday papers, a faux zebra carry bag with hot pink handles picked up for a song at Walgreens. To the right: a toile-covered sitting chair where I cradled my firstborn in my arms 25 years ago.
Here and now, I miss the promise of the road.
Here and now… I am enamored of winter breathing its last through a crack in the open window behind white wooden blinds, behind a swath of hanging cotton fabric, toile to match the chair, a lucky find. Somewhere in the distance, mountains. The wind whips up then dies down, howls then drifts off, its whoosh and whistle a human cry in a strange and oddly companionable register.


This is a New York Times writing exercise. The challenge: At the top of a page, write the words 'Here and now I am' followed by an ellipsis. In the next five minutes write as many sentences as you can, each sentence beginning with 'Here and now I am.' The rules: no questions, no stopping, no thinking, no worries about logic or syntax and no cheating off your neighbor. I gave this a shot on a road trip about two years ago, but allowed myself 15 minutes and a quick edit long after. Stuck in bed after taking a header down a flight of steps yesterday, I repeated the exercise this morning. You can see I didn't play by the rules entirely.

You May Also Enjoy