What is it with guys and cars?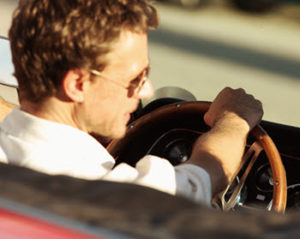 He's speaking Spitfires, Rapiers, TR3s.
I stare at him blankly.
"What do you think of the Morgan Roadster – British racing green of course. Would you buy me one?"
He chuckles and then adds: "The fuel consumption isn't too bad, and top speed is 134."
He clicks around on his Mac and locates a page, quickly pointing out the much-coveted color. He lovingly describes the wheels, sighs in the way that I gush over the latest Choos and Viviers, and he says:
"Look at that. Gorgeous."
"I wonder how much they are now," he mutters, fingering the touchpad to navigate his way to an answer.
Me?
For a moment I think back to the years of exasperating coffee dating, and then I'm back, here and now, zapping.
Maybe I can sneak a chick flick by him, because now he's sharing a blow-by-blow of auto industry acquisition, and I'm not ashamed to say that he's lost me.
Renée Zellweger? No, that won't work.
Sophia Loren in the 50s? Sophia Loren in anything?
Yes. It's worth a try.
He finds what I can only assume is a Morgan in silver and peers over his glasses in search of the price.
"They won't tell you how expensive they are," he says. "Bastards."
I stifle a smirk and decide to look through my collection of pre-owned Blockbuster treasures – You've Got Mail, Bridget Jones, La Vie en Rose, Sex and the City.
No.
Most definitely no.
Now he's riled up, and his enthusiasm is deliciously strange and it's the first time I've ever heard him express a desire for a material object. And so I imagine it to be one of those known mysteries, part of what makes a man tick, something between lust and lament for guys the world over – this affinity for car crack, for Porsche porn, for the automobile as art form.
"What else are you interested in?" I ask, my attention turning back to my own laptop, searching through a movie database.
"Porsches."
Bingo.
"Which ones are especially beautiful?"
"All of them," he replies, and he's serious.
"And there's the Bugatti Delahaye. Oh," he sighs again, "it's the ultimate elegance in cars."
He flips through images and finds a Delahaye. I nod in agreement that it's very pretty and he seems satisfied, returning to the bookmarked Morgans and a newly located classic model, a steal at $65,000 he tells me as he rattles on about the servicing challenges of Triumphs (and now I'm certain I've been dropped into a small foreign country where I barely speak the language but apparently, there's no shortage of ways to get around).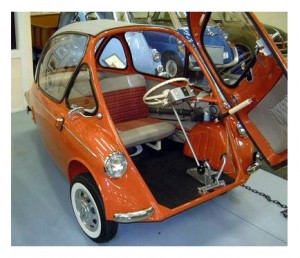 I'm paging down through On Demand, scanning Cary Grant offerings. Ah, Charade.
Now he's describing the Tiger Tank, the Panther Tank, the Leopard Tank and the 100-ton Mouse which he tells me was the biggest tank ever made and I wonder about these animal monikers and how it is we've wandered into military history, but already he's back to cars.
Hummers.
"Owned by the Chinese," he says, quickly reviving discussion over the Jaguar (and Tata Motors), Land Rover (and Tata Motors), and excitedly reciting a chronological recounting of Chrysler ownership which seems to include Mercedes and Fiat and something else that everyone knows but I've already forgotten.
Then the belly laugh that rumbles up with such genuine depth and innocence that I stop and stare, and my own smile is irrepressible. He turns his computer screen to face me and points out one of the strangest vehicles I've ever seen, something he says was called "the yogurt" because of its odd, rounded appearance, and the way it opens in the front.
"It's a Messerschmitt" he states, and I say that I thought that was a fighter plane and he laughs again, now looking at a Heinkel Kabine, a sort of bubble-mobile that appears to be a cross between a clown car and a mini-sub, but more than anything it is the laughter that is infectious and now I don't mind that I don't understand a word he's talking about or really much care, that I may never see a chick flick again (in his company), because this – the guy talk and the guy wonder and the guy fascination with cars and tanks and machines and who knows what next – it is a stereotypical difference between men and women, a happy difference, a pleasurable divide, a welcome reminder that I have re-entered this land with its sumptuous spillover of beginnings in which everything seems like a happy difference or a pleasurable divide. And this is in part because we have few essential differences and many tender commonalities.
And I'll take it. I'll bask in it. I'll delight in each and every discovery, with or without a translator, slowly acquiring a small measure of immersion fluency once again – in men and women. In this man, and this woman, as I tell myself that perhaps our two perspectives might converge – with Sophia Loren in an Alfa Romeo.
Heinkel image courtesy microcarmuseum.com.

You May Also Enjoy