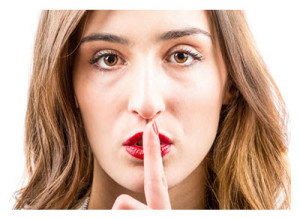 He was the second person in 24 hours to comment that I was "reserved." A week earlier, someone used the term "cautious" to describe me. And in a private conversation just days later with a very old friend — someone I've known since long before our love affair with TMI — I was anything but reserved or cautious.
I did indeed share the details of recent happenings in my personal life.
Because I've known her for decades and I trust her.
Spilling your guts to a stranger? Must this now pass for routine, acceptable, expected dialog — anywhere, anytime?
Tell all? Wasn't that something most of us were taught not to do — not only as a matter of propriety but safety? Why are we so compelled to elaborate on heartache, to unleash our outrage, to settle for simulated intimacy rather than the real thing? Is our loneliness so stabbing or our narcissism so unchecked that we've forgotten about the need for trust?
Sharing a confidence used to be a gift. That gift was earned, not assumed.
"Ah," you will tell me. "Get with the program. It's not a big deal. This is the new normal."
Maybe. Maybe not.
Yes, I'm reserved with a stranger. (That doesn't mean I'm unfriendly.) Yes, I protect my most personal preferences and sentiments. (That doesn't mean I'm cold.) And yes, I willingly — judiciously — share private matters with someone I trust, someone I love, or someone I may begin to trust or love… in time, in a reciprocal fashion.
Sure, there are exceptions and exceptional circumstances that lead us to shortcut timeframes, to share information quickly, and to gamble that whatever we are sharing will be handled with discretion.
Unfortunately, we live in a world where we are increasingly complicit in reducing privacy to a quaint twentieth-century notion. Our online disclosures are so numerous as to be numbing, the competition for (necessary?) notice so unrelenting, the vehicles for venting and expressing so available (and seductive?) that we say and write things we would never have conceived of mentioning 10 years ago, much less 10 minutes ago… in person.
The result? We devalue moments of revelation once entrusted solely to those closest to us.
This isn't to say that painful and pleasurable disclosures in a public realm can't provide a service; many of us are unable or afraid to address issues that concern us. There are obvious benefits to social sharing, and I would be the first to agree that learning to suspend judgment and gaining greater insights into others are among them. Yet we seem to have forgotten that boundaries serve a purpose, and when we encounter them, we ought to respect them.
Look. I write online. I use my own life where it humanizes or illustrates a subject I choose to explore or a point I wish to make. Certainly, there have been very unguarded moments, times I wrote about my marriage or my health, aware that pain and frustration bubbling up to the surface was seeping out. And more than once, streaming out.
Those were moments when writing saved me, honored a little corner of my spirit by giving voice to the ache, gave you a glimpse of my inner world that enabled you to say yes, me too, I'm living that fear, that sorrow, that anger, that bewilderment.
I have never regretted those moments of sharing. I imagine there will be more. But I do not expect to throw open doors to all the details of my life, often messy details, and nor do I expect access to anyone else's.
Call me old-fashioned, but from online dating to social media sharing, there is a time and a place for what we discuss and how we discuss it, especially when it impacts others' lives and livelihoods. How far should we extend our reach? How far will we let others in?
We must each draw that line for ourselves. But first, we must remember that the line exists, and for good reason.
You May Also Enjoy