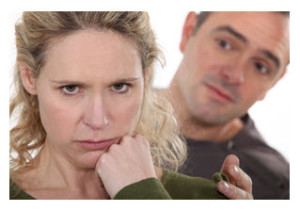 As December winds down, consider the following guidelines on when you should (or shouldn't) break up with the one you loved, the one you married, and even the one you're sleeping with.
Here's the cheat sheet: No holidays, no birthdays… and for crying out loud, literally, real adults don't break up on text or email.
I may not be Emily Post, but… Can we at least agree to that?
As these words are timely, I give you a blow by blow of the 'just say no' to breakup etiquette.
And here goes…
'Tis the Season… Not
Breaking up? 'Tis not the season! Or, as a pal of mine likes to intone: 'Tis the season for diamonds and Dewar's… and relationship-wise, no digs or downers.
At this Typically Romantic Time of Year, we're excited to be a twosome, we're planning our cozy get-togethers, we're basking in our Kodak moments, and we're readying the red dress and lipstick – and possibly arranging for sitters.
The last thing we're considering (or expecting) is breaking up. But if we are thinking about it, shouldn't we follow the proper etiquette to minimize the damage and preserve the good memories?
I offer two perspectives on breaking up, the first of which is Joyce Wadler's entertaining take on the holidays in "Only Nine Breakup Days Left Till Christmas." Unfortunately, that ship has sailed, but… the countdown to New Year's remains.
All the more reason to listen up now!
Date-Driven Dumping
We know there are all sorts of reasons that people split up, but timing counts when it comes to the aftermath. All the more reason that we find ourselves operating under the auspices of the the Three Week Rule, wherein it is gauche, graceless, and utterly unacceptable to break up once Christmas is three weeks away or less. So if you were toying with the idea of ending your most current Amorous Adventure in our around Christmas, I hope you didn't. And yes, we are still 'in and around Christmas!'
Of course, I might suggest that dumping someone just before New Year's is equally egregious and likewise, if they (or you) are hungover on the first and still on the second. Personally, I see no problem with dates approaching the wearing of the green (March 17) or Bastille Day (July 14), but that may depend on location, location, location.
One critical point: If you have been romantically linked long enough to be a conspicuous couple on Facebook, breaking up on a birthday is also ill advised, or prepare to incur the wrath of friends, friends of friends, faux friends, close friends and… well, you get the picture.
Should you be planning a breakup at this time, recognize that we are, of necessity, looking at January 2 through January 31. Additional recommendations by Ms. Wadler address optimal time of day and ideally, appropriate setting and context.
Specifically:
… if your soon-to-be ex takes tranquilizers or antidepressants, schedule your breakup for early in the day. Like brunch.
The Basics of Breakup Etiquette
One might think that breakup etiquette necessitates an Idiot's Guide, though it ought not to. Lest you not know the basics, here is my own set of fundamentals. Now, now. It's not that difficult, though many seem to screw it up!
Committed Long Term Relationship or marriage? DO do the deed in person. It's the only classy option. Short of penning prose to warrant a Pulitzer (on paper please), nothing else is acceptable.
DO break up in person or by phone, for any relationship in the one-month to twelve-month range. Skype is acceptable if you're in an LDR.)
DO break up in person or by phone, if you slept with the person, and it was anything other than a one-night thing.
DO exercise some kindness if you are the initiator (no name-calling, please).
DO exercise a measure of self-control on the receiving end (dignity, dignity, dignity – especially if you have kids in the vicinity).
Do NOT break up a relationship with kids in earshot.
Do NOT break up a marriage by email.
Do NOT break up on Facebook.
Do NOT break up by text.
Do NOT break up on national television. (Remember the movie, Hope Floats?)
If you feel compelled to write your Dear John or Jane, DO be eloquent and do NOT take the "Berger Path" of jotting a few words on a sticky note.
Trust me. There's more. For example, no burning of the breakup-initiator's possessions (as tempting as it may be), no trashing him or her to the respective boss, no shit show through social media (please) – though we know for many that last is tempting.
Girlfriend's Guide to Divorce
As for the second perspective on the topic of breaking up, turn to Bravo if you haven't as yet for two seasons of their series, Girlfriend's Guide to Divorce.
Generally speaking, many including me are giving this undertaking in 'scripted' fare a big thumbs up as a serio-comic take on the tumultuous process of ending a marriage. The dialog is sharp, the characters are quirky, but what has me riveted are the periodic stark moments of reality in this non-reality show.
For those of us who have been through it, not only do we find explicit lines and situations that ring true, but they may bring us back to our own breakup tales of woe, wailing, and wanting – both something (or someone) different, and for all things to return to normal – whether "normal" is good or not.
What makes this show a hit that packs a particular punch?
Let's see. There's the 40-something hubby in a long-term marriage who takes up with a woman some 22 years younger. There is the emotional affair that the wife engages in around the same time, which her spouse views as worse than his physical affair. There is the well-intentioned interference of family, the adversarial legal advice, the attempts to rekindle their relationship (some think that could have worked, but hey, it isn't in the script), the distancing of couple friends and the emergence of relationships with other divorced women.
And that's just for starters.
Breakup Cocktail… of Emotions, That Is
Naturally, the scenarios in Girlfriend's Guide won't be familiar to all of us, but Abby, the delightfully flawed series protagonist, possesses the right mix of vulnerability, anger, sentimentality, fear, hostility, regret and situational stupidity to be recognizable to many of us.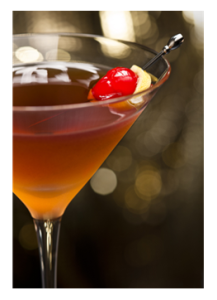 When relationships end – especially long-term relationships – let's not assume the one who does the "breaking" has an easy path, though it is generally easier, because he or she has the upper hand – at least initially. When it comes to marriage, most of us who are veterans know that it generally takes two for connubial bliss to wind up blissless. And when it is marriage with children that is being disassembled, there is no swift removal of a band-aid, much less on a schedule.
So DO keep that in mind when considering the red dress she has hanging over the closet door or the silly Santa sweaters he digs out of the dresser for the holidays.
And remember — for the one who is caught off-guard by the downward spiral into divorce, or the potentially dismal demise of any serious relationship, the cocktail of confusion can be dizzying indeed.
Breaking up is painful.
Breaking up is messy.
Breaking up is hard to do.
You May Also Enjoy