Doubt is an intriguing state of mind, and its arrival may be signaled in various ways — in the gut (an intuition), in the realization of insufficient facts to make a judgment, in an extended inability to make a decision, or as the result of discovering that facts that don't jive.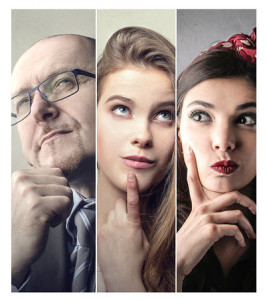 Whether we're talking about our personal or professional lives, I find the abundance of aphorisms on doubt to be somewhat off-putting, yet interesting in the possibilities they pose for the questioning (dare I say it, doubting) mind.
Here's an expression as an example: "Doubt kills more dreams than failure."
So what do you think?
Not that I could ever quantify such a claim (much less quantify its denial) — shouldn't we narrow the scope a tad?
Is this little more than one of those "sounds nifty if you don't think about it" sayings that work well in a tweet, but don't deliver otherwise?
Dealing With a Bout of Doubt
All doubting Thomas tendencies aside, when we listen to our gut despite a bout of doubt from others, heeding the little voice that tells us to push on or steer clear, we are frequently taking a wiser path. And this isn't to say that we don't have moments of doubt in the process.
Now… If you're talking about self-doubt and self-confidence, some people like to express that "doubt is the opposite of confidence" or if you prefer, self-doubt is the opposite of self-confidence. Again, I find that overly simplistic. A healthy dose of self-doubt keeps us on our toes, doesn't it?
Don't we risk over-confidence if we don't experience a glimmer of questioning now and then, or possibly, on a regular basis?
As for the other sayings that come to mind, here is one I like very much: People may doubt what you say, but they'll believe what you do. Isn't that generally the case? Actions really do speak louder than words, but even this, of course, presumes that your actions serve a worthy purpose and the appropriate follow-up is sustained.
Doubt Is Natural
Let's think about how natural it is to doubt a situation, or for that matter, a person. And, how fortunate we are if we grow up with "certainties" that afford us safety and security as a foundation.
A child takes her parent's hand at the age of two or three, with confidence. She looks up and smiles. She doesn't doubt; the world assures her that her parent will hold on tightly, and keep her safe.
But no one stays a child forever.
The world is complicated. Over time, we learn to move beyond ourselves — to question and to observe; we learn doubt. What we once relied on is crowded out by variations in circumstances and human behaviors that we experience. This is the inevitable consequence of maturing. Objects break. Accidents happen. Adults are fallible. Motives are often hidden. We find ourselves on the receiving end of a constant flow of impressions and incidents that form us and condition us. We realize how much is out of our control.
Reasonable Doubt
Doubt is a special word. We use it in the context of everyday life, in counterbalance to notions of faith, and we recognize it as a potent term when it comes to the American judicial system. "Beyond reasonable doubt" is a phrase of considerable significance.
So what is reasonable doubt, particularly in our daily experience? Uncertainty is something we expect, we guard against, and we plan for. Certainties are few, though we cannot "doubt it all" any more than we can dispense with doubt altogether.
The free dictionary offers several definitions of doubt:
To be undecided or skeptical about; to tend to disbelieve or distrust; to regard as unlikely; to suspect or fear.
And from these definitions we see doubt's utility: appropriate distrust in situations where we are wise to be cautious, and even a healthy fear of belief when the outcome we desire is unlikely.
Doubt and Fear
Children and adults both are easily conditioned. When we lose faith in our parents, our siblings, our spouses, our "systems" – doubt becomes a constant presence, and an insidious one. Trust erodes, and our lives narrow.
When the years are especially rough, it becomes hard to believe that good things are possible. At least, that good things are possible for you. It is simpler to doubt their appearance in your daily life, or if they do occur, to doubt their longevity. This is a matter of self-protection, and quite possibly, emotional survival. It's about trust – in others, in your judgment, or in that "grand scheme" we may think of as the universe, a confluence of inexplicable forces, or even karma.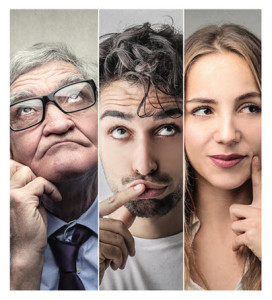 Perhaps we fear we've angered the gods. And yet we recognize that our doubt is tied to fear of being hurt, fear of being disappointed, fear of leaving our familiar comfort zone. Yet who doesn't have doubts – about something?
Doubt, Self-Esteem, Belief in the Future
Doubt may circle around a core of insecurity, a lack confidence in a specific ability or worse: We may doubt our worth, or we may doubt our future. These are common feelings in both men and women, though we're taught not to admit to them. Sharing our vulnerabilities is relegated to the therapist's office, to pillow talk, or possibly permitted when indulging in a few too many cocktails with a stranger.
Success in relationships may restore self-esteem. Success at a job may reinforce belief in abilities. When "life" is going well for a period of time, it can restore what feels like a long spell of bad luck.
I am confident in my abilities. I am confident in my value as a person. But confidence in the future is something that eludes me, where once I thought that my abilities and my belief provided enough control to set the possible paths forward with only the "usual" obstacles and detours to deal with.
Is Skepticism Conditioned?
Life has taught me other lessons. Life after divorce, life after layoff, life in a bad economy, life when a stage or relationship or version of yourself that you loved… comes to an end.
Life has conditioned me to doubt the future despite all the areas in which I am confident. I am afraid to look too far ahead, afraid to believe that "life" might proceed smoothly, afraid to believe that Murphy and his damnable law aren't lurking behind the next door.
I know this fear too well myself, tied to a decade or more of endings, tied to the painful but necessary process of starting over, over and over again.
And not by choice.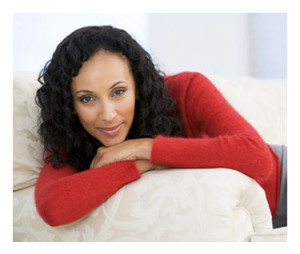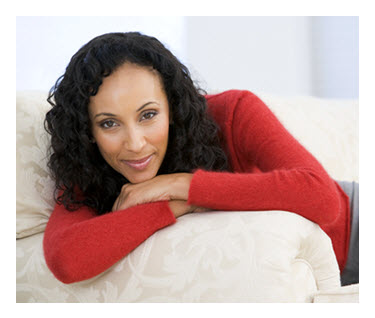 I would like to believe I've turned a corner, that I can toss doubt in the gutter, or at least that excessive doubt that can be crippling, while retaining the healthy approach of an open and questioning mind. What I also hope to retain: the good sense to keep perspective and humility, that by moderating my optimism so I can hedge my bets yet always find the strength to get back up after I'm knocked down.
Doubt as a Life Skill?
If we use doubt as a tool — a means to investigate further, a sign that something is amiss, a source of humbleness or at least, a counterbalance for hubris — we might consider it a life skill.
Doubt is comforting and at times, helpful. An absence of doubt may leave us vulnerable to being caught off-guard, though these occasions in life are inevitable at times. On the other hand, excessive doubt is rarely useful, especially when accompanied by fear that keeps us immobilized, or so hesitant to pursue what we want that we don't even try.
My experience teaches me this: Cast out doubt that threatens to undermine belief in your own abilities, but pay attention to your intuition. And while you're at it, remember that dubious dictums and easy epigrams deliver surface, not substance.
I welcome your thoughts.
You May Also Enjoy