Certain there was some sort of activity taking place in the kitchen late last night — the open cooking area is barely eight feet beyond my bedroom door — I had no idea that oatmeal carrot pancakes were in the works… the latest culinary adventure from my 22-year old son.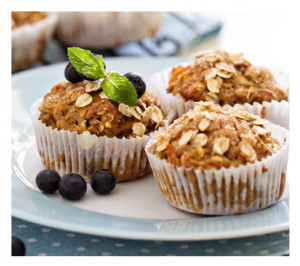 Once I realized the sounds were neither mice nor intruders — I had forgotten that he sometimes likes to whip up a midnight snack — I could hear him rummaging through the fridge and the pantry and the baking drawer for… well, I had no idea what.
Unlike my firstborn (with his more scientific bent), my younger "artiste" desires no starting recipe, preferring exploration on his own, as he seems to feel his way into what does and doesn't please his palate.
As I heard him fire up the burners on the stove, I assumed he was concocting some sort of exotic Croque Monsieur; his variations on sandwiches, grilled and not, are legend in our household along with his omelets. It was only this morning that I became aware of oatmeal carrot pancakes when I padded out to the coffee machine and figured out what he had been up to.
The sugar bowl that had been nearly empty for weeks — we rarely use sugar — was my first clue. It had been refilled. Hmmm. Not required for a sandwich…
When I opened the fridge, I stared at a box of muffins I had purchased earlier in the week. They were organic carrot oatmeal muffins — they had looked so beautiful! — but unfortunately, they tasted like sludge. Much as I loathe wasting food, I couldn't abide them (nor could my son), and they were about to be tossed. But what I noticed: One was missing.
Further detective work revealed… pass my Columbo trench coat please… a glass container that wasn't there last night, and it was filled with small round wheat-colored somethings in a stack. At first I thought they were potato fritters or potato pancakes. We have all the ingredients in the house to make both. Then I broke off the corner of one and tasted it. Divine!
There was a hint of carrot, a dash of ginger, and I'm sure there were tiny chopped almonds in it as well. Then I realized that my son had transformed the miserable (but healthy) muffins I'd bought and used them as his starting point for oatmeal carrot pancakes.
Delish!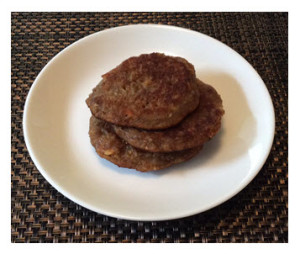 I ate one — cold — with my coffee, trying to take tiny nibbles to make its scrumptiousness last as long as possible.
They may not look like much (sorry, it's a quick photo, and I had nothing pretty with which to garnish the plate), but oh, what fantastic flavors!
I found this recipe for carrot oat pancakes on the web, which I'm guessing is close, but I'm certain we were missing some of the ingredients it specifies.
For example, the recipe calls for buttermilk (all we have is skim milk), whole wheat flour (we have only the usual enriched white at the moment), and I suspect my resourceful kid used little more than the following:
1 large oatmeal carrot ginger muffin
eggs
skim milk
sugar
a pinch of salt
1 handful of raw unsalted almonds, crushed
Now, as I was trying to deduce precisely what he used to make these pancakes, the young gentleman walked into my room and clarified. He was actually hoping to make himself some sort of hot dessert — a crepe-like confection he could top with a dollop of ice cream.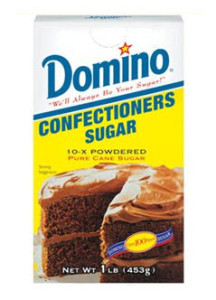 What he ended up with was a sort of pancake that fit the bill (he could've dusted it with powdered sugar for an extra bit of sweetness).
As it turns out, his ingredients are precisely the above — I checked — along with a few drops of vanilla extract.
In seeking the specifics of a recipe, this one for carrot cake pancakes from Smitten Kitchen is tempting. I'm guessing the outcome is very similar to what my son made though slightly sweeter, with the addition of raisins and possibly more nuts.
Should you wish to give this a shot, the crushed oatmeal muffin replaces the need for flour, baking soda and baking powder, along with some of the spices, and is combined with the crushed almonds. My son tells me that a half of a large muffin combined with approximately 20 almonds is enough for 12 pancakes. I would suggest seeking out standard pancake measures for the other ingredients, light on the sugar (white or brown), and I may ask my son to add a little more fresh carrot and a tiny bit of cinnamon when he makes these next.
I'm also guessing he will top his with confectioners sugar (he liked the suggestion), and one of his most amiable taste testers will be stopping by as well. (She was the most gracious guinea pig for my own experiment with a spinach and kiwi smoothie.)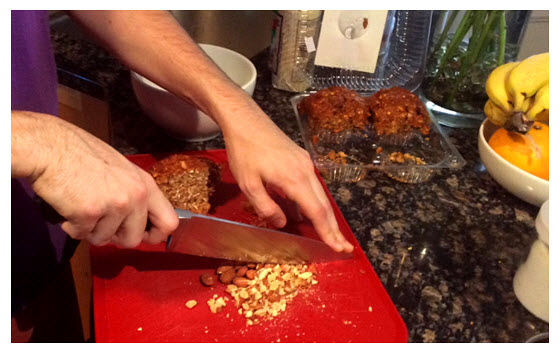 What I love about this most recent example of recipe resourcefulness is not only the result, but the way it signifies how easy it is to repurpose what we might otherwise throw out. Not only do we waste food in this country — a shocking amount — but we waste so many other precious materials and goods, and we also squander opportunities for experiences that we could treasure for a lifetime. So I'm happy to see my son take advantage of his increasing inclination to tinker with whatever is about, and to make something good of it. And I find that once again, it isn't the parent teaching the child, but the other way around.
You May Also Enjoy