One of the best ways I know to make over my mood is to change my space. A quick makeover to one or more rooms is easily accomplished and doesn't require a big budget, a renovation, or an old friend coming for a two week visit.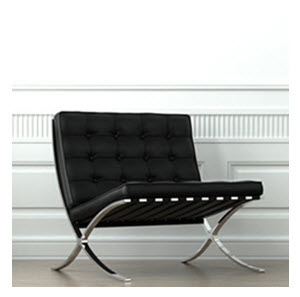 When I need a lift — no, not the face or anything else that gravity is tugging on these days — I find that perking up my interiors can be just what the doctor ordered. And I'm delighted to say that Pamela Terry of Pamela Terry Designs was kind enough to lend her thoughts to this matter, which I will share as we continue.
Now, we all know that updating our interiors is neither age nor stage-related. However, by the time we are mature adults — in our thirties, our forties, our fifties — we have some objects to work with, experience of our own likes and dislikes, and no doubt a potentially conflicting set of requirements when it comes to the spaces we inhabit.
We may be dealing with spouses and partners, or possibly refreshing a space on our own for the first time in years. We may be transitioning children's rooms from youthful to adolescent, or repurposing them as we send our offspring to college. We may simply want to change things up because positive change that we choose feels good. So whatever the reason you have to consider a tweak here or there, or something more major, I hope you will enjoy these thoughts and recommendations.
Bedroom Battles
I have often mentioned two challenges that I seem to struggle with in a recurring fashion. The first is clutter and the second is getting a good night's sleep. I'm convinced these two are related, given that I work at home, and particularly as my files and books that I use to work spill over into my living spaces, which include the bedroom.
If you're staring at work as you settle into bed at night?
Hardly conducive to shutting off the "productive brain" and welcoming a more relaxed state of mind.
Some of the tips I've read over the years for creating a more restful sleeping environment point out that a bedroom should be a work-free zone, and if at all possible, peaceful and pleasant in its decor. And for many, that's more than a comfortable mattress and a bedside table with your favorite books — it includes a neat space and color you find relaxing.
The "neatness" aspect? I struggle with that one. But color and other elements of setting a sensual and tranquil stage for sleep? That's another story.
A Note on Color
As a child, my bedroom was pastel pink with touches of cocoa. I am not a fan of pink (though I love fuchsia), and for years I longed for a room that was Wedgwood blue, and preferably with white. I am also a fan of toile, no doubt the influence of my early exposure to France and French style.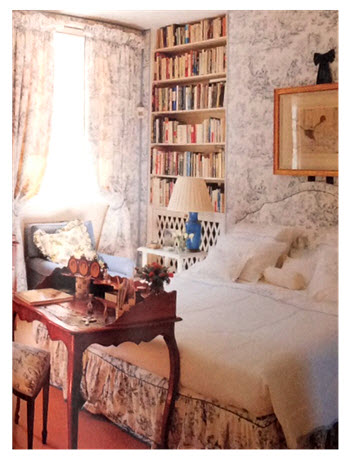 My taste versus my mother's was a running disagreement until my mid-teen years, when she finally allowed me to strip off the pink and cocoa wallpaper — no small task — and then to paint my walls the color I had yearned for so long. Much as I might have wanted a "dream bedroom" that included new fabrics, that would have to wait some years until I could foot the bill. But I did get my beautiful blues!
This example from a 1995 edition of The House & Garden Book of Bedrooms and Bathrooms still holds classic appeal. Forgive my less than adequate quick picture from a well-worn page, but do note the mix of toile, a few other touches of blue in the sitting chair and lamp, and the warmth that is added by an antique desk and all those fabulous books.
As for my dream boudoir, I went on to create a blue and white bedroom in my first apartment after college, and I continued the love that color scheme (that had me sleeping like a baby) until my mid thirties. So if there are colors you crave, why not surround yourself in them? And one of the easiest ways to do that is a coat of paint, at the very least an accent wall. In the case of a bedroom, a few pillows and a comforter that complement your preference will do the trick.
Red has always been another color I've adored, in every invigorating shade from claret to crimson and vermilion to a deep Venetian hue. I chose easy-to-live-with neutrals throughout the house during the years I was married — whites and wheats with touches of black and occasional dollops of color, all of which suited my spouse. Yet once divorced, I gave my passion for red full steam ahead! And I accomplish it with a comforter, throws, pillows, and yes — two deep red sitting chairs in my living room.
About half the year, I have a small red area rug on my bedroom floor that further enriches the overall effect that I find so satisfying. (Pop by Daily Plate of Crazy on Instagram to see more.)
Quick Tips That Work
Of course, experienced designers bring a whole other perspective to a home and ways to achieve a change in mood. Pamela Terry, whom you may know from her delicious blog, From the House of Terry and Edward, explains the importance of home to so many of us.
Home as sanctuary is a philosophy I practice as well as preach. Home is where you should be surrounded by items that not only bring you pleasure and comfort, but help to create an environment that is unique to you and you alone. This is how my own home is and consequently, I adore being here.
Pamela's words lead me to consider all the ways that I seek to be comfortable in my home, and also, how it reflects who I am and what I value. And what you notice when you enter my home?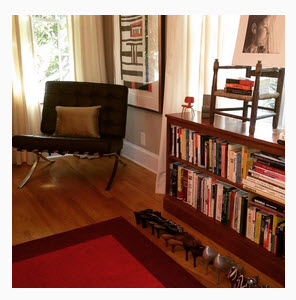 Books and art. The books are in every room except my cooking space, and the art — much of it admittedly unconventional — is also everywhere. Anyone who knows me understands that my life has always been about words and pictures. So, what I surround myself with — for inspiration and unwinding — should be no surprise.
Still, as I earn my keep from home, which means I am here nearly all the time, I would be terribly bored if I didn't change things up periodically.
My approach?
Color, not only in the bedroom, but in throw pillows for my living room sofa, and various color options for my white bathroom achieved through bath towels and shower curtain.
Adding stripes (pillows, bath towels, shower curtain) can be an instant energizer, though in a cluttered or busy space, any mix of patterns is better handled by a professional!
Rearranging furniture (easier to do in my old home; tougher in a small space); rehanging art (one of the benefits of hanging art salon style)
Substituting my "usual" lampshades for something more dramatic — black, for sophistication.
Small Space Squeeze?
I spent many years living in a small space before I ever owned a home, and my personal style has always been on the eclectic side. my current home is, by most American standards, quite tiny — but I am very comfortable here. Storage remains a struggle (particularly as I work at home), but otherwise, I can still be creative when it comes to changing things up.
And while I mention the challenges of a small space, I will also say that I am seriously considering painting one wall of my bedroom a deep, glossy red, and I moved a large (and heavy!) china cabinet from the eating area of my open kitchen to a wall in my living room. I couldn't be happier with the change that resulted.
And all those other mentions above?
They are easily indulged in a small space.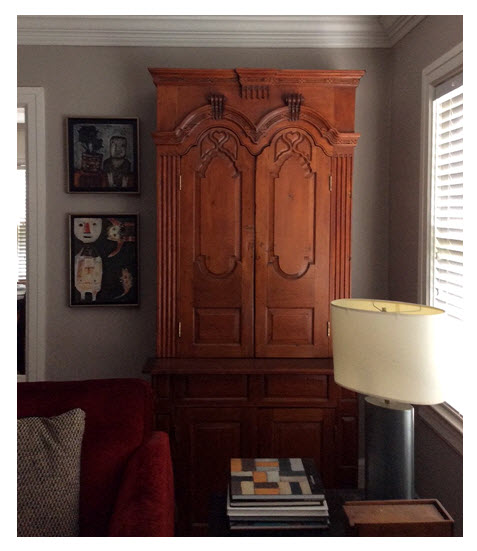 Remember All Your Senses
When it comes to tweaking her environment, Pamela's recommendations remind us to go beyond the visual. "Home" is much more than nicely appointed seating, colors we might enjoy, and the latest dictates of "good taste."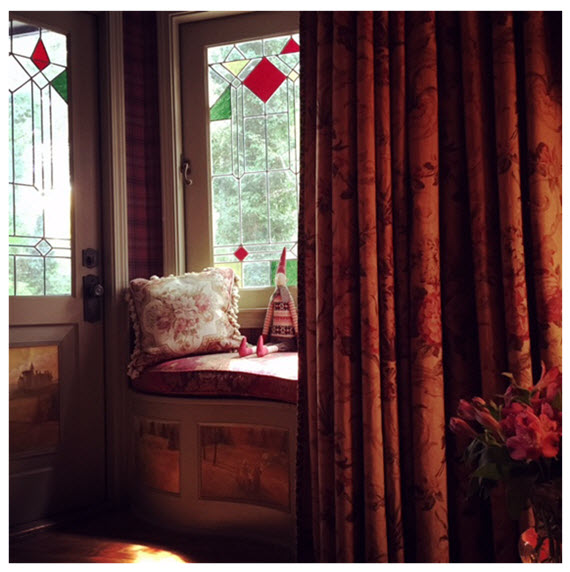 Pamela points out the ways in which seasonal updates provide pleasure, and she goes beyond the obvious appeal to the eye.
It's the little things that I occasionally change, and I usually do this to welcome each new season. I alter things a bit backstage, so to speak. These are not necessarily details that you'd notice, but things that greatly affect the mood of a home. For instance, gone are the jasmine and tuberose candles. As we move into Autumn, my rooms are now filled with the fragrance of cinnamon, coffee, and apple. The music that is almost always playing in the background here becomes more autumnal. The light summer sounds of Astrud Gilberto and The Beach Boys slowly wafts over to Vivaldi, Sinatra, and Rosemary Clooney.
How often do we forget these sensory pleasures? We seem to remember them at the holidays, but too often forget the difference that a scent can make, not to mention the powerful emotional impact of music.
Here is just one corner of Pamela's home, and I cannot imagine anything more welcoming than that cozy window seat, and yes… those reds! Do note the subtle interplay of plaid and two florals. Also note the elegant painted panels in the window seat and door. This ability to mix patterns and achieve an exquisite result is something that always impresses me when I see a designer work her wonders. I tend to stay with solid fabrics in almost everything I do in my own home, precisely because the ability to create a harmonious and sophisticated mix of patterns, in my view, requires a talented professional eye.
On a side note, I will refer you to one of Pamela's pieces of writing, Winter Rooms, Winter Books. Pamela makes scrumptious seasonal book selections, and matches gorgeous rooms to her choices. These posts are absolutely not to be missed!
"God Is in the Details"
While many of us believe that the phrase "God is in the details" originates with architect-designer Mies van der Rohe — incidentally, the Barcelona chair shown in the feature image is one of his most well-known furniture designs — that same expression is also attributed to 19th century French novelist Gustave Flaubert and others.
The point of these oft-cited words?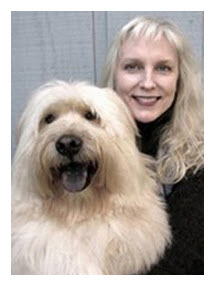 Details matter. And whether we're updating our personal style or a room in our apartments, condos or cottages, small changes can exert a significant influence. Pamela reminds us of this in her own approach to the beauty and functionality of a room with details that are both visually pleasing and practical.
The antique vases now hold the flowers of fall – red, yellow and orange instead of the pinks and whites of summer. The tartan blankets go back on the beds… These changes may seem too small to be significant, but they greatly affect the mood of a home and they help me revel in each new season that comes.
Reveling in each season. Isn't that a wonderful reminder in more ways than one?
I can't help smiling at this last remark from Pamela:
Of course, the most important advice I can give anyone about changing their house for the better… Get a dog, or two! Having a big, furry dog asleep on the rug at your feet is the best feeling in the world. Trust me, I know.
For those of us who adore our pets, we couldn't agree more with that piece of advice.

Be sure to read more and see more of Pamela Terry's beautiful writing and signature design. Visit her blog, From the House of Edward and her professional site, Pamela Terry Designs.

Detail of blue and white bedroom, The House & Garden Book of Bedrooms and Bathrooms by Leonie Highton, 1995, p. 161. All other images: yours truly, Pamela Terry or BigStockPhoto.
Enjoy more of the Makeover Series here.
You May Also Enjoy