By Rudri Patel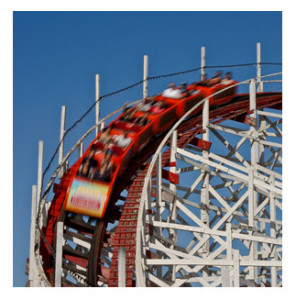 "Come on, Momma. Please come. Just try it once. I promise I will hold your hand."
My daughter's voice is high-pitched and her expression is wide-eyed. She's pleading with me to ride on Space Mountain, the scariest rollercoaster in Disneyland.
"No, honey. You know I don't like heights. I get dizzy. Daddy will come with you." I tell her this in a matter-of-fact tone, assuming these facts will make some sense to her.
"Alright. I'll go with Daddy. But you're missing out." Her voice trails off as she forges ahead and I watch as she grabs her father's hand.
I am not a rollercoaster girl. In high school, I dreaded the summertime visit to Six Flags, the local amusement park that housed gargantuan structures with rolling cars, wooden frames and unpredictable creaks. I played it cool as my friends and I walked the stairs to the latest gravity defying, nausea-inducing ride. Others looked forward to the wind blowing through their hair and arms up to the sky, reaching for an invisible something I never understood. Standing in line, I would sweat, my pulse would race, and my mind entertained all of the worst-case scenarios that may occur so many feet off the ground.
My daughter doesn't suffer any of those fears. She's already created a daring bucket list – bungee jumping, parachuting out of a plane and gliding across the sky in a hot air balloon. She never says no to risk, which I find brave and also revealing of both her innocence and personality. She hasn't lived enough to know the uncertainty of the twists and turns, the what if's, the potential of negative outcomes from saying yes to what appears to be a harmless activity. As an adult, I've witnessed and heard about a casual excursion taking an unexpected turn for the worse. I know too much, while she anticipates all the exciting feelings of the adventure, without any of the worry.
Her willingness to live in the moment and feel the rush of excitement is a trait I've longed to experience, but I always pause and think about consequences. My reluctance to plunge into anything risky stems from my childhood. My immigrant parents chose protectiveness over assimilation, pondering every decision, whether it involved a bike ride in the neighborhood, a sleepover at a new friend's house or a supervised party with some classmates. Every decision became a discussion. Although their intention came from a place of goodness, it created an unhealthy amount of fear.
Now in my forties, I am reevaluating my fear. Over the last few summers, I've watched my daughter balance herself on a paddle-board, speed down a larger-than-life waterslide, attempt snorkeling and ski down a mountain. Often, I am watching in awe at how she accepts each challenge with such vigor. I juxtapose her confident spirit with my tentativeness, and my insecurities start to creep across my skin.
What am I afraid of? What will happen? What if, once, I let go of the fear? My default position is to cling to certainty and routine. I crave my morning coffee, familiar surroundings and daily activities. The personal checklist I've created sets the cadence of my days, but I am learning, this might come at a cost. My daughter is inspiring me to approach life with a new mindset. When I feel the need to say no, I am learning to say yes. It's a gradual process, but with all change, it begins with small steps.
My daughter attended a roller skating party a few months ago. Parents had the option to thrown on some skates and do the hokey-pokey with their kids. My daughter, of course, asked, "Will you skate with me?"
The answer in my head kept repeating no, but my mouth, to my surprise said, "Yes."
For the next hour, I hobbled with my daughter across the rollerskating rink, sticking to the edges, but I was participating and learning to take a risk. To the outside observer, the risk is small, but I'd already listed all the potential mishaps that could happen in my head – running into another skater, losing my balance and potentially breaking one of my bones. I ignored those voices, and enjoyed the skating and camaraderie with my daughter.
At the end of the free skate, my daughter looked in my direction and said, "I am proud of you, Momma."
I smiled. I whispered under my breath, "I am, too."
Maybe next time, I might give that rollercoaster a chance.

© Rudri Patel
Rudri Bhatt Patel is a former attorney turned writer and editor. Prior to attending law school, she graduated with an M.A. in English with an emphasis in creative writing. She is the managing editor for The First Day and her work has appeared in Brain, Child, The Huffington Post , Role Reboot, The Review Review, Mamalode and elsewhere. She writes her personal musings on her blog, Being Rudri, and is currently working on a memoir that explores Hindu culture, grief and appreciating life's ordinary graces.

You May Also Enjoy