It occurred to me standing at Mr. Coffee this morning. It was one of those light bulb moments: How to stop nagging, why the very word nagging is a loaded term, and how we ought to distinguish the need for reminders from mind games, passive-aggressive behaviors, or defiant responses.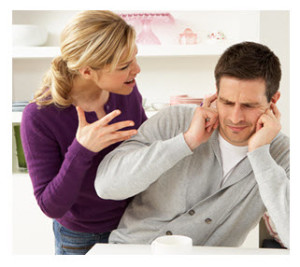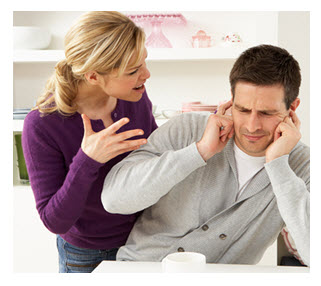 We know that true nagging is not effective communication. And yet…
We "nag" husbands about taking out the trash. (Why don't they just do it?)
We "nag" teenagers about cleaning their rooms. (Why don't we just stop?)
We request that a partner or child assist or act responsibly — including in their own self-interest.
In any of these examples and scores of others, if the request is dismissed or repeatedly ignored, our reminders are deemed "nagging."
Naturally, it isn't that simple. How we ask someone to do something, why we ask, and when we ask are all essential.
But… Drum roll please… How to stop nagging is as easy as this: Stop perceiving it as nagging! And do use a respectful tone of voice and choice of words, do explain why what you're asking for is important, do keep in mind the advantages of "listen first, talk second."
The Difference Between Requests and Nagging
What if you make a rational request for a good reason that is no inconvenience to the person you ask? Doesn't the fault — if that's even the right word — lie with him or her for not simply taking care of it?
What's actually taking place when after two years or 22 years, Hubby never remembers to carry the bags you can't lift and wheel out the trash can you can't push? What is really taking place when your adolescent constantly breaks her word about homework or spending too much time with friends? What is really taking place when that same spouse is urging you over and over to see a dentist for the tooth that bothers you or a doctor for your aching back?
Aren't these examples of being obstinate (or clueless), rebellious (and seeking independence) and not wanting to face fear or pain — or possibly the painful dental or doctor bill?
When you make a request to handle a routine task and it goes ignored, you have choices:
Remind incessantly (perceived as nagging)
Let it go (not always possible or we would all have kitchens full of trash)
Do it yourself (also not always possible)
Find an alternative (person or method)
So when is nagging really the oft-cited lousy form of communication that strains so many relationships?
In my book, "genuine" nagging is a close relation to using the guilt trip, this second being a manipulative way to goad someone into getting what you want. I also contend that the term nagging is frequently misused. Moreover, it is maddeningly associated with women who are simply requesting a fair division of labor.
And being ignored.
Our Nag-Free Zone
Mr. Coffee having prompted this musing — or more precisely, the glance to my left into the sink where I see that last evening's dirties have been stowed in the washer, so it follows that the clean dishes have been put away (without asking). Trash bags had been tied up and put in the can and rolled to the curb (last night I asked, and it only took one request). Lights that I want on during the night (as well as off) were exactly as they should be (it's a small house and not complicated).
Now, this situation — a Nag Free Zone — is far from the norm in this household. Anyone who has ever been the parent of a teen (or tween or child between 3 and 10) is familiar with unheeded requests and recommendations, which typically let loose the flow of (nagging?) lectures and reminders.
For that matter, the 'honey do' list (as some may call it) could be perceived as a much maligned but conventional structure within which nagging is allowed to flourish. Or more accurately and without the loaded terminology, any such list is a method of communicating division of labor relative to domestic tasks.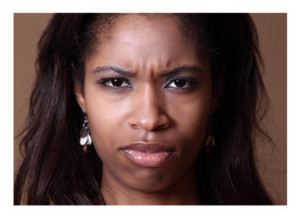 My interpretation? Why should anyone have to make a list and constantly point to it or ask over and over? Doesn't partnership of responsible adults mean paying attention, sharing duties and consensus on give-and-take?
So why is nagging a thing?
What Nagging Is and Isn't
What is the actual definition of nagging? What is the fundamental conflict that simmers below the surface if indeed requests and recommendations are "genuine" nagging? What is it about this behavior and communication pattern that causes it to spiral — not to mention garner mixed results when it comes to effectiveness?
According to Merriam-Webster, nagging is defined as
annoying (someone) by often complaining about his or her behavior, appearance, etc.; annoying (someone) with repeated questions, requests, or orders…
So, isn't nagging in the eye and ear of the beholder, since it is a matter of receiving the message as "annoying" or its delivery and frequency as an irritation or excessive?
If I calmly repeat a request to take out the trash because the trucks will be by in 30 minutes… If the trash still hasn't been taken out 10 minutes before the trucks arrive for pickup… If I hear them approaching from the end of the street… Why isn't it perfectly reasonable to repeat the request with growing urgency and irritation?
At what point does reminding or cautioning become nagging? Is it tone of voice? The number of times our words are repeated? Why do we generally (though not exclusively) associate nagging with women?
Now, for some distinctions and a little irritation of my own.
Women Get a Bad Rap
When even Web MD preaches on nagging (and uses women as its example, citing marriage expert Michele Weiner-Davis), I find myself growing hot under the collar. Consider this:
… The incessant nagging you do not only drives your partner mad, it drives him or her away and hurts intimacy…
Hello? Doesn't the partner ignoring what we say hurt intimacy? Doesn't it make us feel invisible, unimportant, dismissed?
The Web MD article goes on:
… most naggers don't know they nag — they think their nagging helps, explains Weiner-Davis. And it's not up to them to decide: A helpful reminder becomes a stinging nag when the person who is being nagged says so.
Say what? Hold your horses! Isn't that a hasty and generalized read on the subject? Doesn't it depend on what is being requested, reminded or recommended?
Hounding, pecking, needling, wheedling, harassing… These are all synonyms we find for nagging. However, aren't those terms excessive? Don't they indicate manipulation, purposely galling techniques or ill intent?
Reminders Do Not = Nagging
If I remind you to carry out trash bags four times (because you forget half the time and lifting them strains my back), is that harassing? It may be annoying, but the intention is neither harassment nor annoyance, though the longer I am ignored the more annoyed I will become. The intention is purely to solicit assistance for a routine task that is painful for me to do myself. (When I have to do it myself, I do not fill the bags as full so I am capable of lifting them.)
Shouldn't we focus on why Hubby can't seem to remember it's trash night? What underlying issues does he have with this or other similar requests?
If I ask for the dishwasher to be emptied repeatedly and reloaded (if you use every dish in the house while you're cooking), is it needling if I make comments about a half dozen plates and bowls to prepare one meal? Isn't it only logical to expect someone to clean up after himself?
Are there unmet and unarticulated expectations at work? Why is Hubby unwilling to do his share?
Surprise, Surprise: Asking Once
Here's where I am. My college son is home for the summer. When I need something done I ask him — once. Remarkably, he responds within five or 10 minutes. If he tells me he's in the middle of something and asks if he can take care of it later, most of the time I say yes. And guess what? He does.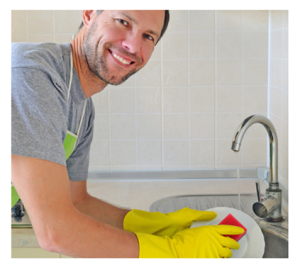 No nagging, no hounding, no pestering, no annoyance. And if he is annoyed to be asked to help he isn't showing it. He isn't showing it because I believe he isn't annoyed. We are, delightfully, in a most compatible stage of parent-adult child cooperation and mutual respect.
If he anticipates what needs to be done, all the better. And this is happening more and more — dishes put away so others can be washed, laundry off the floor and in a hamper, laundry he takes care of when the hamper is full, cooking (and clean-up) that includes what I would like, lights off or on by day or night at my request, and according to a rhythm that is natural to our household.
Parents and Adult Children
You could also say my son is being a good guest. Sure, this is home but he's away at school for a significant part of the year. He is also attentive to what I'm doing and how, to why it matters and yes, I've communicated both to him clearly. Likewise, if he has a suggestion for doing something a better way, I stay open and listen. In fact, I've adopted several new habits that he has suggested, which is to say that he made requests of me with which I've complied — no reminding or nagging required on his part.
It's a relief to have my son simply do what I ask because I need him to, or to anticipate what needs to be done without my asking. This is about being observant. This is about being a responsible member of the household. This is a change in his behavior that I see with a great deal of parental satisfaction.
One last point, and do keep in mind I am talking about reasonable requests — not anything inane, needlessly interruptive or selfish. Unless someone is truly trying to pick at you or mess with you, he or she has reasons for making requests. It isn't about ego, a power trip or control. While repetition is tremendously irritating, discussion about what's being asked and why it's important could reduce friction, annoyance and yield the desired result.
We Stop Nagging When We Are Heard
An able assist from a partner should not have be a battle of wills — too often the case between spouses. Nor should nagging be the result of one person experiencing the frustration and hurt of never being heard. That cuts to the quick.
Naturally, there are times we tune each other out… a matter of being preoccupied or distracted, hearing a story (or whining) one too many times, or simply finding oneself too comfy in the love nest. And when we begin to assume and presume (and take each other for granted), we may shrug off what our mates need, thinking there is no cumulative consequence.
We couldn't be more wrong about that last point. Not being heard is an invitation to resentment.
I believe the secret to not nagging is to feel that you are being seen and listen to. Likewise, we must see and listen to the other people with whom we are communicating, and that includes our attentiveness to their reactions when we request or recommend.
We also need to remember that we should ask for something to be done because we think it's right, it needs to be done, or we need help. Keep it simple. Explain why if it's appropriate. Do not guilt. Stay open to being wrong and making changes of your own!
And if the person you are reminding doesn't respond or continues to forget — do it yourself, find another way, or let it go.
You May Also Enjoy