"I know I'm invisible," a friend said a few weeks back. It was an unguarded moment over a quick drink, and I understood the subtext, which is this: I'm past the age when heads turn or people notice my appearance for the right reasons. And I accept it, though with regret.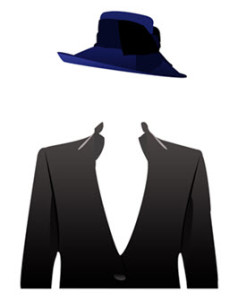 My friend is a busy woman, an accomplished woman, a woman who looks forward and not back. Yet that doesn't mean she can't feel the occasional pang glancing into a mirror and noting the changes.
For two days I mulled her remarks and the undercurrent of determined resolve in her voice as she quickly moved on to other subjects. Those subjects are about going and doing and achieving, about interesting people, projects, politics.
An extremely attractive woman one would put at 52 or 53, personality alone renders her a force to be reckoned with. Yet the 'invisible' remark left me peevish.
Perhaps invisible is too strong a term or the wrong term altogether. Perhaps 'overlooked' in specific circumstances would be more accurate. Perhaps 'irrelevant' in a context we still remember vividly would be on target.
At 50+ are we overlooked or irrelevant to a 25-year old?
Possibly, depending on what we are saying and where and to whom. Possibly, if we are entering a party and expecting a flirtation. But is this really a surprise?
Wasn't it the same for us when we were that age?
If we are disrespected or feel as if we are, is that what rankles?
If we feel dismissed by men our own age who prefer younger women, is that a different issue?
For some of us, invisibility is nothing new. Women in particular are invisible for any number of reasons. They may be too plain, too short, too fat, too "something" which results in them being not enough of whatever it takes to be noticed in a positive and affirming way, when it's a matter of appearance, that is.
The consequence is this: People don't take any special notice. For most of us that's not a concern and it may even provide considerable benefits. But at a certain age or stage, when we are trying to feel our way to what attractiveness means, it's another story. But it certainly isn't the end of the story or the only story, or even the most important subplot in the story of who we are becoming and how we are leading our lives.
How we look and how we are treated as a result are important, but more important — the person we are, the person we project, the person who experiences fully and contributes in a real way.
Sure, this is my slant, my experience, my perspective on my own years of being invisible and then not and then invisible again and then and then and then… ultimately living two decades when what was important had little to do with reactions to my entering a room and everything to do with the daily details of raising two children, (wo)manning a laptop, and keeping a roof over our heads.
I was too busy living, loving, mothering and working to worry about what anyone was thinking except of course those to whom I am closest and those on whom I depended for a paycheck.
And to them, I am not now and never will be invisible.
Nor irrelevant.
Nor without value.
Besides, you don't have to be seen to be heard, to be felt, to be a force, to make a difference.
But looking in the mirror and processing the undeniable signs of age can be a challenge. I will not pretend otherwise. Some days it's trivial and you shrug it off. Other days, you wonder at the pace of the changes lately, at how long before it's difficult to recognize yourself, how many others among your old friends might line up beside you in front of that glass and nod if you ask: "Are you feeling invisible?"
A wise man said this to me recently: "It's hard to love others when you don't love yourself." He was right of course, and most of us have periods on our lives when we are less than pleased with who we are, how we are reacting under distress or duress, or risk-taking, our fearfulness, or for that matter, how we look.
While we cannot change the past, we can modify our behaviors, we can shift our attitudes, and we can change what we are determined to change that is within our power to change, though not certain aspects of our physical selves nor the march of time as it leaves its stories. What we can do is fill ourselves out fully in the ways we believe are important — creatively, compassionately, intellectually, relationally, professionally. And filling the coffers financially is not to be disregarded.
When there is a mismatch between the person we imagined ourselves to be (or once were) and the one we believe we are (who is no longer "seen"), we may ache, we may withdraw, we may struggle to act in loving ways to others because of the way we feel about ourselves. The kindness we need to show, first and foremost, is to ourselves. And I say again — not as one who is invisible, irrelevant, or without value.
And then you get on with the living, knowing all that lies ahead, with the same resolute determination as exemplified by my beautiful friend.
You May Also Enjoy