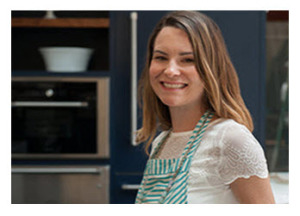 By Brigitte Thériault
The first time I felt real love was from my grandma who fed me buttered toast. She made the bread from scratch, buttered the slices, and cooked them on a folded hanger on the stove element.
I put myself through a lot to find that love again.
The love I couldn't find through my alcoholic dad. The love I couldn't find through my mom; she checked out trying to cope with my dad. So I found love where I could – in dark, dingy, dirty places.
My love of food saved my life.
I started stripping when I was 14. I won't go into the chain of events that led me to realize I could take my clothes off at that tender age and be paid for it, or why I wanted to be a stripper in the first place. I was too young to get my own apartment or to get a job at the mall, but by God, I was allowed into a strip club as a teenager, and without fake ID.
At that age, I was searching for love, connection, and a sense of belonging. My father was spending his days downing Molson, and our dilapidated, filthy, smoked-filled farmhouse made me feel like I constantly had dirt crawling under my skin. These circumstances, along with my grandma's death when I was 13 – and she was the primary loving figure in my life – destroyed my ability to feel anything but anger and resentment.
To comfort myself, I ate. Microwave popcorn, pizzas, greasy Chinese take-out, chicken tenders. My parents didn't have much money and ate out at KFC, but with the money I was earning at the strip club, I could buy any food I wanted, and I found myself falling in love with the row of quaint restaurants in Little Italy in my hometown. I loved their white tablecloths, the intimate atmosphere, and the long, lavish dinners I was able to enjoy with my boyfriend. These restaurants filled my desire for both connection and pleasure. They were my first foray into becoming a more cultured and civilized human being.
I began to deepen my passion for good food. I fell in love with Vietnamese, Mexican, Chinese, French, and Italian cuisine: a bowl of tortellini with rose sauce, loaded nachos with cheese and pickled jalapenos, rice noodles with grilled shrimp, nuoc cham and peanuts. Food became a distraction from real life and a way to begin exploring the world through my senses.
My boyfriend's mother was a classy, nurturing French lady who, despite working in upper management at her job, still made meals from scratch for her family. Her cooking changed my life. It was not only her delicious dishes, but the beautifully set table, the atmosphere enhanced by candles, the accompaniment of wine, and the family discussions that flowed. It made me feel like a cultured woman, not a trashy one. I felt connected and alive.
Cooking and eating became the path to alleviating the pain and disconnection I experienced when I traded the gaze of dirty old men for the freedom of a paycheck.
As time passed, I fell deeper and harder for this true love, as I began cooking on my own. I was reading recipe books and experimenting in the kitchen. I started to make elaborate pasta dishes, steak sandwiches, and risottos for friends, and I became the go-to person when they wanted a good meal. Food became the favored medium to seduce and connect with others.
A few years later, I quit working in the club and moved to Montreal. I discovered the city through the lens of Lebanese, Iranian, Japanese and Quebecois food: charcoal chicken kabobs wrapped in freshly baked pita bread, basmati rice pilaf studded with barberries falling off the bone lamb shanks, hand-cut fries loaded with squeaky cheese curds and rich beef gravy, and a regional Quebecois dish named poutine.
My daily ritual included freshly baked rye bread and luscious, flaky, milles-feuilles from the patisserie.
A couple of years into eating and cooking incredible food, I saw an ad in the paper for culinary school. A week later, I was enrolled.
That year of cooking school saved me.
Learning how to use a chef knife, make chicken stock, sear meat and combine flavors brought me joy. Finally, I felt a true sense of hope and connection to life, and a way out of a destructive, dead-end past.
I no longer had to bat my eyelashes, flash a smile, or stuff feelings down my throat. I no longer had to stay numb to survive. My love of food and cooking brought me to life, and gave me the power to live an authentic, passion-filled, and satisfying existence.
More than 10 years have passed since I put on a chef hat. Two moves to New York and San Francisco, two iterations of a personal chef service, and here I am, continuing to pursue what I love.
My recipe for relationships has transformed as well. I know what it is to love and be loved by people who treat me well. And my first love has become a life-long passion that nourishes me. Today you can find me in the kitchen creating new recipes, teaching clients how to cook, and feeding the people in my life. My love affair with food will never end – and I am grateful to have found a passion that took me out of an existence that might not have had such a happy ending.

© Brigitte Thériault

Brigitte Thériault is a personal chef, master meal planner and personal chef business coach. She has 10 years of experience as a personal chef in New York and San Francisco. She believes eating good food is a basic, hedonistic pleasure that demands good, simple ingredients to nourish body and soul. She also believes in entrepreneurship as a way of life and thrives on helping people figure out how to make more money doing what they love. Visit Brigitte at White Apron Chef, and connect with her on Facebook, Twitter and Instagram.

Part 4 of an essay series on First Love.
You May Also Enjoy