I had lost the habit, and it was an excellent habit I could not ever have imagined abandoning. I was rarely reading, or at least, rarely reading for recreation.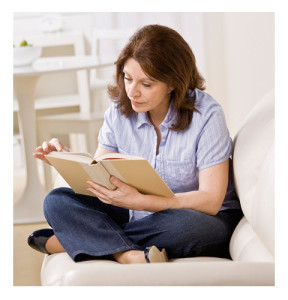 I chalked this up to years of interruptions as a single parent, stress (and an inability to concentrate), and sadly, the bad habit of zoning out through visual means when I finally had a moment to myself.
Perhaps I am being too hard on myself. My spare moments weren't devoted to bad habits so much as emotional survival, which more usually entailed mind-numbing television late at night before bed, a quick laugh online, or a few pages flipped through a magazine.
Sound familiar?
Reading Is Habit as Well as Pleasure
As much as these momentary pleasures helped ease stress, I missed the more substantive satisfaction of reading novels. I missed long journalism. I missed engagement with a well-researched thought process or an imagination with the power to hypnotize.
For years, I only read fiction during one week of the year when I didn't have my boys with me. During that week, I gave myself to sitting outside in the quiet, in the sunshine, and eating up every delicious plot twist, character nuance, and turn of a phrase.
Fortunately, even during those years, I never lost touch with poetry. You can enjoy verse in two minutes! And for that matter, it can serve as a potent mood elevator.
But I wanted reading to become habit again. How could I get back there – and not just for one week a year or the occasional short story gobbled up on a holiday weekend?
Getting Back to Reading: Re-Read What You Love
What I came to realize: The energy required to raise my kids, look for work and do work, and wrest some semblance of sense from all of it was impacting my ability to concentrate once the work day and parenting day was over.
I accepted the situation for awhile – finding relaxation in a classic film on TMC at midnight or paging through ELLE Décor at 6 a.m. – but I wanted my reading pleasure back.
It occurred to me to begin re-reading what I once loved – a passage here, a chapter there. So I stacked my favorite novels near my bed, many well worn, and literally read randomly from time to time.
It helped.
Making Reading a Habit
That was a beginning, but over the past year I have done more to make reading a habit in my life again. I want to share these tips because if they worked for me and you've encountered this same problem, perhaps they will work for you – or for a child.
And incidentally, in going through this process, I licked my concentration issues that were at least in part influenced by the way we tend to read on the Internet – a snippet here and a headline there.
I also realized that on some level I felt guilty if I was reading. Shouldn't I be scanning the Internet for another potential gig? If not, shouldn't I be exercising for 20 minutes? Should I rework my budget for the umpteenth time?
I have been so focused on emotional and financial survival for so many years that it felt frivolous to enjoy a book. How's that for a light bulb moment?
Ways to Ease Back Into Reading
My tips and discoveries as I resolved to read more:
Poetry allows me something for every mood, and poems are quickly read.
Short stories can be enjoyed in 20-minute (or less) chunks of time, offer wonderful variety in style and subject matter, and are treasure we too often ignore.
Long journalism found in our favorite newspapers is reading pleasure in another register. I give myself two hours with The New York Times on Sunday mornings (the actual paper – tactile and pleasurable in itself). I continue to read throughout my Sunday as I can.
Time of day matters! I can process certain kinds of material best in the morning and others later in the day. Finding my rhythm of what works (and arranging it around my work schedule) has been an evolving story.
Discipline: All habits require routine and discipline, including re-establishing pleasurable habits.
I continue to re-read passages from favorite books by much loved writers.
Reading Makes Me Happy
Among my most important discoveries is this: Reading makes me happy. Job-related reading isn't the same; it may be interesting, but it is, after all, work.
I also accept that there are times and circumstances that are more favorable to certain types of reading – poetry vs long journalism, for example. When I'm under extreme stress, I cannot manage fiction. I don't know why, but I can't enter it. Long journalism, on the other hand, is another matter.
Also a "reality check" factor: the extent to which we will be interrupted. I try to plan for it and not set reading expectations that are likely to be dashed.
Last, I use reading as a reward for myself – and only read high quality writing at that. Combined with a cup of coffee on the weekend (or tea at night), even if only for a half hour, it's heaven.
You May Also Enjoy