"Look at their shoes. That tells you everything you need to know."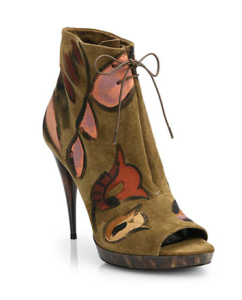 An overstatement, if ever there was one, and not about a prospective date. Rather, concerning job candidates.
That was advice I received once, long long ago.
Relevant?
Debatable.
Not only did that advice suggest that I should (and shouldn't) pay attention to footwear while interviewing a potential hire, but it reminded me – just in case – to pay attention to the state and status of my own selections because of the assumptions we make based on appearance… from head to toe.
The specifics?
As for shoes, as follows. No grossly out-of-date or inappropriate (to the situation) styles. No scuffed, scratched or even slightly gouged heels (however much this is a casualty of urban living). No garishly bright colors, though I look back and exempt the mid-80s (blaming my youth, Dynasty, and shoulder pads).
Accessories Scream Money (and More, and Less)
I admit that footwear screams some facts and only implies others: more money than common sense; a preference for style over comfort (or vice versa); obsessive or oblivious to details; hooked on Sex and the City reruns. Possibly, none of the above, but rather bad feet, which doesn't preclude impeccable credentials and experience, as well as a fine, disciplined mind.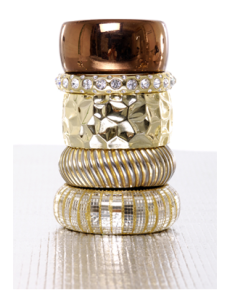 At the very least – if you're looking for work at a law firm, you might avoid the hand-painted ankle booties, however elegant. I will notice your feet and not your brains (and make assumptions about your fiscal priorities or family background).
But interviewing for a creative position in couture?
That's another matter entirely.
Then again, if I know enough about my (fashion) business, I'll also know what you (probably) spent. I may be concerned about level of compensation…
Now if you're seeking a position at a think tank and you come armed with an IQ of 160, three patents to your name by age 25, and a PhD from MIT, I'll overlook the platforms, the combat boots, and possibly even the shredded jeans.
Show up in something sassy and red, if otherwise classically attired?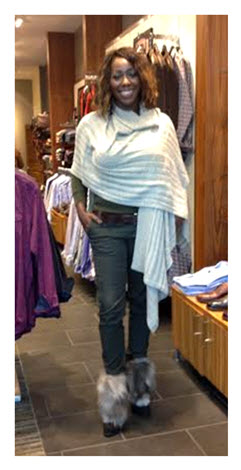 I'll be impressed by your self-confidence.
Pertinent Personality
Running errands recently (and taking a little time to window shop), I encountered fanciful footwear with an exceptionally nice sales person attached. Not only did her manner encourage me to enter and wander the establishment, but I couldn't stop grinning at her whimsical bootie choice.
As she was working in a clothing store – and she was tall enough to pull off this look – her style said everything that drew me in: warm, welcoming, and self-assured.
Could I pull off full frontal faux fur on my feet?
Probably not, though I might certainly try. But she did – and it was delightful. Score one for personal style – and saleswomanship with a bright, genuine smile.
Accessorizing: Hazardous to the Health of Your Career?
Other observations on style or attire by which we navigate and evaluate?
Eyewear comes to mind. Hair, of course. For women, makeup – which can be surprisingly controversial, and with monetary impacts. And another factor we judge – weight.
The first three in that list may vary with trends as well as regions and culture. They may also peg us as stuck in a former decade. And that last?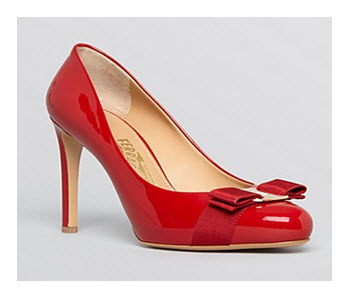 Sadly, it remains a stickler – bias that is as stubborn as those unsheddable 10 pounds – as we make assumptions relative to will power, work ethic, self-esteem, discipline and more.
I'm guessing the "gadget" factor plays into assessments as well. Aren't our electronics as ubiquitous as the once signature bracelet or brooch? Surely the nature of our phones is observed and stamped with approval or disdain. Bye-bye, Blackberry; hello iPhone.
And the iPhone 5 versus the iPhone 6? What about those of us still on the 4? No Internet access at all on your phone-as-phone device? You must be a Luddite!
Apparently, we should add wrist watches to the accessiry assumption arsenal. And perhaps they've always been part of the once-over criteria, but long overlooked by yours truly.
Roll Over for Rolex?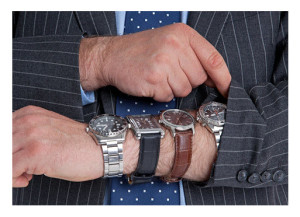 The Times offers us the nuances of presidential timekeeping – yet one more way to show oneself as a 'man of the people' – in recent decades, lauding the modestly priced timepieces of our governing millionaires. In "The Political Power Watch Stops Ticking," Alex Williams discloses the manner in which even in this – naturellement – our politicos are packaged for public consumption.
Mr. Williams explains:
The political power watch — a subtle yet potent symbol of leadership, with deep roots in American politics — has been redefined. In an era when any hint of elitism is the third rail of modern statecraft… most office holders, in the United States anyway, seem unwilling to risk C.E.O.-level timepieces that were once the birthright of the ruling class.
Of course, as women are less likely to give anything away on the wrist, and more likely to do so on the feet, I'm curious to get a gander at our (all too few) female politicians' shoe selections.
Still, given how easily we are packaged (if needed and if we can afford it), our choices and non-choices may have less to do with substance than ever before.

Burberry Peep-Toe Ankle Boots, Saks Fifth Avenue

Ferragamo Platform Pump, Bloomingdales
You May Also Enjoy