Mad Men Season 7 Episode 2 yields several standout lines of dialog. The first is delivered by Don's secretary, Dawn, as she tells Peggy's secretary, Shirley: "Just keep pretending."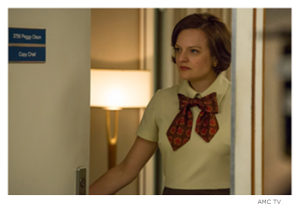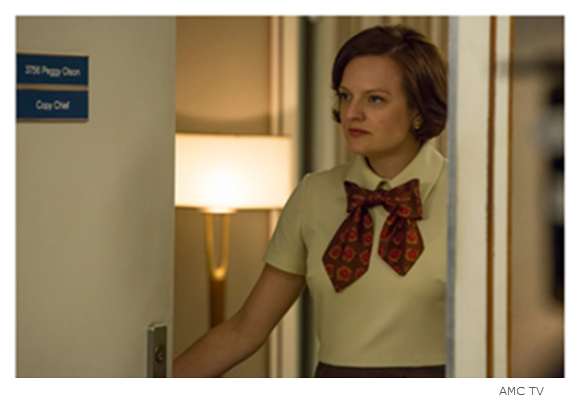 That sounds like good advice if you want to keep your job – and you aren't a white guy with a corner office.
Wiser words still, but harder to pull off – Sally says to Daddy Dearest Don: "Just tell the truth."
Hello? Madison Avenue, meet Dick Whitman… uh, Don Draper. Care for a kernel of honesty in your abundance of fabrication?
Be My Valentine
It's Valentine's 1969 –  just another day at the office for the staff at SC&P. Except, of course, that Don, Peggy, and Pete are caught up in the consequences of telling the truth or living an assortment of lies and deceptions. Don has been put on indefinite leave from the agency, but he hasn't told his family. Peggy's trying to adjust to a new (lousy) boss, and is miffed at being left after a one-night stand with Ted. Pete's still feeling unappreciated in LA, but hey, that's our Pete.
Given that Peggy's especially touchy these days, she thinks her secretary's flowers are destined for her. Poor Peg 'o my heart, it's an assumption that sets off a stream of overreactions that eventually result in serious embarrassment.
In fact, Peggy is so mortified at her own behavior that she wants her secretary, Shirley, to be reassigned. Cue the musical chairs for the agency's admin pool!
Don Draper Does… Daytime?
And where is Don while office politics are churning?
Don dials Dawn for updates, and she diligently keeps him current on clients and campaigns. But while he puts up a good front, he's actually caught in a difficult limbo. He's sleeping in, munching on snacks, and watching television in the middle of the day… including Marlo Thomas in That Girl. (Did anyone else grin at that touch? Ah yes, the perky innocent in the Big City, trying to make good.)
Don's also flipping through magazines, gazing at the ads, and marking the outside of his liquor bottle to moderate his drinking.
And what about Don putting on his suit just to answer the apartment door when Dawn came knocking? Talk about pretending…
Time for Truth (and Consequences)
When Sally realizes that her dad is no longer at the office, Don is forced to explain what happened. He's clear on what he did, and the consequences:
… I didn't behave well. I said the wrong things to the wrong people at the wrong time…
I told the truth about myself, but it wasn't the right time, so they made me take some time off… and… I was ashamed…
His ill-timed revelations landed him squarely in No Man's Land. Misbehavior led to shame and embarrassment. But he isn't the only one avoiding the truth, pretending, or dealing with humiliation.
Lou is embarrassed by Sally showing up at the office, so he takes it out on Dawn. Peggy is ashamed of her relationship with Ted, and possibly embarrassed by her single status. She takes it out on Shirley. Pete realizes he's still low man on the totem pole, and he takes it out on Ted. And Bert Cooper is uncomfortable with Dawn as a receptionist at the front desk – consequence of being shuffled by Lou.
Joan Saves the Day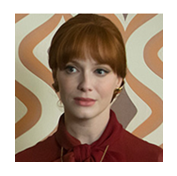 Joan is caught in the middle of the pouting, fuming, and adolescent personnel issues when Peggy, Lou, and Bert kick up a fuss over their secretaries. But talk about consequences!
Cutler notices that Joan is doing two jobs and tells her it's time to move upstairs. As for the parade of ladies moving here, there and everywhere with their belongings in boxes? Bert doesn't want Dawn at the reception desk – that's a little too "NAACP" for him. Well Joanie puts her in charge of Personnel. How's that for encouraging the Dawn of a new day?
Sally Seeks Truth
Sally, in her own way, is asking for the truth and also pretending. If being a teenager weren't disorienting enough, she's got Betty and Don as parents. She's mortified by what she saw between her father and Sylvia. What kid wouldn't be? Yet she seems to seek out Don all the same. The lost purse is just an excuse.
Earlier, with her roommates, as they're talking about a funeral to attend – the mother of a classmate has died – Sally says:
"I'd stay here until 1975 if I could get Betty in the ground."
Is this the truth? More pretending? Is this sentiment a bit of both, especially given the relationship with her mother?
On the Nature of Hierarchies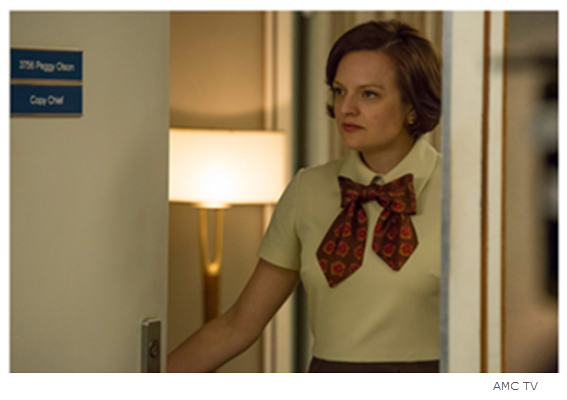 Let's talk office hierarchies for a moment. Watching the women get shuffled around like objects reinforces their position. How much clearer can it be that the secretaries remain at the bottom of the heap? But other power relationships are crystal clear: Bert and Jim can overrule Roger, Ted holds greater influence than Pete; it's male before female, white before black, and to a lesser degree – parents exerting their power over kids – or so they think.
On that final note, Sally turns a corner when Don offers her the truth. For him, the consequence is one he doesn't anticipate. She says: "Happy Valentines Day, I love you."
Access original images at AMCTV.com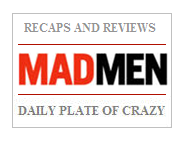 Be sure to check Mad Men Reviews weekly, or bookmark Entertainment / Mad Men.

You May Also Enjoy