"Just a trim. A little layering through here," I say. "You can see where it's heavy in the back and on the sides."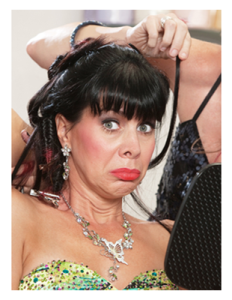 "Sure," she says, snapping the smock together around the back.
Over the next 30 minutes, through protests and intervention by other stylists, all of us attempting to guide her politely, I receive the following:
Worst. Haircut. Ever.
Well, worst haircut that I ever paid for. My consolation: the out-of-pocket cost wasn't much.
They say you get what you pay for, but I've never found that axiom to be as true as some would have us believe. I've generally been the pleased-as-punch recipient of excellent haircuts compliments of the local quickie Walk-In salon. My hair is thick, straight, and healthy. Easy-peasy to cut, and I'm not terribly fussy about it.
Easy until yesterday, apparently.
I repeat:
Worst. Haircut Ever.
An hour later I was sitting with six elderly women having tea. Several are dealing with significant difficulties, physically. A few others suffer issues with memory and mood. But one was bubbly and relaxed and making wry remarks in French (as usual), cracking me up. We were all wearing hats – compliments of the Activity Staff – to make our tea more fun. And it was fun.
Besides, the hat covered my bad haircut.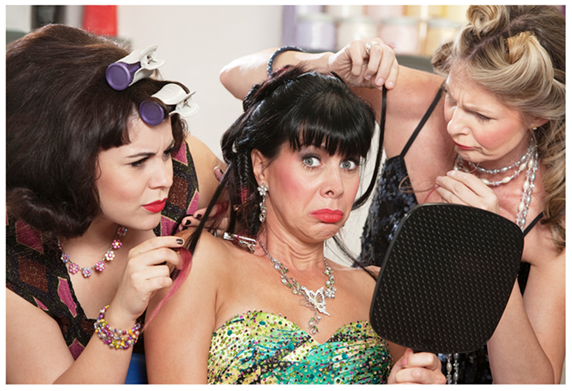 And when we have bad hair, aren't we consoled by the good company of kind women?
There was chat, there were stories, there were hugs and kisses. Once the tea had been sipped and cookies consumed, all seemed appreciative of the pretty floral-patterned china and white table cloth, not to mention the elegant hats. (In case you're wondering, there was velvet with a jeweled ornament, a floppy hat in cheery lime green straw, there were wide-brimmed sun hats and a few pillbox styles embellished in feathers.)
By evening, I found myself sitting outside in a patio chair and nursing a glass of Merlot. Bad hair aside, I felt just fine. And I will chalk that up to an incredible sky, fresh air that was neither too hot nor too chilly, and a brief walk through my neighborhood in which it was not lost on me that everything is sprouting, budding, blossoming or in full flower.
Suddenly, and most spectacularly.
The dogwoods, in particular, transport me.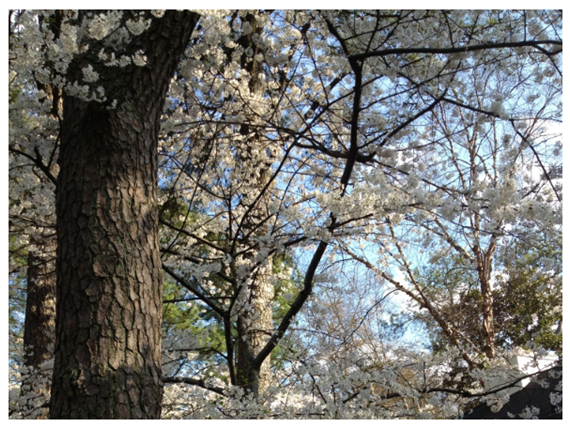 Bad hair?
It won't last. Nor will the blooms, the bright sky, or the precious moments with these interesting women whose stage in life reminds me to enjoy mine, with its ups and downs, while I am here. Right now.
Flowering.
Please visit these lovely ladies and their special spots, where you will most certainly enjoy perusing, looking, and reading. Their pages are filled with ideas, images and words to inspire and encourage us to think, and to appreciate what we have and where we are… wherever that may be… now.
You May Also Enjoy