Recipe for a fabulous dessert – and one that can double as breakfast as well? Try clafoutis!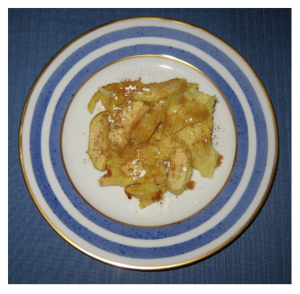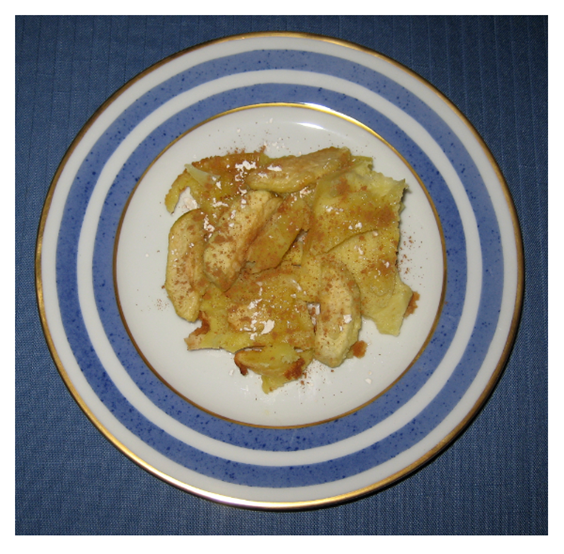 This strangely satisfying and versatile recipe is almost as easy to make as pancakes. In fact, the clafoutis batter is very similar to pancake batter, with the most basic ingredients you can find – and your favorite fruit.
With cravings for a fine tarte aux pommes, or possibly something more rustic, I searched for a simple version of this homey French classic.
Using Allrecipes.com, I modified the blueberry version, using apples. (Do be sure to check their recipe for more precise instructions than I provide, as those who know me realize that I'm a bit of a mad chemist in the kitchen…) Here is the original recipe for blueberry clafoutis, should you wish to consult it. And the word is pronounced kla-foo-tee, by the way.
Easy as… Pie
Taking a simple recipe and simplifying further, I nonetheless adjusted measurements to increase the number of servings. (The truth is, I find peeling apples impossibly boring. So I decided to make extra servings to compensate.) I increased everything by 25% and the time, likewise. But do remember that ovens differ and to test the springy quality of your clafoutis, and look for a nice bit of golden brown on top when it's done.
Note, too, that this is a very inexpensive dish, even with organic fruit and cage-free eggs. As for the fruit, use whatever you like – blueberries, peaches, I was in the mood for apples. In this very simple version, the recipe calls for eggs, flour, milk and sugar. What could be simpler?
Ingredients:
4 tart apples
3 eggs, 1 egg yolk
3/4 c. flour
1 c. sugar
a smidge of salt
1 c. milk
1 tsp. vanilla extract
Directions
Peel the apples. Slice them into small pieces and arrange them (or scatter them) in the bottom of a greased 8″ x 8″ pan. I decided to get wild and use a larger glass baking dish, so I increased all the ingredients above by 25%.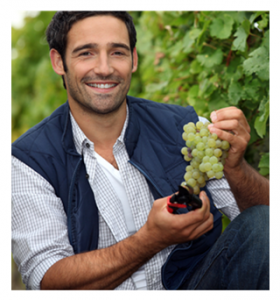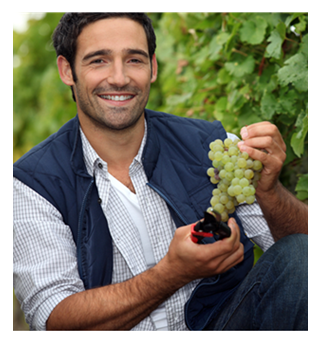 Whisk the eggs, add the sugar and flour while still stirring. Add the milk.
(Note – some recipes use light cream, but I used reduced fat milk.) Now add the vanilla extract. That's it! You've got your batter, ready to rock 'n roll.
Pour it over the fruit, put it in the oven at 350 degrees for approximately 45 minutes. Note – since I increased the above amounts, my clafoutis stayed in the oven about 12 minutes longer. I know, I know – my approach is a bit "sauvage" – but generally… it all works out fine!
One more practical note: If your arm wearies as you peel or whisk, invite a Frenchman to take over the task. Worst case – use a food processor or old fashioned mixer.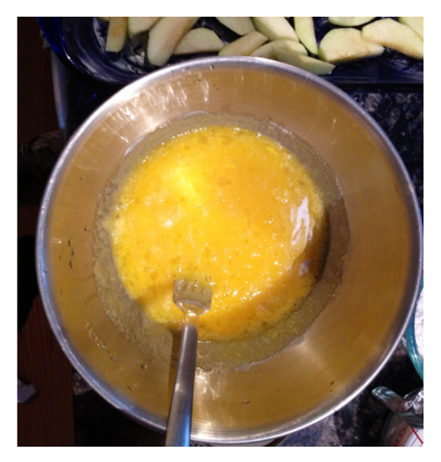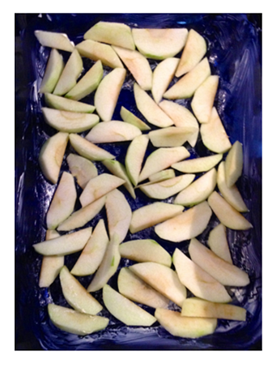 You can see the apples. (Delish.) Next time I make this, I'm going to add some golden raisins. You can make clafoutis with whatever fruit you'd like.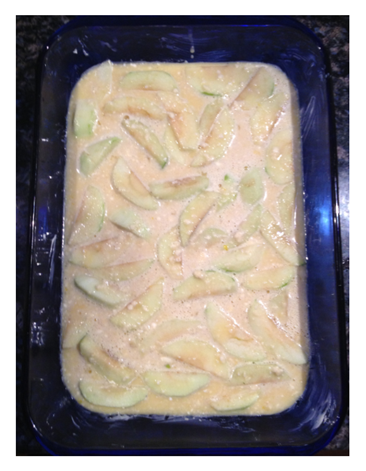 This looks dreadful, doesn't it? Bubbly-ish batter poured over fruit. Once baked, the consistency is something between a pancake and a custard.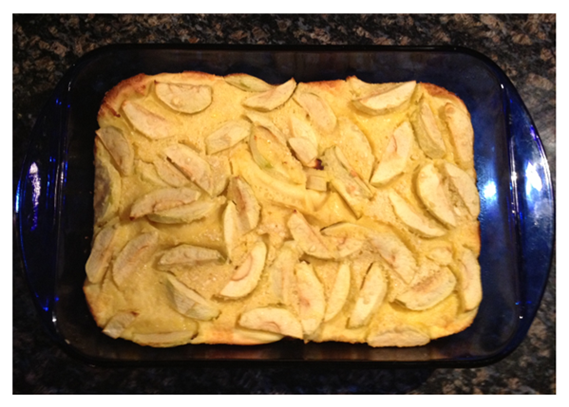 Eh voila!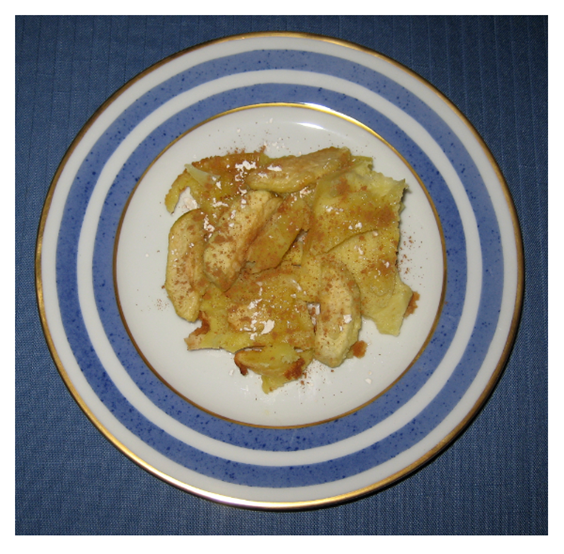 Sprinkle your clafoutis with confectioners (powdered) sugar… and serve! As I love a bit of cinnamon with anything apple, I also indulged in a pinch of cinnamon.
Booties for Cla-foodies?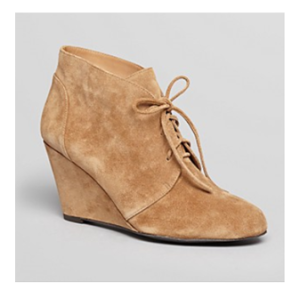 Shoes to accompany clafoutis?
Although I decided to dish out my rather rustic clafoutis onto pretty china, comfy and casual chaussures seem fitting.
Besides, we're still dealing with some blustry days on the cusp of spring, at least in some parts, so why not a seasonally supple wedge in beige suede?
This Via Spiga Lace Up Wedge Bootie is adorable, and would be great with a pair of skinny jeans or classic trousers, for enjoying your clafoutis!
Image, Via Spiga Bootie, Bloomingdales
You May Also Enjoy