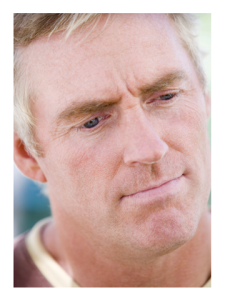 By Jack Steiner
My high school girlfriend told me she wanted our first time to be romantic. She talked about going to the mountains and making love on a bearskin rug and how special that would be.
I nodded my head and told her she was right and said my mom was going to be home soon so we needed to finish quickly.
Clearly I was a very sensitive 17 year-old boy. One who was far more concerned with being able to get a blow job before his mom came home than listening to his girlfriend talk about what she wanted her first time to be like.
I wanted to have sex and I wanted to have it with her, but I didn't care about details. All I wanted was to experience what my 10th grade health teacher referred to as sexual intercourse. I wanted to know what it felt like.
I was 17 when I got my first blow job, and the truth is I really didn't know what was supposed to happen. She was 16 and when she asked me if I wanted one and I said yes. When she told me she'd never done it before and asked for help, I told her to put it in her mouth and then I said I was sure she'd figure it out. And then I hoped she would.
By the time the opportunity to have sex came around, we thought we were experts on everything else, but we broke up before we could do the deed and that played a big role in why she wasn't my first.
That prize went to a girl I met at summer camp when I was 18, and the grand finale came far too quickly… twice. I was really attracted to her and a little intimidated, and I told her third time's the charm, but by that point my charms were of no interest to her. So she found some other guy and I was forced to wait for someone else.
When I think back, I realize those moments had more influence on me than I had initially thought because when the opportunity to have sex came again I approached it differently. More bravado. More posturing. And more effort to be like the men I had seen on television and in the movies.
It took close to a year, but when the next woman came along, I felt pretty damn cool because she was seven years older than I was. Her roommate was gone for the weekend and we had their two bedrooms all to ourselves. She said I would be her gift and she told me I could have her all weekend long.
It's kind of funny looking back because I remember the blow job she gave me to prepare for our all-nighter with far greater detail than when we had sexual intercourse. I suspect it was as memorable for her as for me, which is to say, not very. What I remember most was looking down to confirm that everything was in place and then closing my eyes so that I could focus on what it felt like. It sounds a bit silly and ridiculous now, but first times are often a bit silly and ridiculous, aren't they.
As a father, I cringe a little bit reading these words and thinking back. Cringe because I don't want my daughter to be with a guy who is as cavalier as I was, and because I don't want my son to be who I was then either.
Once I really started having sex I wasn't interested in women who were virgins. I wanted someone who knew what she liked, what she was doing, and wasn't going to expect me to be in love. I wasn't a bad guy, but that first time stuck with me and I didn't want to be embarrassed like that again, so I did my best to prevent a repeat performance.
That 18 year-old kid and the twenty-something that followed never would have believed that sex in my forties would be so much better. But you can't screw an old head on young shoulders and there is something to be said for life experience and the maturity to love and be loved.

© Jack Steiner

Jack Steiner is a father and friend and hopes one day to be your favorite writer. He blogs on parenting, politics, fiction and more at The JackB.

Part 8 of a series on first sexual experiences.
You May Also Enjoy