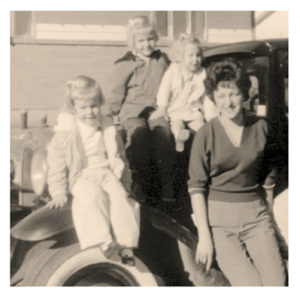 "I see you're wearing your hair long again," she says to me across the table, with a raise of her eyebrows.
I nod as I pick at my salad, and hope she drops the subject.
"Is that so you can pull it up in that, you know, messy sort of way?"
Ah, and there it is.
When she saw me for the first time in over a year, just a few hours earlier, she remarked, "Are those new earrings?"
Not "those are cute" or "I like your earrings."
My 81-year old mother is making a veiled comment about my spending.
I get it. I get it. God knows, I get it.
We know this dance with our mothers, don't we?
Our relationships are like a dance; sometimes painful, often joyful but in almost every case, we know the music we're moving to, we accept the back and the forth, and poignantly experience the embrace and the letting go.
We take our mother's hands when we're young and learn the steps, the twists, the dips and the lifts until eventually, we can move on our own. We may change the music and even switch the style, but the initial memory and years of practicing with and observing her remain with us for life.
My oldest daughter just gave birth to twins, Lucy and Jack, and I'm writing this from my daughter's kitchen table in the wee hours of the morning.  I can hear the babies grunting and starting to fuss through the monitor nearby.
So, here I am in the dance, still bristling at some of the things my mother says, yet a mother and grandmother myself.
My "baby" is mothering her two newborns as well as two older daughters, as I cook meals and hold and burp alongside her. I rock the infants to sleep.  I swaddle them.
The memory of my mother visiting me each time I had a child is right at the surface of my psyche.  She helped me get past postpartum blues after my first was born.  Years later, after my first son was born, she'd comb and curl both my daughters' hair.  It's funny that a straight part and ribbons in their hair helped me rest easy.  I'd return to my bed after a hot shower and she'd replaced my bedding.  Can you relate to how refreshing it feels to slide into clean, cool sheets when you're exhausted and have just washed off breast milk spills and baby burps?
I'm trying to give these comforts and help to my daughter now. I wonder at how fast the dance has moved.
My mother is frail now, ravaged by rheumatoid arthritis and age. I placed Lucy in her arms the other night and her face lit up. When the twins have gained weight in a few short months, my mother won't be able to hold her great-grandchildren. As it is, the baby had to be set in her arms and lifted away, but for those moments she held Lucy, it was heavenly; for her and for me, watching.
"I wonder what they're thinking," she mused as she looked into her great-granddaughter's eyes.
I know what I was thinking. That for all her picking and jabbing and what feels to me like a lot of negativity, she's still my mother. She's still out there ahead of me in life, working her way through the trials of aging, and not so long ago she was a young mother herself, holding and burping and rocking and loving her babies, who grew into mothers and fathers, who had babies of their own, who have grown into mothers and fathers themselves, and so it goes.
We step onto the dance floor, we twirl and twist and move and spin to the music that's playing until, at some point, we rest on the sidelines to mostly watch and enjoy those we've taught.
My mother lacks the physical stamina she once had but I hear her instruction clearly and figuratively feel her maternal embrace.
And damned if she wasn't right – yes, I'm wearing my hair long again so I can pull it up in butterfly clips on bad hair days because it's easier, and yes, my earrings are new.  But I wasn't going to give her that – I do, after all, have to play my part as the daughter in this dance.
If not, we'd stumble and fall. It's the dance we know.
© Barbara Albright

Barbara Albright is a writer and photographer, currently freed from a house and its trappings, traveling the country in an RV, capturing beauty and nuances wherever the road leads.  She blogs at The Empty Nest Mom about how full life is when the nest is empty; at Bring the Monkey about fiber arts and quilt shops she discovers in her travels, and she is a regular contributor at Vision and Verb; an international community of women.


Part 7 in a series of essays on mother-daughter relationships. Read more of the Mother Daughter Series here.
You May Also Enjoy