As I've been reading certain items in the press the past several days, I feel shame.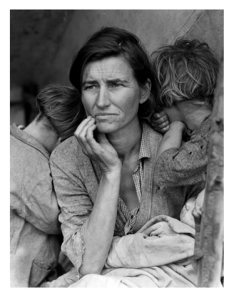 I feel shame for us as a nation, and anger at those who have lost any sense of the lives they touch through their actions. I wonder if they have forgotten the human face that doesn't benefit from the same sort of life that they lead, and I can only assume they take for granted.
That human face includes children, single parents, the elderly, families, the disenfranchised due to race or mental health or the perpetual low-wage trap or, so it seems, geography.
But then, geography determines everything, doesn't it? Isn't that precisely why I once felt so proud and relieved to be an American? To be born in a country that aspires to live ideals of fairness and freedom?
Proud and relieved?
Considering the way the government shut-down has played out, those two adjectives don't come to mind. The shut-down angers me. Reading about poverty in America angers me. Those who ignore the human face of their neighbors, the needs of their neighbors, the responsibility we all owe to our neighbors as human beings – they anger me, too.
What do I do with my anger?
I'm not sure. Too often, I feel powerless to make any difference whatsoever except with my vote, which doesn't seem to make a difference. Even my virtual pen seems inadequate to the task of speaking my mind, or opening the minds of others.
Is any one of us "safe" in a country where millions of people are too poor for health care, even under the new Affordable Care Act? Do you really think you aren't vulnerable – that a few "life events" can't leave you on your knees financially, and feeling cut off from options and services necessary to leading a decent life?
Do you really think you don't run the risk of societal implications of poverty in terms of other costs – an angry, ill, or uneducated populace?
Read here, on the New York Times, "Millions of Poor Left Uncovered by Health Law," though certainly there are plenty of other sources discussing this topic. The Times writes of "poor blacks… single mothers… low-wage workers" and explains:
Because they live in states largely controlled by Republicans that have declined to participate in a vast expansion of Medicaid, the medical insurance program for the poor, they are among the eight million Americans who are impoverished, uninsured and ineligible for help.
But hey, it's good to know that the poor who fall through the cracks will not be fined for lack of health care insurance.
Read here, again on the Times, "When the Government Shuts, Even Web Sites Go Down." It's one aspect, a very public one, of the federal government shut-down.
Read here, at Women's Voices for Change, "Women's Poverty by the Numbers," and I would encourage you to access the PDF that is linked in this article, and read the detail, which does include data on single mothers and poverty, as in:
More than half of all poor children (56.1 percent) lived in families headed by women. Nearly 587,000 single women with children (13.2 percent) who worked full time, year round in 2012 lived in poverty.
I find myself thinking of the famous image of the migrant mother by photojournalist Dorothea Lange. How far we haven't come in dealing with poverty and its origins.
As a child, I felt such pride in being American. Lucky, too. When I began to travel in my early teens, I saw ways of approaching life that were different, and worth learning from. I came home more aware. We all grow more aware as we mature, and certainly our nation has changed greatly in the past 30 years since the days when I so blindly and naively felt that pride.
Does this make me un-American? I don't think so. I believe that voicing our dissension makes us quintessentially American. So does – or did – our humanity. No doubt that's an idealistic (and still naive) viewpoint, but I'd like to think we're better than this. We, the people – the actual people – are better than this.
But how can we dismiss such obvious obstructionism in Washington? What kind of country do we live in that health is not a human right? Why do we look the other way, turn to clichés like "you make your own luck," though we know that unemployment or illness can happen to anyone, and in the US that can spell financial devastation?
Why can't we put a human face to the uninsured, the scared, the isolated?
I can. It isn't hard. It's the man on the street a few blocks away. It's the cashier who looks so tired, ringing up my groceries. At times, it's been me.
What do you feel about America today? Can't you sense the despair, not to mention the anger? Why can't we do better?

Image of Migrant Mother by Dorothea Lange, Wiki, public domain.

You May Also Enjoy