It's Bastille Day, le 14 juillet, the French national holiday.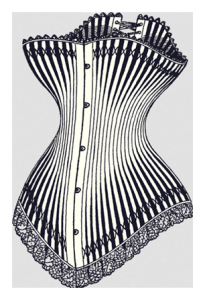 France has been in the news in recent months – with its economic woes, its moody malaise, even editorials recommending that younger French citizens leave the country for greater opportunity.
While it's a day to celebrate the French celebrating themselves, why not an idea that might stimulate their economy? What if instead of the traditional July 14 Défilé Militaire down the Champs-Elysées, we went for a Défilé de Mode, a fashion show, and in an arena in which France excels?
Could the French economy be boosted by bustiers? Bolstered by boning? Strengthened with stays? Bring on the lavish, the lacy, the racy, the resplendent! No one does lingerie quite like the French, so why not capitalize on captivating culottes and beautiful bras?
In an amusing editorial in the Times, Maureen Dowd takes on intimate French style in "The Tortured Mechanics of Eroticism."
Referring to a current exhibit at the Louvre's Museum of Decorative Arts, Ms. Dowd notes that the exhibit:
provides a fascinating contrast between the industrial-seeming tools used to shape the body and the sexiness that results.
Tracing France's lingerie styles – the more outré among them, we are offered everything from crinoline to codpieces and bustles to busking. We are informed that underwear reflected social status as well as prevailing fashions:
… hard corsets were mostly worn by aristocratic women who wilted standing at court all day and needed bracing.
I must say, I got a mighty chuckle out of this column. (Do read – you will, too.) But I did find myself wondering if Ms. Dowd has ever availed herself of any French lingerie – I can only hope so – and if she sees the potential in its midst that I do.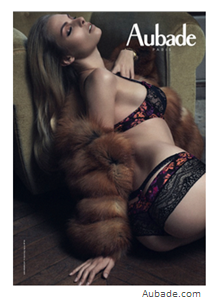 A supporter of this particular French industry, I put my Euros where my mouth is, along with a few other bodily parts, knowing that bustiers and corsets provide outstanding structural solace for those with back problems, and for amply endowed women, the breasts are lifted without undue strain via scrawny straps that dig into the shoulders.
As for brassieres and briefs, may I simply say that the styles are many, the fit as variable as a woman's real-world posterior, and it's impossible not to feel divine at any age or size in impeccably styled and fitted "unmentionables" which we surely ought to mention more heartily.
My own favorites?
Aubade and Chantelle (though I admit they are rare splurges in my writer's budget), but they are by no means the only marques de luxe to be found in my closet, even as I dream of Pérèle and Poiret… someday.
While I love a 14 juillet parade as much as the next person, what if we considered lingerie over Legionnaires? What if France played to its strengths, focusing on Airbus and Aubade? Perfumes and Pérèle? While I have no "figures" on how the economy's coffers might swell, may I nonetheless suggest this could be an answer to domestic doldrums that need a lift?

Click Aubade catalog to access Aubade.com, Fall-Winter 2013
You May Also Enjoy