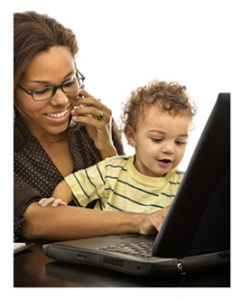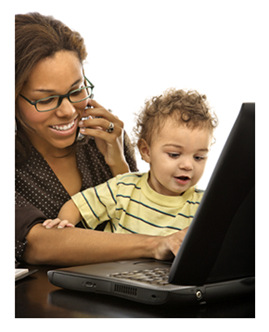 By Dr. Leah Klungness
The media are buzzing with conversation about working mothers, stay-at-home-mothers, and fathers shedding traditional roles and taking on more child-care and other home front responsibilities.
But it's discouraging that most media discussions on juggling work and family obligations do not address single parent homes. Instead, these discussions tout the obvious benefits of more than one adult in the house. Tips and advice hinge on the erroneous assumption that the talents and energies of both parents are always available.
All parents face daunting challenges, but for most single parents, just getting through another day is a huge accomplishment. Splitting chores, sharing child-care responsibilities, and the safety net a critical second income provides . . . that's NOT reality for many of us.
Despite heroic efforts, single parents who are faced with doing it all can find themselves struggling to cope – and without essential emotional and financial resources – especially when unanticipated circumstances derail their best laid plans. Fortunately, we get it – and are here to help one another.
So, when this single mom shared her career dilemma, it just felt right — and urgent — to ask YOU for advice.
Here's the situation:
"My marriage ended when I could no longer tolerate my husband's adultery," she said matter-of-factly. "I always felt like a single mom. Doing it all while his "business trips" grew more frequent seemed like all the preparation I needed. Our kids are school-aged so I did not anticipate any real difficulties when I snagged a promising part-time job."
This newly single mom wisely looked for a position with flex hours. And luckily, she found one. The flexible working arrangement was key to her initial success and so was her ability to multi-task. She was able to anticipate problems before they escalated into crises, and her employer was pleased with her performance.
Flexible work hours were not enough . . .
Unfortunately, this mom experienced what many of us have. Both her kids have been sidelined with health issues at the same time. Thankfully, nothing life-threatening, but definitely serious enough for them to stay at home.
The resulting doctors' appointments, pharmacy runs, and keeping both kids on track with school work have wreaked havoc with her schedule. Her ex – predictably – did not step up. In fact, he cancelled his scheduled parenting time when the kids were sick.
"I've missed key meetings. Team members – especially those without kids – are loudly grumbling. And my boss seems far less impressed with exceeding expectations production," this stressed out mom confided. "Things have calmed down — for now. But, I know now that juggling my work and family responsibilities is going to be tougher than I ever thought."
Please share your thoughts:
This mom realizes that she is NOT alone in trying to meet all her family and work obligations, so she is reaching out to ask other single parents for advice.
What steps can this single mother take to ease the inevitable – and unpredictable – interruptions in her work schedule?
Does she owe explanations to her less than kid-friendly team members?
Is volunteering to do "extra" to make up for recent lapses a savvy career move or could it backfire?
Should she frankly discuss her challenges with her boss and team members?
Leah Klungness, Ph.D., is a psychologist and recognized authority on single parenting and relationship issues. Dr. Leah is the coauthor of the award winning book The Complete Single Mother. She has been quoted in major national magazines, newspapers, and online media. 
You May Also Enjoy

Big Little Wolf's Daily Plate of Crazy