Some say we're all voyeurs: we're curious about our neighbors and friends; we love a glimpse into a stranger's emotional life; we may be aroused by a glance at the intimate moments caught behind closed doors, just before the curtains are pulled.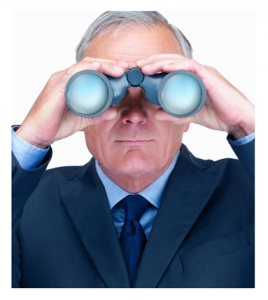 Still, most of us like our privacy, and remain respectful of the boundaries of others.
Yet our privacy is continually challenged if not eroded by the tools we use daily, not to mention a growing tendency to share – or overshare – as we communicate via a diversity of digital devices, in an ever-increasing competition for the spotlight.
There's a difference between sharing willingly and being spied on unknowingly.
There's a difference between consenting to exchange data that may facilitate other services, and handing over the keys to the kingdom.
Voyeurism: For Pleasure, For Cruelty
An article sent by a reader stopped me in my tracks. It concerns the Remote Administration Tool (RAT) which may be watching you – or your children.
In "Meet the Men Who Spy On Women Through Their Webcams," Ars Technica explains the practice through which we may be observed without realizing it. It's a particularly cruel and dangerous form of hacking, with young women and children the most likely victims.
Cutting to the chase, and referring to one hacker's use of Remote Administration Tools:
… a remote administration tool (RAT) …  gives him access to the woman's screen, to her webcam, to her files, to her microphone. He watches her and the baby through a small control window open on his Windows PC…

… RAT operators have nearly complete control over the computers they infect; they can (and do) browse people's private pictures in search of erotic images to share with each other online. They even have strategies for watching where women store the photos most likely to be compromising.
I find this horrifying, repulsive, creepy. Read the article – if not for yourself, for your children.
Permissible Peeping Tom? For Profit and Convenience?
Another item caught my attention this morning, from the New York Times: "Google Concedes that Drive-By Prying Violated Privacy," as Google settles, and acknowledges wrongdoing:
… during its Street View mapping project when it casually scooped up passwords, e-mail and other personal information from unsuspecting computer users…
It's another article to read, carefully.
So how vulnerable are we, particularly in the name of convenience? Do we even pay attention any longer to the extensive data gathering that takes place as we light among our favorite sites, flit over to Facebook, connect up apps across devices, and look forward to the time savings and fun as we (seemingly) benefit from these (seemingly) indispensable technological advances?
Definitions: From Voyeurism to Privacy to Convenience to…
I thought a few definitions might be in order.
the practice of obtaining sexual gratification by looking at sexual objects or acts, especially secretively…
This same (Dictionary. com) link provides additional information on voyeurism, from Encyclopedia Britannica, excerpted:
… To some extent voyeurism is widespread; various types of sexual display are a normal part of sexual attraction and mating behaviour in most animals, including humans, but voyeurism is considered a deviant behaviour when observation ceases to be merely one factor in sexual attraction and becomes the sole or primary source of gratification…
the state of being free from intrusion or disturbance in one's private life or affairs: the right to privacy.
anything that saves or simplifies work, adds to one's ease or comfort, etc., as an appliance, utensil, or the like…
adherence to moral and ethical principles; soundness of moral character; honesty.
Note that I thought we should consider integrity. Wouldn't it be nice if corporate social responsibility factored in a modicum of that essential ingredient?
Technology Trouble Spots
Sure, our tools are fun, yield a sense of freedom, a variety of time savings and advantages that may or may not be worth the trade-offs, including the issue of whether or not our gadgets and apps own us, or the other way around.
We acknowledge that convenience and creativity may both be served – ideally to serve us, by accepting a bit more Big Brother in our lives. But how much? And how much watching, siphoning of data, and privacy invasion is there – that remains undisclosed?
Voyeurism? If we assume it's part of the human makeup – at least to the extent that we are fascinated by what others do so we may, in some capacity, compare ourselves and our lives – do we know when to say enough? Can we recognize degrees that are excessive? Do we understand when we're violating the privacy of others, and crossing so many lines (of decency? of common sense? of respect?) as to recognize that this isn't freedom, but rather – abuse of someone else's freedoms?
Where do we draw these increasingly blurred lines?
Online Communities
I relate bits of my personal life as I write; we all do, depending on the nature of our topics and our audience. Yet I choose to refrain from including certain details which are not mine to offer, or that don't feel appropriate. I try to be circumspect: I err on the side of caution much of the time, walking a fine line, and sometimes reveal a good deal more in order to provide value and authenticity.
But drawing these lines? It's increasingly difficult because our culture is growing lax, and lulled into a sense of complacency as we feel like we're sharing only with a "friend," and we're actually storing data on ubiquitous servers across the globe. And even our own devices are vulnerable to spying.
Protecting one's privacy is a complex and inexact set of considerations – and activities; even more so, when protecting our children. Our willingness to cede so much of that "freedom from intrusion or disturbance?" Of course, with knowledge, these are issues of individual perception and comfort.
How do you draw these lines in your own life, both watching and being watched, with all the risks involved?
You May Also Enjoy