I could feel heat flowing to my neck and cheeks, I could hear the pitch of my voice rising, I felt myself crackling on the inside and yet, I was almost outside my body watching this woman I didn't recognize.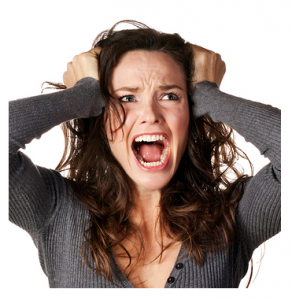 She was angry. She was more than angry. She was enraged – yelling at the top of her lungs, tears stinging her eyes, her fists in two tight balls, nails digging into her palms. The man watching her?
His expression was one of discomfort, helplessness even.
And then she… I… stopped and took a breath.
It was old anger that bubbles up and spills over when certain actions trigger long-standing issues. They have to do with divorce and its aftermath, kids and money, a profound experience of powerlessness and exhaustion that chains this month to each of 144 preceding months that mark my ex-husband's departure out of state, and a state of affairs that resulted, which I could never have predicted.
Divorcing? Divorced? Angry?
I hadn't felt it in a considerable amount of time – that rage, that outrage, that indignant, blistering, physical expression of feelings that I can only name hatred. White hot hatred.
That is a difficult admission, and I wonder how many other divorcing or divorced men and women feel it. I wonder if men are better at getting it out of their system once and for all.
I wonder many things, in the aftermath of so much wretched and wrenching emotion.
I don't live my life in a state of fury; these are moments, far fewer now, and more likely to occur when I'm tired, when I'm stressed, or when I'm not feeling my best physically.
And they're more likely to occur if my children are even remotely impacted.
Anger Management: Calling the L.A. Shrinks
A new show on cable has caught my interest – a reality TV offering I thought I wouldn't care for but I'm finding it informative.
In LA Shrinks, the segment I'd like to mention features Dr. Greg, a psychologist who helps people with anger issues. We see his patient go ballistic on the L. A. freeways, notorious for their traffic nightmares, as she loses all control – red-faced and screaming expletives behind the wheel with Dr. Greg beside her in the passenger seat looking grim at a level of road rage he may never have witnessed before.
We see him in his own difficult scene later in the show, as he dines opposite his once emotionally and physically abusive 70-year old father. Their discussion clearly brings up pain. Watching the exchange between them and hearing the narration afterward, it's evident that Dr. Greg is managing his emotions, but I find myself wondering at what price. Can he feel a fist in his stomach, pounding in his chest, throbbing in his temples?
I wonder if sitting on rage is better or worse than yelling, like his patient, and actively acknowledging our triggers.
Triggers
For me, triggers link to moments of utter powerlessness, a sense of being small, worthless, unable to fight back – or rather, exhausted from trying to do so and defeated all the same. I know the self-sabotage that can result when feeling beaten, and beaten down.
I think of the LA shrink himself, Dr. Greg. His anger – expressed or not – would reasonably seem associated with that childhood abuse, and naturally, children are powerless in that situation.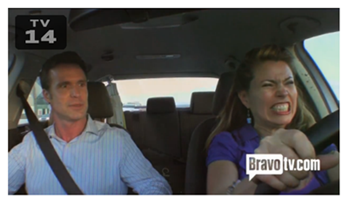 His patient?
She's trapped in the car on the freeway – physically trapped – needing to be somewhere on time, needing to use the bathroom, and surely she feels powerless.
My rage? My post-divorce rage?
The powerlessness.
In fighting a man, a family court system, ensuing scenarios – and my only options available with money – mountains of it – which I did not have at the time and surely don't now.
Powerlessness.
And triggers.
How Do You Deal With Feeling Powerless?
What do you do when you feel powerless? How do you manage it?
What do you do when anger takes you over – body and spirit? Do you express it? Do you squelch it? Do you talk it out, cry it out, find a punching bag in a gym or take a 5-mile run? Do you pour yourself two stiff drinks or root through the fridge in search of food to dull the pain?
Powerlessness can be debilitating.
Anger?
I am undecided as to whether screaming it out as I did recently – and note, in the privacy of my own home – is better than pretending the fury doesn't exist, or stuffing it down with leftovers in the fridge. At that moment, exercise was not possible; for me, it would have been a viable alternative.
The underlying problem? I doubt it will disappear entirely.

Click image from LA Shrinks to access original (video clip) at BravoTV.com.

You May Also Enjoy